A-Plant invests
By Helen Wright20 April 2016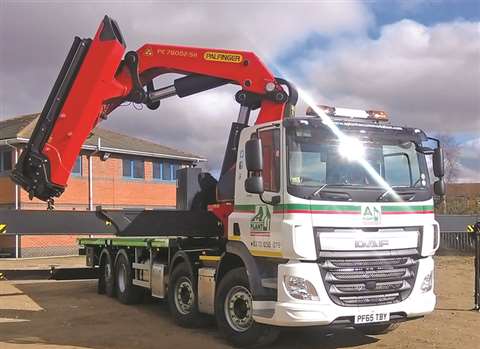 UK rental company A-Plant has added to its transport fleet and outlined plans to upgrade its extranet, while its specialist utilities subsidiary PSS Hire has introduced new All-Terrain vehicles.
A-Plant, which is part of Ashtead Group - the company that also owns the Sunbelt brand in the US – said it had invested over £1 million (€1.3 million) in a new transport fleet that is capable of double stacking accommodation units on customer sites.
It said the new vehicles helped its Accommodation Division offer a more efficient delivery and installation service to customers. Working closely with key suppliers Lancashire DAF, Fosters Commercials and Palfinger, A-Plant said it had purchased a number of specially modified vehicles.
Based on 32 tonne DAF trucks and fitted with 78 tonne Palfinger cranes, it said the new vehicles had the capacity to double stack 32ft (9.7m) accommodation units on site.
Ian Needham, A-Plant director of Accommodation said, "We believe we are one of the only national accommodation hirers to be able to double stack such large accommodation units from our vehicles, meaning we can now offer a more cost and time efficient delivery service.
"Despite the impressive height they reach when double stacked, safety is not compromised. The vehicles incorporate Palfinger's High Performance Stability Control (HPSC) which enables safe working within tight spaces, plus they also prevent post-oscillation in the event of rapid braking or load changes."
Customer portal


Meanwhile, A-Plant said it had committed over £2 million (€2.5 million) in investment to upgrade its extranet and deliver a new technologically advanced customer portal.
It said the introduction of the upgraded online customer portal would allow customers to manage hired equipment across A-Plant's product range from any of its divisions via a single platform. This could be for on- or off-hiring, making payments, tracking equipment, managing telematics information or creating bespoke usage reports.
It said there would also be the facility for customers to upload their own fleet of equipment and the management of any third party hires. And the new portal will have the capabilities to meet future customer requirements in relation to Building Information Modelling (BIM), allowing A-Plant to offer an even greater collaborative approach with customers, according to the company.
Marketing director Asif Latief said, "The new portal will represent a real leap forward for us and our customers, it will join up seamlessly with our internal systems so customers can not only manage everything they have on hire from A-Plant but also view what equipment is currently available from any electronic device. Therefore, if it is out of normal working hours and the customer needs something for the next day they can check availability and place that order."
"These are exciting times for the industry, technology can provide us with so much information and there are more and more ways to share and use it effectively. We have always been a company that takes a collaborative approach to working with all of our customers and this is emphasised by integrating BIM technology into our current and future plans."
PSS Hire


And PSS Hire - part of A-Plant's Specialist Products division – has also invested over £1 million (€1.3 million) in its fleet. The utilities and pipeline rental equipment provider said it had introduced a new range of all-terrain Vehicles; specialist vehicles to help utilities companies or their contractors to complete off-road work in tough conditions.
It said the new range extended from Segways and Quad Bikes, through to Gators and Argocats up to Softrak ATVs and Hagglunds.