A-Plant spends big
By Sarah McCay03 September 2014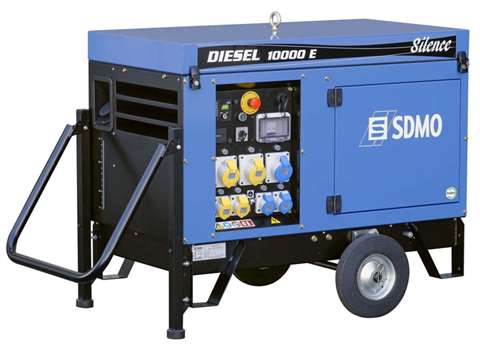 This summer, UK rental firm A-Plant has placed orders worth almost £2 million (US$ 3.3. million) for new generation sets as it looks to offer the industry's latest silenced and low noise models.
A-Plant is to spend £1.4 million (€2.5 million) with French manufacturer SDMO in an order that consists of 158 diesel generators, comprising 10 kVA, 15 kVA, 20 kVA, 30 kVA, 45 kVA and 60 kVA models.
The 158-unit order includes 36 of SDMO's brand new Diesel 10000 E Silence Generators, the first from the production line and the first to be delivered into the UK from SDMO's manufacturing plant in Brest, France.
The Diesel 10000 E Silence is a super compact 10kVA generator on wheels. A Kohler air-cooled industrial engine powers the portable power unit.
The generator is encased in a soundproof enclosure that ensures ultra-low noise during operation, with an acoustic pressure level of 8 1dB(A) at 1 m and 69 dB(A) at 7 m. The generator is also fully bunded, ensuring that any fuel or oil spills are completely retained within the canopy, thus preventing environmental pollution.
A-Plant has also placed a £450000 (€563464) order with Cummins for 27 generators, the bulk of which are for the new Cummins C100D2R. With an ultra-low noise rating of 66.7dB(A) at 7 m, the 100 kVA genset is one of the most advanced and environmentally efficient smaller generating sets available on the market.
Ian Needham, director of accommodation from A-Plant, said, "We're delighted to offer our customers these latest models of equipment which offer great benefits in terms of offering mobile power, low noise and the ability to prevent oil spills and leaks of other hydrocarbons which could otherwise be damaging to the environment.
"All of the models we have purchased are compliant with Tier 3A emission regulations, so they will enable our customers to meet their own environmental and sustainability objectives."