A socially distanced demolition project
USA-based Veit & Company was contracted to demolish the historic Allis Chalmers building located in West Allis, Wisconsin. This 37,161 sq m (400,000 sq ft), seven-storey office building lines the east side of the street. The structure was built in multiple phases, starting in 1902, and maintained manufacturing operations until 1987.
The plan for this US$132 million redevelopment will house a hotel and two mass timber structured offices. Recently renamed Allis Yards, the project includes offices, housing, and retail, in the first-ring suburb of Milwaukee.
Waste removal and asset recovery ahead of soft strip
Veit started the job with regulated waste removal and asset recovery before starting to soft strip the interior levels of the structures. Mini-excavators and skid steers, along with labourers, removed all non-structural components from the building. Items included carpet, sheet rock, duct work and ceilings.
Work all started at the lowest levels and moved to upper levels. Drop zones were established with-in the structure to control dust, and materials were all sorted and recycled or disposed of at a local landfill.
After the interior work was completed, Veit was trusted to demolish the structure in a way to salvage for re-use as much of the structure as possible.
Half a million bricks salvaged for reuse
In partnering with the sub-contractor, Veit was able to salvage for re-use over a half million of the exterior bricks. In addition, some bricks salvaged from the demolished building will help pave the planned plaza between the two new offices.
One section of the structure was built using wood timbers with a masonry exterior.
Using various demolition backhoes and unconventional demolition methods, Veit was able to pick the structure down in pieces and salvage structural timbers and floor joists for re-use.
Demolition during 96 days in winter
To make way for the redevelopment, Veit was challenged with demolishing 84,185 cu m (2.97 million cu ft) of building in 96 days under winter conditions in Wisconsin.
It was a challenge to stay on pace with the 877 cu m (over 30,000 cu ft of demolition per day) while still meeting all the environmental needs.
During the freezing temperatures of January and February, Veit had to use the right amount of water suppression to keep dust to a minimum without creating a greater hazard with ice and damage to the structure and surrounding community.
Shopping centre and major street present challenges
Along with scheduling and weather constraints, the former Allis Chalmers Building was surrounded with many urban challenges. To the west, the Allis Chalmers was 13.7 m (45 ft) from an active shopping centre. To the east, the structure was less than 10 m (32 ft) from a major street the dissects the city of West Allis.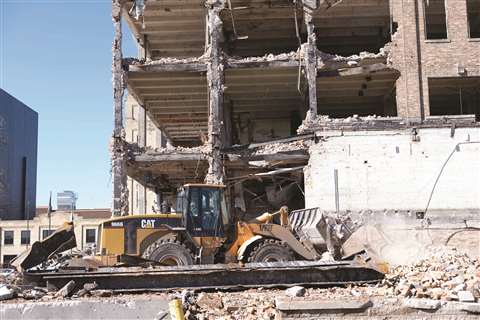 Veit used protective bang-boards, street and sidewalk spotters and effective communication during demolition to make sure that there were no possible concerns to the public.
Additionally, Veit had to maintain the compressed schedule while dealing with the Covid-19 pandemic.
As a company, Veit says it believes in the safety of employees and public alike. With the outbreak of Covid-19, it developed an extensive safety policy to ensure employees could practice social distancing while staying informed and engaged in the task they were required to perform.
Video technology for site safety
The use of remote radios and video technology was extremely helpful in keeping everyone safe and informed.
A site-specific safety plan was in place before the start of the work which included a job hazard analysis for each work task to be performed. This will be reviewed with all crew members daily, or as needed when changing a task through the workday.
Veit's safety manager conducted site audits on an as needed basis throughout the demolition phases and together with the site superintendent held site orientation meetings with all site employees prior to any work being performed to review this site safety plan.
Along with the site-specific plan, an engineering survey took place prior to beginning demolition. This was completed by Veit. This survey included information such as dimensions, potential hazards of the structure, underground utility location confirmation numbers, and a location and description of any safety exposure.
Overall, this portion of the project included 4,580 man hours with zero safety incidents.
Article first published in the October 2020 issue of Demolition & Recycling International