A solid foundation for reducing emissions
By Christian Shelton03 April 2017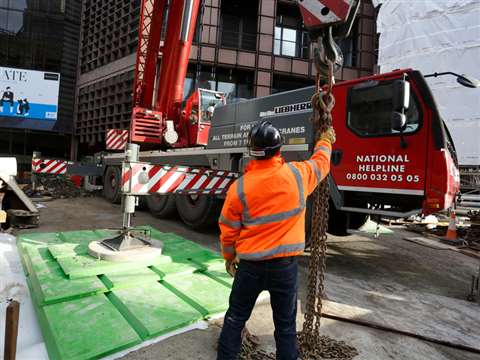 Specialist contractor Keltbray Group is attempting to reduce its on-site emissions in central London by using the Solum multi-purpose aluminium temporary foundations solution. How does a temporary foundation help reduce emissions? The key to this is their light weight, as Steve Leyton, group lifting operations manager for Keltbray, explains: "To lift heavy loads safely, cranes must deploy outriggers and it's essential they spread the load evenly. In the past, the largest cranes required heavy steel plates for the outriggers to sit on, but these often required a second crane to be used on site to lift them into place. The Solum foundations are modular and spread working loads over an increased footprint. But, importantly, they are the perfect balance of strength and load capacity compared to their weight, which means even the largest unit can be moved by hand. Solum can be delivered with the crane and set out by hand in just a few minutes, saving all the emissions associated with the second crane. The speed with which the outrigger foundations can be set up also saves hours of emissions from the crane as it's on site for less time."
Although this reduction in emissions is a benefit of using the Solum system for Keltbray, Solum says this wasn't its primary focus when designing the product. Business development director, Roger Tice, Solum (Europe), commented: "When we created the product, the specification was more about increasing safety and reducing the effort needed on site to produce a stable foundation for cranes, whilst helping them avoid the unsafe practice of short-rigging to lift their own foundations into place. To have achieved all that and then discover that being able to man-handle the units into place in minutes is a major contributor to reducing emissions from major construction sites is very gratifying and makes all the effort worthwhile. With emissions regulations only likely to get tougher, I'm confident that whilst Keltbray is the first to specify Solum for all its crane lifting operations, it will be the first of many."
According to Solum, the idea that emissions regulations are likely to get tougher comes after London Mayor, Sadiq Khan, recently announced his intention to introduce an ultra-low emission zone in central London from 2020, following estimates that non-road mobile machinery (NRMM) used on construction sites was responsible for 12% of NOx emissions and 15% of PM10 emissions in Greater London.