ABLE Equipment Rental opens 6th location
The equipment rental company has opened a new facility in Allentown, PA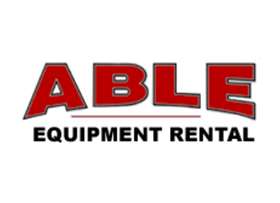 ABLE Equipment Rental has opened its sixth location. The new Allentown, PA depot will service the Lehigh Valley area and its surroundings. The location sits on two acres of land is is 18,000-square-feet.
"Given its optimal location with excellent transportation routes, our new Allentown branch is poised to become a key construction equipment supplier in the region," said Steven Laganas, ABLE's chief executive officer. "We researched and visited several facilities in the area before committing to the property in Allentown. We're extremely excited to be part of the Lehigh Valley business community."
The location will add 30 jobs to the area.
"The ABLE team is made up of employees with a can do attitude, eager to please customers," said Chris Pera, ABLE's chief operating officer. "When we enter a new market we're always thinking about the talent that already exists in the area. The Allentown region has a seasoned and experienced employee candidate pool to choose from - it's really a perfect match for ABLE."