Access: a bright spark in Turkey
By Euan Youdale30 October 2018
Turkey is destined to become one of the world's major access markets. It just needs to get over the hurdle of an economic crisis, which has hit the country in recent months.
Over the last few years Turkey has been growing into what is now an established access equipment market. It has a number of successful and ambition rental companies, the two largest of which have more than 1000 MEWPs in their fleets and intend to grow quickly. And many more smaller companies will no doubt follow seeing the potential that access has to offer.
Turkey also has the advantage of its location and historical connection to the region. It is bordered by eight countries: Greece and Bulgaria to the northwest; Georgia to the northeast; Armenia, the Azerbaijani exclave of Nakhchivan and Iran to the east and Iraq and Syria to the south.
The continued rise of the sector seemed assured until the second quarter of this year and the country's national elections in May, which has seen a major economic downturn, including a significant devaluation of the Turkish Lira.
Much of the problem boils down to a credit crisis, with many companies having reached maximum borrowing levels. Some access equipment rental companies chose to take out equipment finance in Euros and Dollars, in which repayments were very attractive at the time. All that has changed with the devaluation of the Lira. Then, there is the issue of low rental rates which were allowed to drop in recent times as companies attempted to win work by any means. It goes without saying that rental rates, in many cases, are now lower than the equipment repayments rental companies have to make.
In addition, the government recently introduced an import tax of 7.6% for China and US-made products. The situation was not always this way, however, and before the downturn, the access sector was enjoying significant growth in the market.
Nevertheless, four to five companies have 55% to 60% of the rental fleet in Turkey. One of the two biggest, and one of the healthiest, is Rent Rise. It has a fleet of 1150 MEWPs spread over its head office in Istanbul and four further branches in the east side of the country. At last two more depots are planned for the next couple of years
Emerging trends
According to Erhan Acar, general manager of Rent Rise, the government has been placing more importance on health and safety and has brought some new regulations.
The rental market has also been improving thanks to a stronger construction market, especially non-residential and, until very recently, a growing economy.
Taking into consideration Turkey's population of 80000 people, its fleet size could be over 51200 units, says Acar. In reality, total fleet size stands at around 10000 units. The utilisation rates of rental companies in Turkey demonstrates the level of need for the equipment. In previous years utilisation stood at 85% to 92%, far higher than the average across in Europe. That has dropped to 75% to 80% following the economic downturn but as Acar says, "Some projects have stopped but we are sure they will start again."
Those projects include the New Istanbul Airport, the Star Refinery in Socar, and the Akkuyu Nuclear Power Plant. In addition, there is the Grand City hospitals projects, in which eight large hospitals will open in major and medium-sized cities across Turkey. More will follow in the coming years. There are also several more medium -sized nuclear power projects planned for the years ahead.
In five years' time Acar believes its fleet will have risen up to 4000 machines. Perhaps, by this time, established rental companies in Europe, the US and Asia, will also be interested in buying or partnering with the larger rental companies in Turkey. "When we grow more they will want to talk to the big players in Turkey. We are not big enough yet but I am sure they are watching."
The company was also to the first IPAF member in Turkey and has the first training centre, with up to 1000 Pal Cards so far. The majority of Rent Rise's fleet is made up of Haulotte units, and this is mainly due to Haulotte's strong distributor in the country Acarlar Makina. The general view is that Haulotte commands a strong market share in the country of around 40%.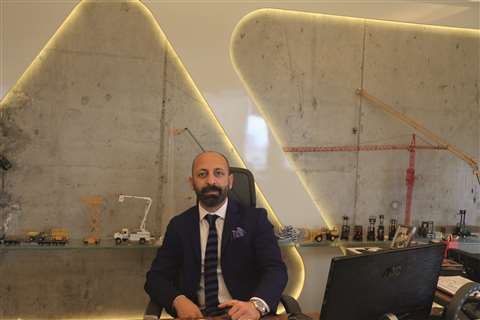 In fact, Acarlar Makina used to be a sister company of Rent Rise's until 2014, when the companies split completely. The separation of dealers and rental companies is a common story in maturing markets and is a sign of where Turkey now stands as a major potential market. Until October, Acarlar was co-owned by Haulotte, which had a 50% share. Since then Haulotte has bought the remaining 50% to own the distributor outright.
Fatih Vinç, owner of the country's second biggest rental fleet, has 1,120 MEWPs. Its fleet mix is more evenly split with machines from other manufacturers. Some 35% of its fleet is made up of Haulotte equipment, while 30% comes from Dingli and 10% from Turkey-based ELS. The rest is divided up between other brands.
It is notable that the three biggest manufacturers in the world; JLG, Genie and Skyjack are present but not dominant in Turkey. Fatih Vinç's general manager Kenan Aydın, says, "Of course this will change."
The company, like other rental companies and manufacturers in the country, is turning to neighbouring countries where the access market is in its infancy, in most cases. The plan is to actively fuel an interest in access in these nations, particularly as the market in Turkey needs time to recover.
"Up until today, we have been working at nearly full capacity and have not been looking for projects outside the country. But the devaluation of the Lira means international projects are looking more attractive when it comes to Euro or Dollar income," says Aydin.
Fatih Vinç was originally a crane rental company but in 2009 switched to platforms, although it also offers 85 fork lifts, 25 knuckle boom cranes, along with lift trucks and telehandlers. "We face this crises in an emerging market. So, it is very different situation the one in the European markets in 2008.
Servet Ayhan is president of Biglift and president of the country's MEWP association Platformder. Big Lift is the Palfinger Platforms dealer for Turkey and has a rental fleet, including 14 big truck mounts, between 45m – to 90m working height. In total Ayhen believes there are around 67 truck mounts in the same height range in Turkey, mainly Ruthmann, Palfinger and Bronto Skylift.
They are working in the wind energy sector, in which 60% of the wind farm construction projects have been completed, meaning there is some way to go, and then of course the maintenance that follows. Other projects are the previously mentioned nuclear constructions, bridges, viaducts and the local film and television industry, which is thriving and sells its output across the region.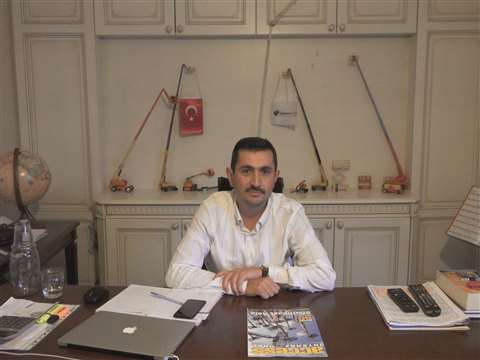 Necip Ayhan is the general coordinator of Turkey's third biggest rental company Ayhanlar Platforms. Like many rental companies in emerging access equipment nations, it started out as a truck mount provider. It is partnered with Big lift and Istanbul Vinc and has 670 MEWPs in its fleet, including Haulottes JLG's Dinglis and Snorkels and has the largest fleet of spiders in Turkey. Some 400 of them are scissor lifts. It says utilisation is at 80%-90%, despite the downturn. "It is an emerging market, is the number of platforms in it is not enough. It ha never been below 80%. The rates will increase but not to the rate they should be."
Another major rental company in Turkey is Up Makine. The company is also official distributor for manufacturers ATN, France Elevateur and Palazzani.
Until a year ago it also represented homegrown manufacturer ELS and as a result has a large number of the company's units in its 319-strong fleet. Although Up Makine says it will consider buying from other global manufacturers in the future.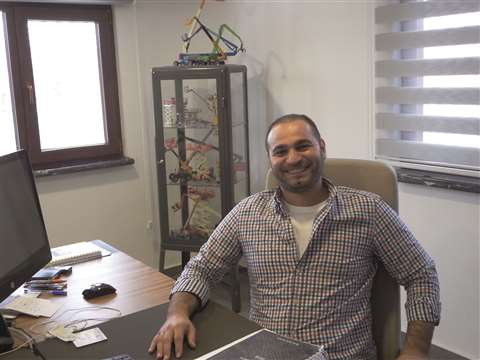 Burak Önder Çilgin, Up Makine's general manager said, "Construction will not stop in Turkey. Maybe there is an economic problem, but construction is still growing. But we will take it slowly and see what happens."
As previously discussed, rental rates are at ales than optimum point. "It is the faultof the rental companies. But now they have opened their eyes and they realise it was wrong."
"Now all the rental companies and everyone wants to work out how to go up back up. It will go up, it must go up.
Up Makine's main focus is on major projects with long-term rents, mainly due to the large number of them in progress. The types of long-term jobs that the company wins will dictate the number of machines that it invests in the future. "We are flexible. Maybe next week we will buy 500 machines, depending on the project. It will be a step-by-step process."
Product debuts
ELS Lift, owned by parent company Elsisan, is the country's biggest home-grown manufacturer and is increasing its market share in the country and looking to expand abroad. Nevertheless, it is a young company, with its first Bauma Munich being the 2013 edition. Its products range started with electric scissors and is broadening to eventually cover the complete rental range. In that light, its current headquarters in Bursa is set to be extended by around 50% and concentrate on low level access equipment producers. This new level range has already begun with the 5.5m working height, lightweight EL5.5 Junior series self propelled and push-around models.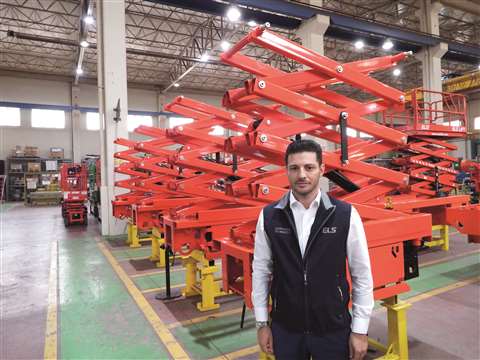 Firstly, a new facility will be built in the same town over the next 18 months to house its boom lift and rough terrain scissor products. New products also include a 6m working height vertical mast, with electric drive and 50cm platform extension. By the end of next year there will be a 20-27m working height hybrid articulated boom. All these complement ELS's existing electric scissors and 15m working height AE Series articulated electric boom.
The company is now looking to expand across Europe and already has a dealer in Germany, which also represents them in Austria. ELS is also actively seeking a partner in the UK and in southern Europe there are couple of partnerships that will soon be signed up. But, as you would expect, there is no limit to the company's ambitions, and partnerships of one description or another are being sought globally.
Last year the company produced 600 machines and this year that will rise to 1000, and the company is seeing a 30% year-on-year rise, which reflects growth across the country, including in the rental sector. Some 60% of sales are currently exported to Europe, while 40% goes to customers in Turkey.
Kerem Bayrak, ELS member of the board, told AI that next year exports would rise to 70% of production. Ahead of this, ELS is building a new facility in the same town primarily for boom lifts and rough terrain scissors. The manufacturer's biggest products so far is an 18m diesel rough terrain scissor, which is in prototype stage and will launch at the end of this year.
"Turkey will grow over the next five years. New players will start up in the country and we want to see the global rental companies coming to Turkey." This, he says, will help the acceleration of the access market across the country.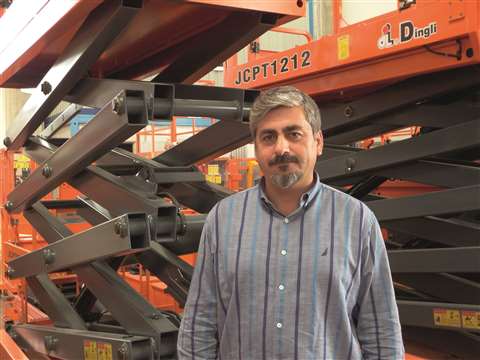 One of the biggest players in Turkey is Dingli, which is represented by it dealer for the company Makser Makina. Indeed, the company is one of the biggest Dingli dealers outside of China, and two years ago was the biggest until the Chinese manufacturer entered Europe. Last year it sold 1000 units in Turkey, which was 300 units above target. The first quarter of this year got off to a fine start, with, the crises kicked in. "Everything stopped," said Mahir Polat, of Makser. "Now, the sales target is 20 units per month.
Polat explains 70% of sales go to rental companies while the rest go to end users. "We still sell to the end users but the rental companies do not have strong capital. They are credited-out and the repayments are now very high." He adds, "Five years ago Turkey was similar to China, there were about 4000 units in China, now there are 40,000, and Turkey now has 40% less rental process than China."
As he explains rental rates must go up in in the near future. The users will have to accept it," He adds, "It means some companies will go up but the others will have to increase their rates to a help the situation." Nevertheless, Polat says the Turkey market for access should still be good, despite the downturn. "The total fleet in the country is not enough for requirements. There should be more than 20000 units."
Making plans
One possible solution it that the Government will push the banks to offer more credit. "That is what they did in 2017, and that is why so much was sold". With banks taking seme of the risk.
Over the last six years Dingli has sold 4000 units into China. The market has matured over the last 1.5 years, with an increased interest in 8m scissors. Before, rental companies acquired 12m scissors but realised it was not cost effective to rent 12m scissors for an 8m working height job for a lower price.
Due to the downturn the company is looking at other countries in which to sell its products. Makser has exclusive distribution in Romania and Azerbaijan and has been given the all clear by Dingli to sell in other surrounding countries that do not have exclusive dealers. Sinoboom is active in Turkey too. Since 2012, Uygunlar has been its dealer and represents Liugong and Kato products. The company sold 600 units in Turkey during 2017, putting it in the top three manufacturers in the country.
It also supplies components like joysticks, electric systems, brakes and tyres to smaller scissor manufacturers. Concerning the economic situation, Serhat Şişmanoğlu, Uygunlar's regional sales manger, said potential customers are holding off until the economy becomes more stable. "There will be new (local) elections next year, maybe that will help. But I think this is a short term thing and in four to six months everything will start again."
Snorkel has been a successful brand in Turkey in recent years. Uzman Lift is the manufacturer's dealer in the country. In 2017 227 Snorkels were sold in the country, bringing the brand in to the top 5 of sales volume that year. The company, which also represents Dinolift and Swift Lift, says there needs to be more finance option available in the country to increase sales, particularly in the current circumstances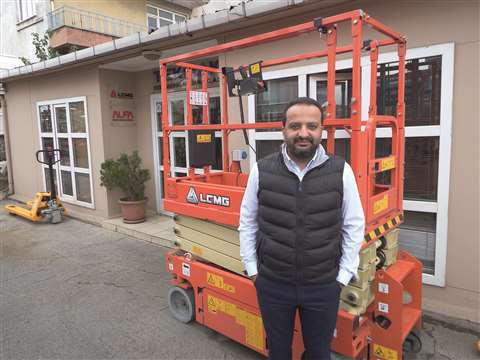 Another ambitious Chinese manufacturer is LGMG. It signed up its Turkey dealer TekMak in December last year. Until May it sold 40-45 units, but that will drop off considerably this year and the company believes it will not be much better next year. "In 2020 we will see a bigger increase and by then we will be selling 100-220 units. Next the years the government will increase taxes and the citizens of the country will pay for the debt. But in 202 the market may come back to normal," says Tunkay Çimen, of LGMG deralern Tekmak.
Truck mounts
Aydıntaş started in the early 1980's and is a major crane rental company. In 2010 it started investing in platforms. The largest is its 103m working height Palfinger. The company also has a pair of Liebherr LHM 500 mobile harbour cranes. Now, its 20 truck mount units include 10 units below 50m working height and 10 units above.
Ahmet Aydin, general manager with Aydintas, says there are between five and seven rental companies in Turkey with big truck mounts. Applications are found in the wind energy sector, along with construction sites and harbours. In the future, the company wishes to concentrate on the larger working height sector, mainly because there are already a large number of smaller truck mounted units in the country, thanks, in part, to the fact smaller units are produced in the country. The largest truck mount manufactured in Turkey is 53m working height. "We always want to support local manufactures. If a local manufacturer produces them, then we will buy from them."
A challenge, however, comes from the current exchange rate when it comes to buying machines in Euros and dollars. For some rental companies in Turkey, there is also the added complication that only used equipment above 70m working can be imported into the country, anything below must be purchased new.
Uzmanlar Platform is Turkey's biggest manufacturer of truck mounts. It started as a rental company in 2003 but decided to move into manufacturing in 2006 when the company realised it was easier to produce them itself as there were only a couple of small Turkey-based manufacturers at the time.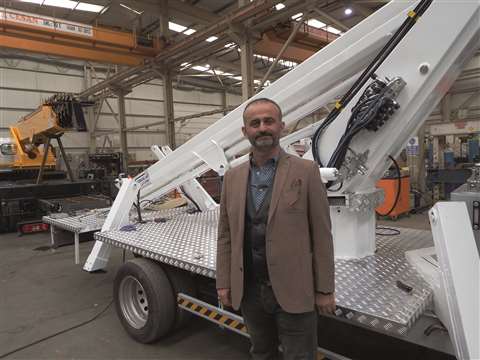 Uzmanlar was soon approached by other rental companies wanting to buy their machines. Now, more than 10 years later, the company has produced more than 1100 units. It also produces truck mounted scissors for tunnel maintenance. In 2015 the company started concentrating on exports and since then has sold more than 350 sold outside the country. Last year Uzmanlar produced 198 units, 100 of which were exported to 16 countries in Middle East, Russia, Turkmenistan, Kazakhstan and Georgia, then in Africa, Morocco and Tunisia, to name just a few. And, the company produces all its booms and related components on site.
"Due to the situation is Turkey our main target is the export market. For example, we want to enter the French market and we have meeting with potential dealers, and we will exhibit at European shows," says Yusuf Tursun, of Uzmanlar Platform.
The manufacturer is also seeking production partnerships in Europe and has already been to Italy to carry out discussions that may evolve into a collaboration. The company realises that it needs to improve its quality in a range of areas including finishing, welding and painting but is confident that will happen soon, and then can take market share across Europe.
The manufacturer is looking at the 45-50m working height area as a potential option in Europe.
The company is certainly in expansion mode, with its 5000 square metre production facility, and a further 3000 square metres being build in neighbouring land. In five years' time the company aims to be producing 80 machines a month. Another difference will be that it will be producing equipment for stock, rather than as orders come in as is the case now, which will make a difference to how it can compete in the global market.
The manufacturer believes there are around 4000 truck mount units working in Turkey at the moment, although that could increase to 10000 units or even 20000 if old cranes that are used as platforms are included.
Ansan, based in Izmit, places itself as about the fifth biggest truck mount manufacturer in Turkey. Its owner Ali Canayakin started the company in 2006 when he retired from a government-owned petrochemical company. He had qualified as a mechanical engineer and always wanted to pursue it as a career. In an emerging market manufacturers must be flexible and apart from truck mounts, Ansan produces van mounts, towable scissor lifts, self propelled booms and truck mounted scissors, as well as electric scissors, when required. Each year the company produces around 180 units, 80% of which are truck mounts. Some 35%-40% of items are exported to North Africa, the Middle East, as well as Iran and Iraq, among other