Access: Adapting to the times
By Euan Youdale01 October 2020
The new US-based ANSI standards, issued in June, have led to a surge in dual capacity boom lifts, while emissions regulations and stricter environmental controls in city centres have led to an expansion in hybrid and electric-powered access equipment that can match the performance of diesel powered lifts indoors and outdoors, across a range of applications.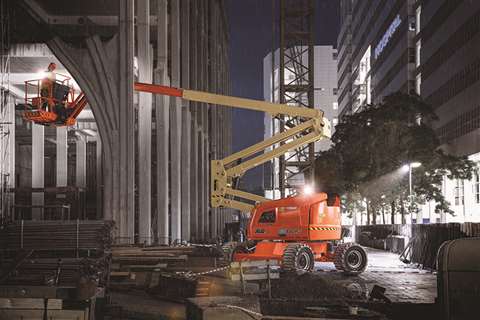 JLG first previewed its electric EC boom lifts at Bauma last year. The EC450 and EC520 models are now in production, with delivery due in the third quarter of 2020. The mid-sized articulating booms are equipped with lithium batteries and can work a full day without charging. They are delivered as standard on non-marking tyres.
Laurent Montenay, General Manager at JLG Deutschland, says the demand for electric-powered products can only increase; "Rental companies and our customers are asking for new solutions and alternatives over conventional diesel to work in urban areas and we are working towards fulfilling those needs."
And he believes the choice of electric over hybrid is a forgone conclusion; "With lithium batteries becoming more accessible, there's no need for hybrids anymore. The performance is equal to that of a conventional diesel."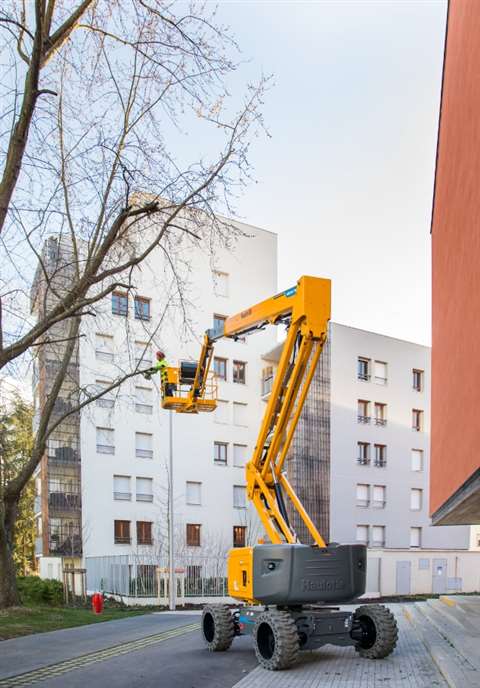 Pioneering
France-based manufacturer Haulotte launched the pioneering rough terrain electric articulating boom Pulseo Generation in 2018. The 20.76m working height HA20 LE Pro has a 72V battery pack and comes with an 18.5kW diesel Kubota range extender engine. A second unit in the Pulseo Generation range will be launched in the third quarter of this year, with more information becoming available soon.
Another calternative to lithium and traditional lead acid batteries, in Haulotte's view, is the emergence of fuel cells. "These are not batteries, but a device that can generate energy from the hydrogen contained in tanks and ambient air oxygen. Fuel cells provide good overall performances," the company says.
Manitou has chosen lead acid for its new electric 200 ATJ E rough terrain boom lift, which was presented as a prototype at Bauma last year and was officially released in the first quarter of this year.
Fanny Sourisseau, MEWP Product Manager, said, "We wanted to make a reliable, robust machine with incomparable off-road capabilities. Our 200 ATJ E allows us to work at a height of 20m with a capacity of 230kg and two operators. To make life easier for our users, we ensure autonomy of at least one working day." It is also light, at 7,100kg.
"Lithium-ion batteries seem to be a big trend today," says Sourisseau. "It is true that they have many advantages, including extremely fast charging times. However, today, lead batteries are less expensive and a better known and mastered technology, especially in terms of recyclability."
Snorkel has accelerated the introduction of its electric lithium-powered lifts. In April 2019, the company previewed lithium-ion battery powered SL26RTE and SL30RTE Speed Level lifts, which entered full production in its UK factory last October.
Battery technology
At ConExpo this year, Snorkel showed the same lithium-ion technology in its line of compact rough terrain scissor lifts. The S2770RTE, S3370RTE and S3970RTE are available to pre-order and are scheduled to enter UK production in late 2020.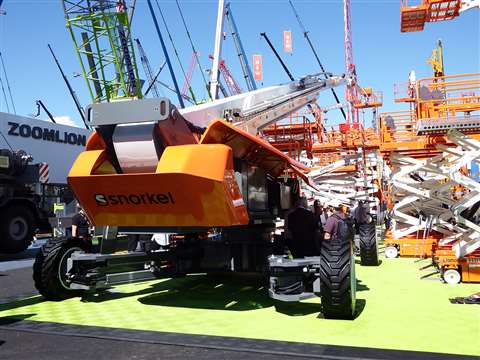 The Speed Level and compact rough terrain scissors are designed to deliver a long duty cycle to work a full shift and emit up to 60% less noise than the diesel equivalents. The battery packs have a built-in battery management system (BMS) and integrated electric powertrain. The lifts all offer four-wheel drive with zero emissions, while reducing running costs by up to 95% when compared with an engine.
Representing an industry-first, the new Snorkel SR626E delivers a maximum lifting capacity of 2,600kg, and a maximum lift height of up to 5.79m, while producing zero emissions in operation.
Matthew Elvin, CEO of Snorkel, says, "We are continuing to explore lithium electric technology, and are likely to expand its use into other suitable existing products, such as our S2255RT and S2755RT narrow compact rough terrain scissor lift models and mid-size boom lifts in the future."
China-based Dingli has confirmed that its full series of large self-propelled booms are now available as electric-powered versions.
Since 2016, Dingli has launched 14 boom lifts in the 24.3 to 30.3m working height category. Seven of the models are combustion engine-powered, while seven are electric-powered. The models have basket capacities up to 454kg. Dingli claims to be the world's only series production manufacturer of an electric-powered self-propelled boom with a capacity of 454kg and a working height over 22m.
The electric and diesel engine drive series are developed on the same platform, with 95% of the structural parts and 90% of the components being common, thus reducing the cost of maintenance, parts storage and labour.
Hybrid options
Niftylift was the founder of the hybrid boom range and in recent years has launched its electric E range which offers significantly increased standard duty cycle performance. The latest in the range, which was launched in 2019, is the HR17NE, an all-electric-drive version of the HR17N. It offers a 17m working height, with a market-leading outreach of 9.7m, all from a 1.5m wide base that weighs 7,780kg.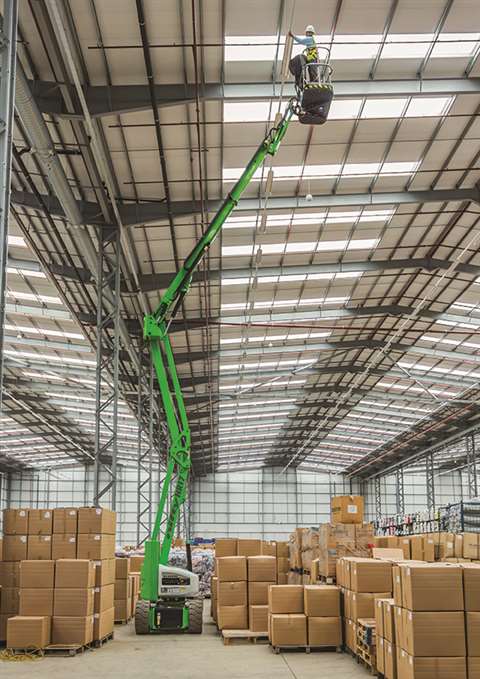 Nevertheless, Niftylift is still focusing on hybrid systems with the newly launched second-generation hybrid system, named Gen2 Hybrid. The new Gen2 Hybrid system is powered by an EU Stage V diesel engine, which is automatically boosted by an electric motor when extra power is needed. This combination enables smaller engines to be used than would otherwise be required, while still maintaining power and performance, said the company.
Genie has chosen the hybrid route with its FE (fuel/electric) range of boom lifts and sees the hybrid option as the relevant choice in the larger rough terrain arena. A recent launch is the Z-45 FE articulated boom, the smaller sibling of the Z-60 FE boom, launched at Bauma 2019. Also launched at the same time was the direct electric drive Genie GS-4655 scissor lift.
The Z-45 FE, like the Z-45/25 DC, can be operated in all-electric mode indoors. However, the FE also comes standard with four-wheel AC direct electric drive and oscillating axles.
Zach Gilmor, Genie Product Manager, Terex AWP, says, in the long term, more powertrains are likely to move towards full electrification, as fully electric aerial products continue to evolve with battery technology and jobsite charging infrastructure. "During this period of transition, Genie has chosen to offer the flexibility of offering both hybrid and full electric powertrains to our customers."
Airo's most recent launch is the hybrid articulated A18 JRTH Plus boom, first presented at the GIS show in Piacenza, Italy, in October 2019.
The A18 JRTH Plus, complements the existing A18 JRTD Plus diesel version, and is designed for increased performance thanks to its lithium iron-phosphate battery pack.
A low power diesel generator recharges the battery, either automatically when the battery is running low or when the operator chooses. Using the on-board charger, the battery can be full in four hours. In the absence of mains power, the generator can be coupled with the model's Supercharger guaranteeing a complete recharging in two hours, when the machine is at a standstill.
From LGMG, and as part of the new booms range coming to the EU market in the third quarter, there will be the A14JE, and due to high demand, a smaller 9m platform height boom will be added later in 2020.
Versatility
Earlier in 2020, LGMG launched the AS1413E, a versatile electric slab scissor with a working height of 16m, suitable for both indoor and outdoor use.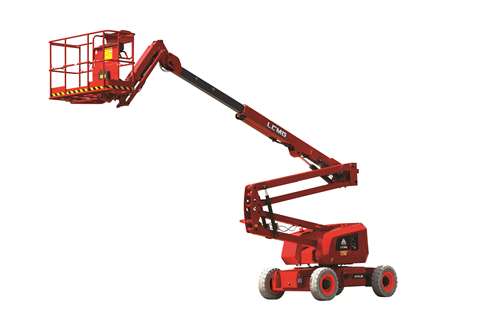 LGMG's electric slab scissors are designed to be rental-friendly with proportional descent, with indoor/outdoor use on many models, including the SS0407E and SS0507E, and available in both hydraulic and electric.
To further strengthen the scissor range, the manufacturer plans to launch its SR0818E across Europe at the end of 2020. There are no plans to launch any hybrid models in 2020. The focus will be on developing electric-powered models as LGMG believes this is the future of the industry. The company offers lead acid as standard, mainly driven by cost, customer familiarity and availability. It also offers lithium batteries as an option.
Sinoboom has already released 14m and 16m working height electric articulating boom lifts, which are now joined by an 18m electric and hybrid option. The hybrid GTZZ18HEJ and electric GTZZ18EJ were launched in June.
Sinoboom says it expects to launch 18, 20, 24 and 26m pure electric and hybrid telescopic boom lifts too.
ANSI advances
The new US ANSI A92 standards, implemented in June this year, have brought in a new era of dual capacity booms.
Genie kicked the trend off with its Xtra Capacity (XC) units, which have been well documented. To complement the range, the manufacturer launched the second boom lift in its new J range at ConExpo. The J range is lighter and simpler to use than the XC range for operators who want the height rather than the extra capacity and further outreach.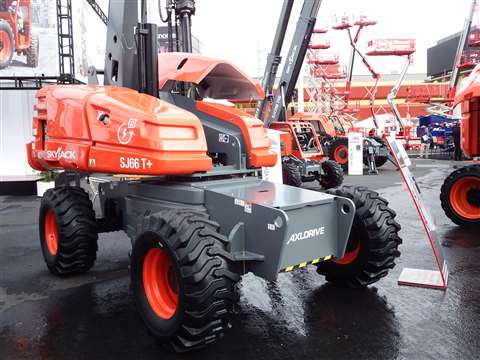 JLG's hi-capacity booms were first announced last year but were on show for the first time this year. JLG's new 600 series hi-capacity HC3 boom models were presented at ConExpo. The series so far consists of the 600AJ and 600S, which each deliver an 18m platform height, and the 660SJ, with a 20m platform height. Each model offers a 300kg unrestricted capacity, plus 340 and 454kg restricted capacities.
Skyjack's extra-capacity/dual zone booms will also be a major part of its future offering. On show at ConExpo was the SJ66T+, with a 300 and 454kg dual capacity. Skyjack's solution to help the North American industry's move into the load sensing requirements of ANSI will replace the whole boom line in the continent.
Bigger and bigger boom lifts
At ConExpo, Don Ahern, owner of Snorkel, told Access International (AI) that, following a great deal of research, he had been convinced there was a need for a much larger machine. Hence the world's largest boom lift was launched, in the form of the 64m platform height Snorkel 2100SJ. (You can see the full video interview with Don Ahern at www.khl.com/ai, in which he lays out all its specifications and the reasons behind its development).
Dubbed a 'mega boom,' the lift provides a horizontal outreach of up to 30.4m and has an unrestricted platform capacity of 300kg. With a maximum working height of 65.8m, the 2100SJ reaches an equivalent of 22 building storeys.
Other manufacturers have been launching big booms of late to compete with the previously mentioned JLG and Genie booms. At Bauma China, in 2018, XCMG launched the 56.6m platform height GTBZ58S telescopic boom. The model has a 450kg restricted basket capacity, and 250kg unrestricted. Maximum outreach is 25.1m, while the weight of the machine is 27,200kg.
More recently, at APEX Asia last year, Sinoboom launched the world's largest articulating boom. At 46.3m platform height, the GTZZ46J just tops JLG's 45.72m platform height 1500AJP. A team of engineers, led by company founder and CEO Steven Liu, developed the GTZZ46J in response to demand from the petrochemical industry, which is the sector that has placed orders for the first units.
It has a horizontal reach of 25.5m and maximum load of 455kg – these being key factors for customers engaged in the installation and maintenance of large steel structures, venues and petrochemical plants, where both span height and horizontal extension are of particular importance, says the company.