Eighty-five companies have booked exhibition space for the ninth APEX, which promises to be one of the most successful in the event's history. It takes place May 2-4 at the RAI Exhibition Centre in Amsterdam.
Eight Chinese aerial OEMs are also attending, which is a record for APEX and indicative of the growth in the Chinese aerial platform market.
The show is supported by sister publication Access International and IPAF and is organized by Industrial Promotions International BV (IPI).
Product launches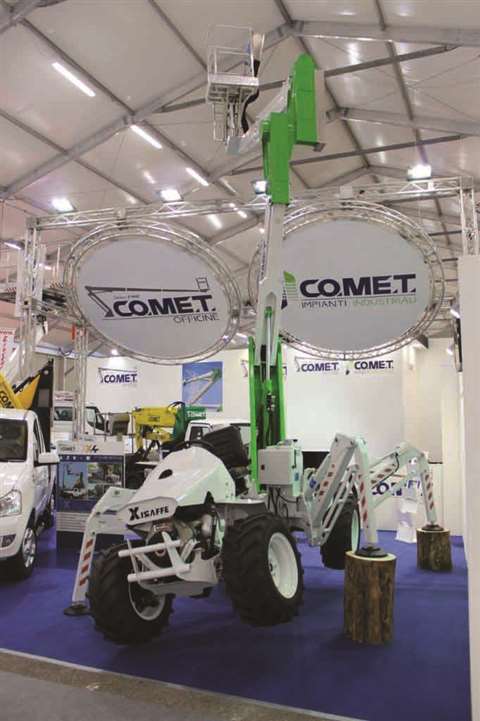 Expect a considerable number of launches at the show, with perhaps the biggest talking point being JCB's presence with its new range of access equipment.
Here are some products ALH and Access International have learned about ahead of the full APEX show guide which will be in the May issues.
Almac will launch its new Bibi 1090-BL EVO, the manufacturer's latest new bi-levelling crawler scissor lift of 10m working height.
French manufacturer ATN will provide examples from its whole range, including the Zebra 16 Stab articulating boom with automatic stabilizers; The Piaf 1010 vertical mast boom on tracks; the Mygale 23, a 22.85m working height track mount; the new Piaf 12E electric drive mast boom lift; and the CX15 diesel scissor.
Bronto Skylift will exhibit its 70m working height S70XR truck mount, with an outreach of 36m and a maximum capacity of 600kg. Overall length of the machine is less than 12m.
CTE will reveal its new truck-mounted platform, the CTE MP 32.19, making a world premiere. Also on display will be CTE's existing flagship product the, the 27m of working height CTE B-LIFT 27.
From Co.me.t, visitors will see the new 12m working height Xiraffe which is the result of combining a compact all-terrain vehicle and a platform. It is designed for working in tropical or off-road conditions. Outreach is 4m, while basket capacity is 120kg. Co.me.t will also launch the Solar, a truck-mounted platform with a basket capacity of 400kg with a 3.5m by 1.9m basket size.
Genie will showcase its XC range of booms – visitors should expect something new and exciting from the company.
Genius Scissor will expand its aluminum People Lift Mak1 range at the show, from the all-electric Mak1 Baby, a 3.5m working height, 70kg push-around, manually raised and lowered to the brand new Mak1 Predator with 5m working height. All models are made up of aluminum, therefore ultralight.
Haulotte will be presenting its 28m working height HT28 RTJ O rough terrain telescopic boom for the first time in Europe.
Omme Lift will present its new trailer lifts, the 1300 EB and 1700 EXB, plus a new articulated track mounted hybrid, the 18.40 RXBD.
Italian manufacturer Palazzani will show a completely new product too, this time in its Palift range, although no details were revealed.
Rothlehner will show its DL30, the world's tallest trailer mounted platform with a working height of 30m, and 3500kg total weight.