Adjustable lifting system off the shelf from Modulift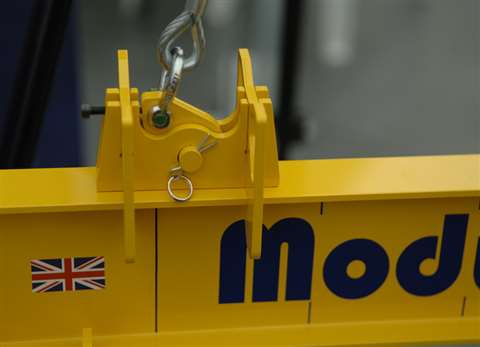 Flexibility and speed are key features of Modulift's new MOD CLS beam system. It is a combined lifting and spreader beam with an adjustable clamp system for the lifting and suspension points. Availability is from stock with immediate shipping. Typical applications are in light industry.
Sarah Spivey, Modulift managing director, said, "The MOD CLS is game-changing from a lead-time perspective as users no longer have to wait for beams to be built. The launch is yet another example of Modulift responding to industry demand and providing distributors with a revolutionary, off-the-shelf, below-the-hook solution."
An 8.5 tonne capacity system will be available initially and larger models are planned to follow. Four clamps come as standard to adjust the lifting points allowing a single top lifting point (lifting beam) or double top lifting points (spreader beam).
The clamps are pre-assembled on the beam and markers show alignment and the centre of lift. Clamps on the top of the beam are larger and higher rated than the two on the underside. More clamps can be added to the bottom side of the beam as additional lifting points. Where more lifting points are needed it can be designed as an H-frame.
Ian Locke, senior design engineer at Modulift, said, "Despite a host of individual component features, the product stands out as an entire lifting system, not just a spreader, lifting beam or clamp. This is where we differentiate ourselves from existing products in the marketplace. Rather than releasing the clamp design on its own, we set out to create a complete below-the-hook solution."