Advanced power
By Lindsey Anderson18 June 2019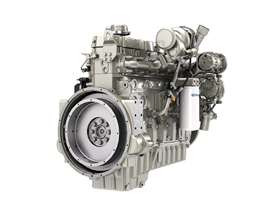 Over the last year, Perkins has been working to not only offer new engine solutions for its customers, but also improved support and technology. The company is marketing itself strongly to North American rental companies by introducing a dedicated rental support program that helps rental companies with engine training, warranty claims, engine diagnostics and parts ordering.
"Perkins understands customers need to keep their machines running reliably for longer – so as they can maximize their return on investment," the company told ALH. "To meet these needs Perkins has invested in innovative new solutions to give customers more choice, quality and value at every stage of the engine's lifecycle."
The company debuted its new My Engine App – a free download from Apple and Google app stores – which helps owners manage, service and repair engines in their fleets. It is available in multiple languages including English, German, French, Italian, Spanish, Portuguese, Turkish and Chinese.
Perkins also has been working extensively on promoting its SmartCap, which the company says is the world's first low-cost engine telematics device that can be used in conjunction with the app.
"We're investing across our full range of parts and services to ensure we're supporting customers in everything we do," said Matt O'Sullivan, aftermarket general manager. "By providing more choice, better value, and better availability, we can help our customers enhance the return on their investment and ensure their machines run dependably and efficiently for many years."
As far as rental companies are concerned, it is small engine sizes that are often just as important as the larger power units. With a majority of Perkins' engines being sold in the U.S. to rental companies, the company said it expects continued growth here for the foreseeable future, thus it launched a new 1.1 turbo 403J-11T engine at the start of 2019. It is a turbo-charged version of Perkins' 403 J-11.
"The new engine outputs 24 hp (18.4 kW) and 86 Nm (63.4 pound-foot) of torque and is particularly suited to power small construction equipment that is popular among North American rental fleets," the company said.
The 403J-11T is one of the latest products in Perkins range, joining three other 24-hp engines in the line-up that meet U.S. EPA Tier 4 Final emission standards, and offers original equipment manufacturers (OEMs) the choice at this power node. "
"For this critical power of 24hp, OEMs need to balance multiple engine characteristics to get the best match for their machines," said Oliver Lythgoe, marketing manager for small engines at Perkins. "The 403J-11T will be particularly suitable for machines that need good torque performance, but also need the smallest package possible. Many rental companies want to stock the same equipment across the whole of North America and these turbo engines are particularly good for maintaining performance even at high altitudes and across a wide range of temperatures."
The 403J-11T engine is just the latest release in major investments by Perkins in small engines. The range is being transformed to include new model introductions, upgrades for the latest world emissions standards, and upgrades in power and torque.
Every Perkins engine is backed by the company's Perkins Rental Support Program that helps manage the latest emissions standards and improve bottom lines. "Staffed by highly-skilled maintenance and service experts, the Perkins Rental Support Program provides the necessary tools to increase return on investment and enhance the customer experience," the company said.
Investments from Perkins extend beyond new products such as the Perkins 403J-11T. Other areas the company is focusing on include the creation of new manufacturing lines and implementing cutting-edge automation technologies. Perkins has invested in its parts distribution centers in Kentucky, Irlam (UK,) Singapore and Brazil.
It also has revamped its online parts shop, making it simpler to buy genuine parts directly from Perkins. The shop currently only operates in the UK and U.S. but Perkins said it will expand into Europe throughout the year.
"Our OEM and rental customers appreciate our unique ability to collaborate with them based on their needs, as well as provide them with reliable, quality products," Perkins manager of global rental operations, Andy Zuckerman, explained.
Further launches
At Bauma, Perkins featured a range of technologies that it said would add "real value" to OEMs as they design the next generation of off-highway machines. The company showed hybrid-electric, hybrid-mechanical and hybrid-hydraulic power technologies which complement the existing 0.5 to 18-liter range of its diesel engines.
Perkins also displayed a range of engines that meet the new Stage V emission standards which are being phased in this year across Europe, such as the 1.7-liter mechanical 400 Series at 18.9kW, to the new Syncro 3.6-liter engine offering 100kW.
The company also showcased a 4-cylinder 1200 Series, designed for the electric power market.
The engine delivers 120kVA and meets Stage V emission standards for mobile generators. At the larger end of the Perkins range, the 1700 Series is a 6-cylinder, 9.3 liter engine offering 340kW, while the 2400 Series, was shown for the first time.
Perkins Stage V technologies include common rail fuel systems, selective catalytic reduction (SCR), diesel oxidation catalysts (DOC) and diesel particulate filters (DPF).
Engine unveilings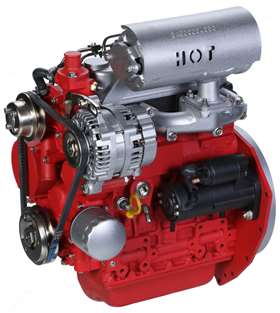 Deutz used the ARA Show earlier this year to introduce two sub-19kW power units. The D1.2 is a 3-cylinder, 1.2-liter engine with output of up to 19kWm and it can be used as a hybrid in combination with the company's new electric E-Deutz products, providing customers with complete hybrid packages that are more efficient and environmentally friendly. The other engine is the D1.7.
The D1.2 engine falls in the under-25-hp range and is designed to efficiently power machines like aerial platforms, welders, trenching equipment, mini skid-steer loaders and other applications. It is a naturally aspirated, 3-cylinder configuration offered in a 1.2L displacement with output ratings of up to 25 hp.
These engines, said Deutz, will "better meet the needs of customers who want to efficiently power machines such as aerial platforms… – machines that are very much in demand in the rental industry," said Robert Mann, Deutz Corp. president and CEO. "The rental industry is a growing market for our products and getting feedback from customers and dealers is crucial to ensuring that we don't just meet expectations, but exceed them."
Deutz used Bauma to showcase a modular product kit for diesel, gas, hybrid and electric drives.
The company said it was diversifying its drive portfolio and would, in future, offer a modular range of different technologies to its customers in the construction equipment, forklift truck and aerial work platform segments.
Based on its product modules, Deutz will design the optimum drive system individually for each customer and it said that, thanks to the company's expertise gained over many years, it would "exploit and intelligently combine" the benefits of various technologies.
This applies both to combustion engines and to the electromobility segment. It said that electrification was an integral element of the Deutz development expertise, and that it had already successfully developed the first prototype machines as part of its E-Deutz strategy.
'Green' telehandlers
At the end of 2018, Deutz presented two fully working prototype machines. Two telehandlers, which are normally powered by a 74kW Deutz TCD 3.6 diesel engine, were converted – one to a hybrid drive and the other to a full-electric drive.
It said the E-Deutz hybrid achieved fuel savings of approximately 15 percent, recouping the investment costs after just one year of use.
At Bauma, Deutz demonstrated real-life operating conditions with other prototype machines taken from actual E-Deutz customer projects. Together with the Manitou Group, Deutz has already assembled and delivered the first prototype machines to be fitted with electrified drives.
From 2019, Deutz will also be making further additions to its higher output range portfolio, with four new in-line engines of between 9- and 18-liter capacity. The company is extending its product offering in the lower power output range, not just as regards cubic capacity but in the choice of fuels. Based on the successful 4-cylinder TCD 2.9 (30 to 75 kW), there will be a 3-cylinder variant, the TCD 2.2, ranging in output from 22 to 56 kW. Both these diesel engines will also be available as liquefied petroleum gas (LPG) versions, named G 2.2 and G 2.9.
Lastly, another highlight at Bauma for Deutz was a hydrogen variant of the TCD 7.8.
The company said that adapting the traditional combustion engine so it could use alternative fuels – such as hydrogen – as a sustainable energy source was another promising area of its current research.
Emissions regulations
Stage V was a key focus for Cummins at Bauma.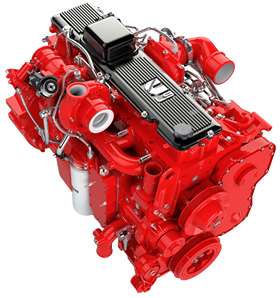 "Since unveiling our Stage V construction engines at Bauma 2016, we have made great progress and are in production with all engine models from F3.8 to X15," said Alexei Ustinov, vice president, off-highway engine business. "We have over 200 machine installations completed or in progress, which is more than at Stage IV.
"We are developing alternate power capability such as hybrid, electric and fuel cells, however Stage V remains a key part of our plan."
One of the engines on display at the show, the B6.7, reflects 100 years of engine innovation and is said to offer 30 percent higher torque than Stage IV with 243 kW (326 hp) of power.
Also featured was the Stage V F3.8 power unit. Delivered as a complete and ready-made power package, it comprises an engine, single module aftertreatment, radiator and cooling system. Stage V engines and power units are available from 75–503 kW (100–675 hp).
According to the company, achieving near-zero emissions levels in an engine delivering 74 hp to 130 hp (55-98 kW) without compromising power, performance or fuel economy is a big challenge. Yet that's exactly what Cummins engineers have achieved in the QSF3.8 – without the need to add a DPF to the aftertreatment system.
At 74 hp, the QSF3.8 uses a simple "fit and forget" diesel oxidation catalyst (DOC). The Cummins DOC, a flow-through device requiring no ash-cleaning service, no sensors and no operational lamps in the equipment cab, enables a smaller, easier and more flexible equipment installation than diesel particulate filters (DPF), according to the company, which is typically used by many other engines below 75 hp looking to meet the requirement for near-zero emissions.
From 100 to 130 hp, the QSF3.8 is paired with a diesel oxidation catalyst and selective catalytic reduction (DOC-SCR) system designed by Cummins Emission Solutions (CES). Cummins SCR enables oxides of nitrogen (NOx) conversion to take place at lower exhaust temperatures. CES has manufactured more than 1 million SCR systems – and has more experience with this technology than any other company, they said. The Cummins SCR system features a decomposition tube designed to enable more effective mixing of the DEF ahead of the catalyst. Additionally, for certain applications, the QSF3.8 can be paired with an SCR-only aftertreatment system.
This technology path also allows the QSF3.8 to reduce the amount of cooled exhaust gas being recirculated through the combustion chamber, increasing the power output to the highest level of any engine in the sub-4-liter engine class while simultaneously keeping fuel efficiency comparable to that of our Tier 4 Interim 3.3-liter engine.
Full-authority electronic controls and industry-standard data links make it easier to electronically integrate the QSF3.8 with equipment, as well as track engine performance data and perform routine servicing on this engine, Cummins said. "A waste-gated turbocharger from Cummins Turbo Technologies is simple and robust in design. The QSF3.8 engine's small size and multiple aftertreatment options make installation easier for design engineers."