Aecom and Turner Construction in US football stadium contract
By Joe Malone21 July 2016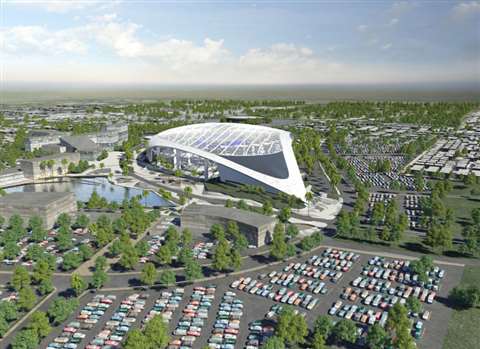 US-based companies Aecom and Turner Construction Company have won a contract to build a new US$ 2.5 billion football stadium – dubbed 'NFL Disney World' by its owners – for the Los Angeles Rams football team in the US.
The project will comprise over 70,000 seats, spread over 120 hectares, and will be used for both national and international events.
The build will also include public spaces such as parks and playgrounds, alongside hotel rooms, residential units and 890 m² of retail space.
Reports say the three-year project will provide 3,500 jobs within Inglewood, California.
Aecom and Turner Construction will work alongside Dallas-based HKS Architects, which is responsible for the stadiums design, Wilson Meany, which will deliver infrastructure management, and Legends Project Development, which will provide project management services.
Terry Fancher, president of the Holly Park Land Company, owner of the project, said, "We have hired the best team to build the largest and most technologically advanced sports stadium in the world for the Los Angeles Rams.
"These firms also offered a well-developed plan for meeting Hollywood Park's commitment to provide substantial employment opportunities for local Inglewood residents, and meaningful economic participation in the stadium construction process for minority-owned business enterprises."