Aerials right at home: Rental Show highlights
By Lindsey Anderson07 May 2008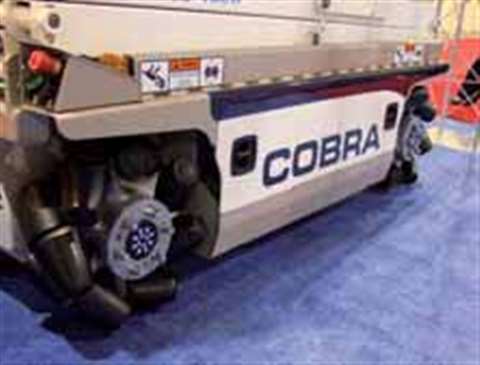 The second show of the season and an important event for the lift and handler industry, the Rental Show was well-represented with the new and old. ALH reports
Like World of Concrete, the American Rental Association's Rental Show was in Las Vegas. Unlike WoC, which enjoyed its second largest show ever, the Rental Show started off strong but tapered off towards the end, with regards to attendance.
As of press time, the ARA has not released its attendance figures, but several attendees ALH spoke to at the show remarked that there was some disappointment in attendance numbers visiting booths, but still said the leads were good. That the traffic was down is disappointing, as this year's show really saw some interesting products. But, as the phrase was at the show: "it's-a-Conexpo year."
If World of Concrete has a strong attendance from the mast climbing community, and to a lesser extent telehanders, the Rental Show has the scissor and boom community loud and proud. The following are some of the main launches and some unique surprises that hit the show floor.
Any which way
Stationed on the fringe of the exhibit hall far in the back, attendees, as well as exhibitors, still made their way back to the Airtrax booth. The company's Cobra series, models ATX 1933, 3247 and 3368 on display at the Rental Show in Las Vegas, travel in all directions. Its magic is its four independent driven wheels result in low vibration omnidirectional capability. Each wheel consists of a steel hub surrounded with multiple polyurethane coated rollers.
The machines are manufactured at its plant in New Jersey. The scissor is the company's own make, built complete. According to the company's President and CEO Robert Watson, the machines are now in the marketplace with units available for delivery in July.
The machines are not cheap: its 19 foot unit is listed as $32,810 and its larger 3368 just less than $100,000. Yet the company says as of show time the interest and leads have been high. The machines brought to the show are now property of Lift Works Inc., who bought 10 altogether. Airtrax were hoping to pick up distribution at the show.
"Our concept is to design machines that are maintenance free. We have the best scissor, and that comes at a premium cost," says Watson. Several years ago, the company displayed its technology on MEC scissors. This year marks the first as the company alone to exhibit.
Italian baskets
Another first time exhibitor, Platform Basket, got placed in a corner far away from its main competition of articulating booms with the spider outriggers. The Poviglio, Italy-based company brought its RQG12 tracked articulating boom. The company's Carlo Molesini says the company registered and was accepted late, so it couldn't bring its other four models to the show. The company brought its RQG12 machine courtesy of its distributor Nacelle Basket, in the French Ward, Canada. This 40 foot unit, articulating with a jib, has tracks and is rough terrain. The unit is bi-powered, with diesel as well as electrically driven. It also has a power source of plugging into a 110 volt outlet..
"We are here for a mission, looking for distribution in the states. We have had some interest and we are quite sure we can do something good here," says Molesini.
This year, Nacelle Basket will begin distributing the Platform Basket throughout all Canada.
Stand up machines
Snorkel officially launched its AB46JRT at the show. This rough terrain boom with jib is an updated version of an UpRight machine.
"We went into the Snorkel system, with wire-to-wire mechanical switches opposed to a computer based system," says Kevin Edgley, principal engineer with Snorkel. "The reason for that is it is easier for contractors to make repairs and for problem diagnosis."
The 46 foot machine has a self-contained rotation drive and has a platform rotation of plus/minus 90 degrees.
Key theme this year was easy access for serviceability. Snorkel provides break points for easy access to hoses. The machine is 2WD/4WD drive and has an inside turning radius of 48 inches. The product is manufactured in Snorkel's Elwood, KS facility; its UpRight counterpart at its facility in the UK.
The AB46JE boom is the same from the rotation up, but is an electric drive chassis 48 volt machine. With non-marking tires, this has a tighter inside turning radius at 31 inches. All functions are fully proportional, except steer. "What that does is allows the operator to creep up on an area instead of slamming into something," says Edgley, explaining how it's a good safety feature.
Skyjack's second in family of booms
Skyjack brought a prototype of the latest SJ66T, a 66-foot telescopic boom with jib rough terrain boom. The machine was built with as much commonality to its SJ45T model. It has larger service space for easier access to hydraulic hoses and engine. The diesel machine comes with polymer based plastic tanks that holds 45 gallons of fuel. Again, like its other model in the family, all the wiring system is color coded the same. The unit is drivable at full height.
"The guys absolutely love this [color coded system] and would kill us if we took it away," says Paul Kreutzwiser, senior product marketing manager with Skyjack.
Its strong terrainability is from the company's axle-based 4WD system that features a "Detroit Locker" type rear differential and limited slip differential. The differentials ensure full positive traction, meaning if one wheel slips, there is still 100% power on the axles, which is ideal for harsh ground conditions. Because the company didn't want to crowd the insides with counterweight, these were placed out the chassis on the sides of the machine.
"When you put the Powertrain with the Deutz 4-cylinder diesel 65 horsepower engine, you get 50% gradeability," says Kreutzwiser, remarking it's the industry's best.
Its other features include a direction sensing drive and steer control system as well as 45° steering angle, the industry's tightest turning radius, Kreutzwiser says.
More than 10 options are available, which include a 3.5 kW generator and two different welder packages and glazier kit. Production begins in late April/early May and will be sent out for field testing, and is scheduled to ship early summer.
JLG Industries was keeping its powder dry for Conexpo, where it will have several big initiatives to promote, including the official launch of its new "connected asset" technology (see news story in this issue).
Genie, meanwhile, showed a new tracked version of its S-65 boom, using Loegering tracks. This machine used to be an aftermarket model sold by Loegering, but is now being offered directly by Genie. Also on the stand was its updated compact telehandler, the GTH-5519.
PT cruiser
As well as the new range of X-booms, Bil-Jax was showing the PT10 work platform for the first time. Bil-Jax has acquired the license to manufacture the PT10 in the US from the UK company CTE UK – where it is known as the Power Tower - and will be selling it in North, Central and South America and China.
The PT10 features a sigma shaped boom and is a lightweight push around lift for low level access. The machine is designed for working on internal applications on flat surfaces. The PT10 is rigid enough not to require outriggers or stabilizers.
At its lowest position, the machine is 4 feet by 2.5 feet by 6 feet, 2 inches so can pass through a standard size doorway and fit into most passenger lifts. The battery is designed to give 120 cycles from a single charge.
Bil-Jax has made some modifications to the machine to make it more suitable for its markets: an aluminum basket has been designed and locally sourced components will be used. The PT10 should be available from May 2008.
Of the big European manufacturers, Haulotte Group decided to focus its intentions on Conexpo, while the UK's Niftylift presented a wide range of its self-propelled booms and trailer mounted products at the Show. The company's green livery is now a familiar sight at the Rental Show and has become a well accepted lift product in the US.
They come with three
Aichi introduced its Skymaster SP400C and SP460CJ boom lifts at the show. The SP400C is self-propelled boom 40 foot machine and the SP460CJ is 46 feet with jib.
"These are six days 'off the boat,' and the reception has been very good so far," says Alan Dotts, manager with Aichi USA, explaining that the new machines came straight from the manufacturing plant in Japan. He says what makes these machines unique is that the company went with a three section boom instead of two sections. "What that does is gives you the same height and weight, which is never a problem with loading, but length is. The three booms means less length, so you can get two machines on a trailer or a mid-sized bed," Dotts says.
The booms feature 44 horsepower Yanmar engines. Dotts says these booms are more of an end user product and the company does not "want to offer a rental program... direct right now. But that will come in the future."
Aichi's new scissor lifts, SV2032 800 pound capacity and SV2632C 500 pound capacity ("C" stands for third generation/third letter in alphabet) has new design modifications since its inception, says Dotts: advanced driving performance, an optional proportional steering system, lower stowed position and easier maintenance. Marketing these as "zero maintenance" machines, the AC drive motors increase battery cycle life and make it low maintenance due to the brushless technology. The proportional drive and steer offers "smoother" operation and has a steering angle of 90° radius. Its lower stow height (SV2032C, 40.4 inches; SV2632C, 45 1/2 inches) allows easier tool and material loading/unloading and swing type door for easier maintenance.
Currently, the new Aichi scissors and booms have an eight week delivery time.
The company, 51% owned by Toyota, is still trying to decide on its plans for US manufacturing. A facility in Indiana has been reported, but at this point, nothing concrete has been set, says Dotts.
MEC's first boom
MEC Aerial Work Platform's new boom was never short of visitors at its booth. The pre-production machine M40T was completed just in time for the show and is the first of several straight, jib and articulated boom models which the company plans to develop over the next three to five years.
"Our goal was to develop a new 40 foot platform height boom that would provide a higher level of features, specifications and performance, while still maintaining an equal or improved level of reliability, all within a price range that would provide a very compelling value proposition when compared against other industry leading products in the market place," said Steve Citron, MEC's director of business development, "This has been a challenging task, but one that we believe has been achieved."
The MEC M40T is a straight telescopic boom with more than 34 feet of outreach from the centerline of the turntable bearing to the end of the platform rails. The tail swing has been minimized to just less than 2 feet, 4 inches, reducing the risk of collision between the counter weight and any obstacles that might be found on site.
M40T will be offered in a range of capacities: 500, 750 and 1,000 pounds with only the boom reach on the 1,000-pound model being restricted when fully loaded. MEC has chosen to use Ford gas and Perkins diesel engines, but has opted for a 40 gallon fuel tank to extend the time between refueling.
Drive speeds of 5 mph can be achieved and gradeability is 35% on the two wheel-drive and 50% on the four wheel-drive models. The four wheel-drive model features the Quad-Trax positive traction system which provides equal power to each wheel and has an active oscillating axle system that will automatically sense terrain and adjust accordingly.
The control system has been designed to be very easy to understand and operate with simple graphic prompts on the panel.
"From an acquisition pricing perspective, MEC has offered competitive scissor lift prices, but we intend to really push the pricing envelope further with our new line of booms," says Jim Tolle, president of MEC Aerial Work Platform sales.
Towable scissor
Trailer-mounted scissor manufacturer PLE brought its TP9000 unit. The unit weighs less than 2,400 pounds and has a 28-foot working height. Because of its lightweight, the unit is towable by "car, truck, SUV, golf cart" says its Regional Sales Manager George Murphy. The machines are manufactured in Beresford, SD and retails at $11,300. The unit is available throughout the US.
The company has found a niche by supplying its other towable scissors, the PLE 18 (18 feet) and 24 (24 feet), to hunters in the Midwest. According to Murphy, these camouflage painted units provide a safe platform to hunters that may be elderly, handicapped or larger. These electrically powered machines have a 500 pound capacity.
"The highlight of my career was selling one of these units to a father whose son is a paraplegic. When I delivered the machine to the family, the kid's eyes opened up with excitement. He could now go hunting with his dad," says Murphy, whose own son Joe is now sales with PLE.