AEUP introduces mast lift trailer
By Euan Youdale22 September 2015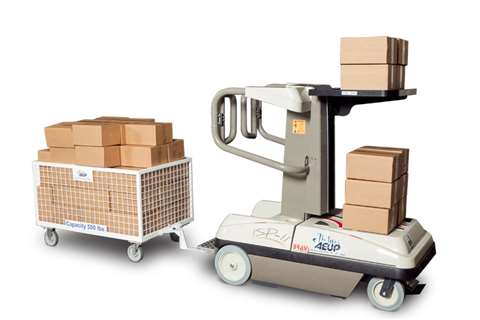 Absolute E-Z Up (AEUP) has introduced the Transport Dolly, a trailer with a capacity of 500 pounds.
The trailer is 30 inches wide, 68 inches long and has a ground clearance of 8 inches. It can be used to pick warehouse stock, transport parts to shipping or deliver components to work stations for just in time manufacturing.
The Transport Dolly is designed to be towed by the ISP-11 industrial stock picker mast lift, manufactured by Bravi in Italy - AEUP is Bravi's North and South America distributor. When combined with the ISP-11's 200 pound capacity tray and 249 pound capacity cargo hood, operators can move 949 pounds of material or inventory in one trip.
Constructed with high grade steel and powder-coated paint, and featuring a diamond plated floor, the Transport Dolly is built to withstand demanding work sites. It also has a quick connect/disconnect system and safety coupler.