AFI fleet 64% electric/hybrid
By Euan Youdale05 December 2019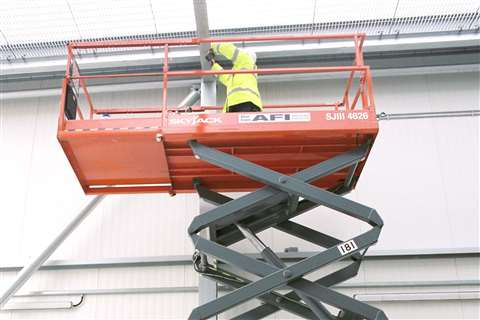 AFI group has invested significantly to replace its traditional powered access fleet with more specialist hybrid or electric equipment, to keep up with market demand and comply with increasingly strict emissions regulations.
Approximately 64% of UK-based AFI's MEWP hire fleet is now electric or hybrid to comply with onsite restrictions, low emission zones, specialist applications and indoor work.
"Due to increasing pressures on governments to improve local air quality and reduce noise pollution, we are seeing more low emission zones, noise limits and workplace regulations," said a company spokesperson, "Recent technological advancements made electrification and hybridisation more suitable for a wider range of AFI customers. Zero emission or low-emission MEWPs are much better suited for operation in emission-sensitive environments; inside buildings, shopping centres, hotels, hospitals, airports and schools. They are also widely used in factories and industrial facilities, for maintenance work, and inspections, building asset management and both planned and preventative building maintenance."
AFI's national delivery fleet is Ultra Low Emission Zone Ready and Euro 6 compliant, not just in Central London (where the ULEZ scheme is operating) and AFI-Uplift's entire van fleet became compliant in September.
Over recent years AFI has also invested heavily to provide its own inhouse transport fleet, allowing it to take full responsibility and control of the entire MEWP delivery process. The vehicles have been strategically located throughout the UK depot network for quick delivery.