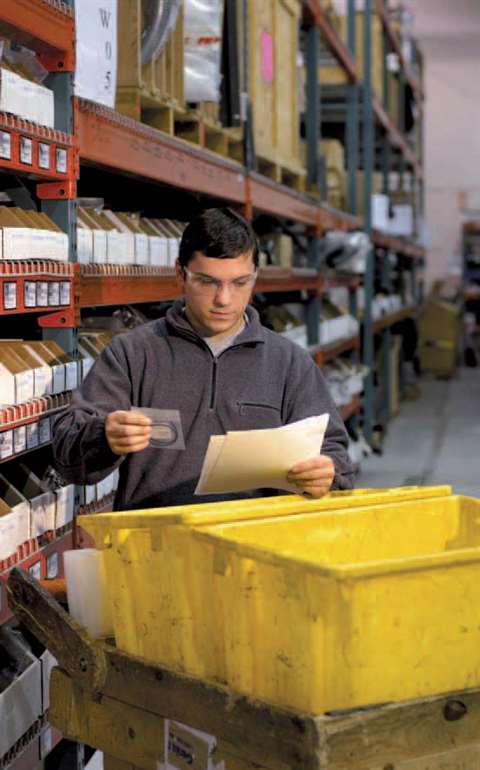 Buyers of aerial platforms stand to benefit from a vigorous battle going on between the access manufacturers over the money you spend after you have bought a machine. Services loosely defines as the aftermarket – parts, servicing, refurbishment, re–rental, used equipment sales, training – have become a key battleground for the suppliers looking for dependable (and high margin) revenues over the life of the machines they produce.
JLG industries is one of the few willing to quantify this opportunity, having said publicly that it has a target to generate 35% of its total business from such services by 2011. The proportion in its last financial year was 13% – a figure revealing that it is nothing less than a transformation of its business that JLG is seeking.
The Oshkosh way
It also seems that this aim will survive the Oshkosh acquisition. One reason for this is that Oshkosh's existing business already generates a substantial proportion of its sales from the aftermarket – understood to be in excess of 30% – which means that Oshkosh doesn't need to be convinced of the benefits.
The two are now investigating ways for JLG to use Oshkosh's enormous portfolio of manufacturing and service centres worldwide to help it expand its aftermarket business. Craig Paylor, JLG's senior vice president of sales and marketing – and widely tipped to be JLG's next president – told AI that he had seen a willingness at Oshkosh for JLG to make progress on its aftermarket services such as ServicePlus in the US and EQS in Europe.
For example, the US ServicePlus network could well benefit from the 20 facilities in North America operated by Oshkosh concrete truck subsidiary McNeilus. Likewise, Oshkosh has three military truck service facilities in the Middle East – including Kuwait and Iraq – that could be used to service JLG telehandlers or aerial platforms.
"They have been more than willing to sit and talk to us about what we want to do", said Mr Paylor, speaking to AI at the World of Concrete exhibition in Las Vegas. He said Oshkosh had between 5 and 6 million square feet of facilities worldwide – compared to less than 2 million square feet at JLG – and that Oshkosh was willing to look at potential synergies, such as "buildings that are not fully utilized."
The ServicePlus operation in North America – launched in 2004 – gives as good a picture as any of how JLG will target the aftermarket. So far there are three locations in the US – McConnellsburg, Houston and Atlanta – and a fourth in Southern California will open in late Spring this year.
These facilities provide services including parts, preventative maintenance, repairs/refurbishments and training. "At the start the focus was service work", says Joe Dixon, president of ServicePlus, "now we are adding reconditioning of components, because our customers are asking for it."
If progress seems slow – four locations in three years – then you have to understand that these are major facilities, each employing 35 to 40 staff and with between 25000 ft and 70000 ft2 of storage and workshop space, including overhead cranes. Mr Dixon says it could take a further four years to complete the North American network.
Mobile service
These major locations are now being supplemented in the US by service vans (which happen to be manufactured by IMT, another of Oshkosh's subsidiaries). There are 10 to 12 of these roaming North America, and Mr Dixon can see there being 100 to 200 long term.
The task of establishing a global network of ServicePlus locations is a much longer term project. In Europe, JLG already has its EQS refurbishment/rebuilding center at Tonneins in France – which serves the whole of Europe – while it is country sales and service operations (SSOs) that currently provide the other aftermarket services.
Haulotte is the other big player willing to be specific about its aftermarket aims. The company's Haulotte Services business unit is tasked with growing Haulotte's after sales business from the 4% to 5% of revenues last year (excluding its rental businesses in the UK and France). Pierrick Lourdain, who has overall responsibility for the unit, tells AI; "The target is to achieve 10%." He points out that this rise is all the more difficult to achieve when you are growing sales at the same time – up 34% last year and a forecast increase of 15% to 20% this year.
Service contracts
A new element to this initiative is the supply of service contracts for rental companies. "We think there is an open door to propose a programme where customers know what their running costs will be", says Mr Lourdain.
Alexandre Saubot, Haulotte's chief operating officer, tells AI that a programme like this needs to have sufficient volume to make it work; "Now we have the critical mass and volume to support these services."
Haulotte says it is ready to offer service contracts in France, Spain, the UK and Germany, and it is also investing heavily in new sales and service facilities in the US (see Interview this issue); "Before the end of 2007 we will be ready in every single major country, including the US", says Mr Saubot. In the UK, for example, Haulotte has 10 full–time mechanics.
Mr Lourdain says no major service contracts have been signed yet, but that Haulotte is holding discussions with several major rental players in Europe. In the longer term these services could be extended beyond just Haulotte equipment, says Mr Lourdain, who can also see a situation where Haulotte would actually acquire some independent service companies.
Good intentions
If Genie Industries is less vocal about its aftermarket aims, there is no mistaking its intentions. The new president of Genie Industries and Terex's aerial work platform division, Tim Ford, speaking during his first press conference for the company at the recent ARA Rental Show, identified services as one of the two big opportunities he saw for the company (the other was manufacturing closer to its customers). "We're looking at services to complement our products…we don't want to compete with customers, but complement them with our services", he said.
He would not give a target for aftermarket revenues, but he told AI that his background with Honeywell and Toro Company – where he had responsibility for field service teams – made him very aware of the revenue opportunities from after sales service. Mr Ford also referred to a fleet management programme that he helped develop at Toro, under which golf equipment fleet owners were able to subscribe to three different levels of fleet maintenance services, managed through the web.
If it is indeed the Toro myTurf programme that he's referring to, it offers owners the ability to track their equipment and look up manuals, service bulletins and order parts online. Other options included a preventive maintenance module, alerting owners when service is due on each piece of equipment, and a total cost of ownership module.
"Genie is a long way from doing that", says Mr Ford. It does, however, give a good clue to his thinking.
One interesting thing about the Toro programme is that it bears a resemblance to the software system developed by SmartEquip in the US. SmartEquip's system links manufacturers and equipment owners to do just the kind of thing that myTurf does. The difference with SmartEquip is that it is attempting to create a system used by many of the biggest manufacturers. JLG is working with SmartEquip and Sunbelt Rentals is one of the first big rental companies to start using the system.
Of course, the big three self–propelled players aren't the only ones looking at ways of maximizing their after sales business. Alimak Hek in the hoists and mast climbers sector is a good example of a big supplier looking at extending its 'cradle to the grave' services.
Refurbishment
Alimak Hek's aftermarket offerings already include genuine replacement parts, exchange components, upgrade packages, service maintenance programmes, refurbishment, installation and training. Mike Pagendam, business area manager for after sales at Alimak Hek, tells AI that a major area of potential is complete and partial refurbishment of existing units. He says that as machines near the end of their working lives, after 10 or 15 years; "we are able to offer customers a choice: either purchase a new machine or undertake an extensive refurbishment of their existing machines."
Mr Pagendam, who joined Alimak Hek 18 months ago after a career in the commercial truck sector with Volvo and Leyland DAF, says many of its industrial hoist customers in the US have chosen the refurbishment offer and "ensured minimum disruption to their operations."
The company is also looking at further developing its in–house after sales expertise through a new Alimak Hek Aftersales Academy. Created late last year, the academy aims to provide a consistent level of training for its own service staff.
Perhaps more interesting, at least from the perspective of customers, is Alimak Hek's new A3 remote communication system – to be launched at Bauma – which will allow either Alimak Hek or the owner to track the operation of hoists. This will give early warnings of possible problems as well as fault diagnosis. "With the A3", says Mr Pagendam, "we can be proactive and identify any issues on the unit within a minute."
This kind of hi–tech solution is one that many more companies will be considering the future. You can look forward confidently to a time when your 80 ft boom will be sending you a text message telling you that it is about to run out of fuel.
For the time being, however, manufacturers are focusing at a more basic level, how to lock their customers into spending more with them, and over a longer period.