After the sale
By Gary Clark and Rick Smith18 September 2014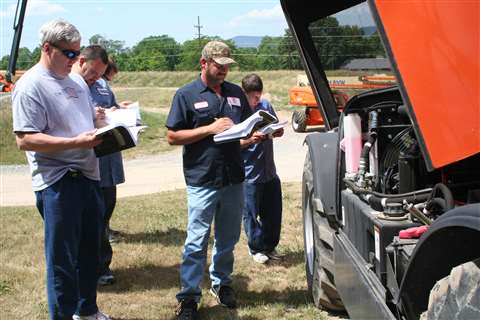 Gary Clark, customer support manager of national accounts for JLG, and Rick Smith, senior director of product training at JLG, discuss the importance of aftermarket support.
You just purchased a piece of lift equipment. Now what? Hopefully your decision to buy this equipment was influenced in part by the aftermarket support the original equipment manufacturer (OEM) offers. That's because a robust aftermarket support program provides a variety of services to help you answer the "Now what?" question today and throughout the life of the equipment – everything from how to operate and maintain the machine to how to extend its useful life and tap into the OEM's expertise to ensure the maximum return on your investment.
Training ensures safety and performance benefits
Any piece of equipment is only as good or as safe as the person who operates it. Training is critical to safely experiencing all the features and benefits that first attracted you to the machine. There are two basic types of training: operator training for those who pilot machines and service training for those who maintain them.
Most OEMs will provide training on the safe operation of their equipment, either at customer facilities or at dedicated OEM training centers. These hands-on courses arm customers with the knowledge to properly operate their lift equipment. Train-the-trainer programs are another useful tool that teach customers to train end-users and qualify the equipment operators that use their machines.
Some OEMs also make available self-paced e-learning programs, where instruction is delivered electronically without an instructor, as well as online training that uses an instructor to facilitate a course electronically. Both provide an alternative to customers who lack access to a training facility or need flexibility in their busy schedules.
Service training provides technicians and mechanics with an understanding of equipment construction, operation and maintenance. Successful completion of this course might qualify graduates to perform periodic inspections, prescribed maintenance and warranty repairs on specific equipment.
OEMs support maintenance programs
Maintaining equipment after the purchase is critical to its safe and efficient operation. Owners should rely on the OEM to provide maintenance tips, and use OEM manuals for information on pre-operation inspections, periodic inspections, and preventive maintenance schedules to help keep equipment in top running order. When followed, these inspection programs will improve machine performance and longevity. Inspection forms may also be available from the OEM to assist customers who use their own technicians and mechanics to inspect and maintain their equipment.
The OEM can also identify important maintenance milestones in the life of the lift equipment. For example, aerial work platforms (AWPs) require an annual inspection. Additional boom inspections are required every two years on extension and retraction chains on certain models. Wire rope replacements are required every eight years on aerial work platforms equipped with wire rope extension and retraction systems.
It's also important to know whether an OEM operates a call center for product support and for technical troubleshooting. In some cases, OEMs provide access to a customer connectivity portal that allows customers to view manuals (parts, service, operator and technical information), submit warranty claims, service training information and account information. This access point also allows customers to check parts availability, place orders and transactional history reports.
Parts availability measures the strength of an aftermarket support program. An OEM website should provide a catalog of available parts that will support a machine throughout its life cycle, as well as other programs and accessories that enhance equipment performance. For the convenience of their customers, some OEMs make their catalogs and service manuals available as downloadable apps for laptops, tablets and smart phones.
OEMs may also offer rebuilt or exchange parts, which provide a cost-effective and reliable way to achieve machine performance and lower the cost of ownership.
Reconditioning and warranty programs important aftermarket support tools
When the complexity of a repair requires the expertise of the manufacturer, the OEM can provide factory-trained technicians and mechanics to repair equipment, either onsite or at designated OEM service centers. And as equipment ages, reconditioning is another option offered by some OEMs. Factory reconditioning programs follow strict OEM guidelines to restore machines to "like new" condition and extend the life of the piece of equipment.
A strong warranty program underscores the OEM's commitment to equipment longevity and productivity. This program may include a 12-month standard warranty, 60-month structural warranty on structural components, and a powertrain warranty. In some cases, an optional extended warranty program is also available. It's important to note that annual inspections and OEM part programs are often tied to warranty programs, with the equipment owner bearing responsibility for their completion and documentation.
From the day equipment is delivered, owners are also responsible for safety and operator training, routine maintenance, milestone maintenance, and warranty claims. But throughout the lifecycle of machines, owners have a strong ally in OEMs that offer responsive, quality aftermarket service – service that answers the "What now?" question. These programs equip customers with the knowledge and resources they need to properly operate and maintain their lift equipment, optimizing productivity and minimizing downtime in the process. And that's why an OEM's aftermarket support program should be part of every buying decision.