Aggreko develops new power concept
By Joe Malone27 February 2018
UK-based Aggreko has launched a mobile, modular power package for utility support and off-grid locations that use heavy fuel oil (HFO) as its primary fuel source, the company has announced.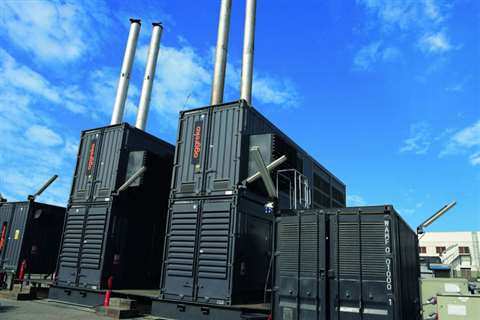 Named its Medium Speed HFO (MSHFO), the temporary power provider said its package provided all its trademark power but reduced the overall cost of energy.
The company has been providing diesel and gas fuelled power for more than 50 years and believed that the development of HFO was a natural step forward in its offerings. It recently installed a 28MW site in Madagascar to provide 25MW of power using its 1.8MW MSHFO generators, developed in partnership with German engine manufacturer MAN Diesel and Turbo.
Aggreko also developed a Ship Light solution that spreads the weight of the 76-tonne engines, cooling and alternator systems across three standard 40ft containers. It said this saved time and money for the project.
Aggreko's group business development director, Dan Ibbetson, said, "We know that nothing happens without power – no lights for children to read by, no power for life-saving hospital equipment or for factories to manufacture products.
"Reliable power enables communities to grow and thrive and we are proud to bring that power – uninterrupted, reliable and cost-effective power, generated using available resources."