AI waste robots operational at Zanker Recycling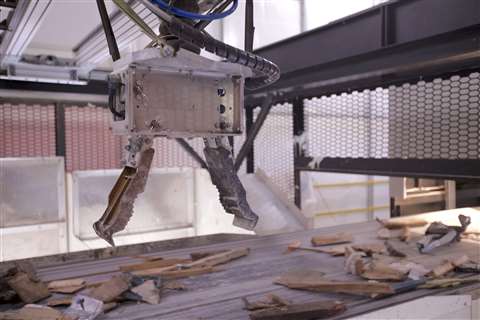 Zanker Recycling and Plexus Recycling Technologies has announced that its first artificial intelligence (AI) powered robotic waste sorting system on the USA's west coast is operational.
Using four ZenRobotics' ZRR2 AI Robots, the ZenRobotics ZRR2 AI system operates for 20 hours per day with total system production of 150,000 t per year, increasing diversion of recyclables by 20%.
Michael Gross, Zanker Recycling director of sustainability, said: "Reaching the diversion goals is extremely important to us, which is why we chose Plexus Recycling Technologies as our partner in reaching these goals."
Zanker, which diverts more than 80% of the waste it receives away from landfill, said its recycling system comprises highly automated material feeding from the beginning of the process.
The front end operates 50% of the time to process inbound material and the middle of the system contains two large dosing bunkers that store up to 100 t of material. Along with all equipment downstream, these are controlled by ZenRobotics Brain controls, which allow a smooth-running operation focused on recovery and efficiency.
Key European equipment such as the ZenRobotic Recyclers, Komptech Terminator, Ballistor and Fines Drumscreen were provided by Plexus, the North American distributor of ZenRobotics. Hertlein Industries provided the system's electrical controls.