Ainscough launches wind farm vessel
By Niamh Marriott02 December 2022
UK-based Ainscough Crane Hire assisted with the launch of an offshore wind farm service vessel, MO8, for ship building and marine engineering company Manor Marine.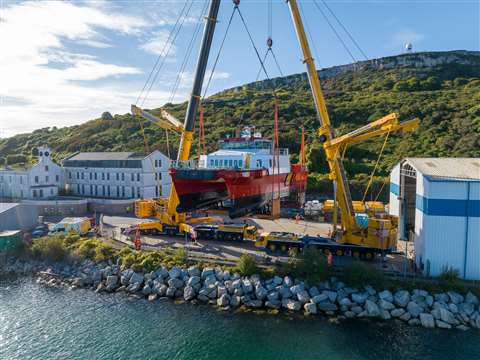 The vessel, which was built for offshore services provider Mainprize Offshore, boasts a cargo capacity of 40 tonnes, seating for 24 passengers, 175 square metres of deck space and a maximum speed of 27 knots.
The 26 metre long vessel required two cranes from Ainscough's heavy crane fleet, 500 and 750 tonners, along with a team of 14 over three days.
Planning the impact
Making sure there was no structural impact to the vessel during its delivery into the water, the Ainscough team transported the MO8 while inside a container, meaning there was no direct contact between the crane and the newly constructed vessel.
Constructed on-site in Portland, Dorset, the MO8 was built near the launch site allowing for an efficient and controlled transfer from land to sea.
The MO8 is the first of three vessels being launched by Manor Marine. Earlier this year, Mainprize ordered another vessel of the same kind, MO9, due for delivery in early 2023.
Weather challenge
Graeme Harrison, heavy cranes technical manager at Ainscough, said, "Supporting on the launch of the MO8 required a high level of planning and organisation from our heavy cranes team. After carefully considering the delivery, the job went ahead smoothly and efficiently - even despite poor weather conditions.
"With the launch of the MO9 taking place in 2023, we hope this is the start of a long-standing professional relationship between Ainscough and Manor Marine, and we look forward to supporting on future lifts."