Air-riding tractor unit makes light of rail moves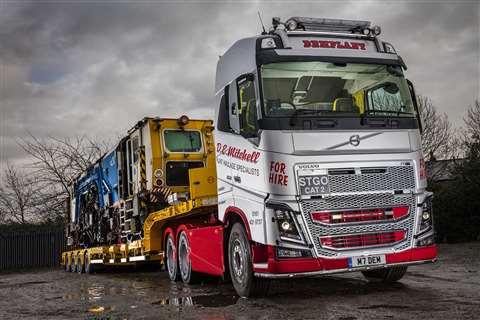 An FH16-650 double-drive 6x4 tractor unit from Volvo, plated for Special Types General Order (STGO) operation at up to 100 tonnes gross combination weight (GCW), has entered service with Stockport, UK-based machinery and plant haulage transport specialist Demplant.
Demplant's Martin Mitchell said the company wanted to 'futureproof' its eight-strong fleet capabilities by adding the tractor unit. "We needed to increase our maximum gross operating weight up from 80 tonnes as we are moving growing numbers of crushers and screens, as well as the road-rail and rail machinery, like the 13.2 metre long Plasser & Theurer, Beaver 90/4ZW on-rail tamping machine operated by VolkerRail."
Mitchell added, "We also particularly wanted four-bag, rear air-suspension on our latest 6x4 heavy haulage tractor unit as it gives a better ride for the machinery and for the driver compared to steel."
Mitchell specified the Globetrotter XL-cabbed FH16-650 with the I-Shift automated transmission and Volvo's Load Indicator. This allows the driver, via a dashboard display, to monitor axle weights, including bogie loads, on the truck as well as the trailer.
The FH16-650 couples to a range of Demplant's specialist Doll, Faymonville and King trailers, including a Doll power steered step-frame extender with a 6m extension and remote control. The rear three axles of this Doll trailer (pictured) are steered and the front axle lifts.
Martin also specified a window in the cab's rear panel to help facilitate safe reversing. Wheelbase of the 6 x 4 tractor unit is 3.4m and the leather upholstered cab is equipped with all the usual home comforts such as a microwave.
The 26-tonne bogie's drive axles feature hub-reduction and the front axle is rated at 10-tonnes at 30 mph when operating under STGO regulations. The fifth wheel is a Jost JSK38 C1, which features a changeable jaw, enabling swaps between 2 and 3.5 inch trailer kingpins if required.