ALE adds Goldhofers for Caspian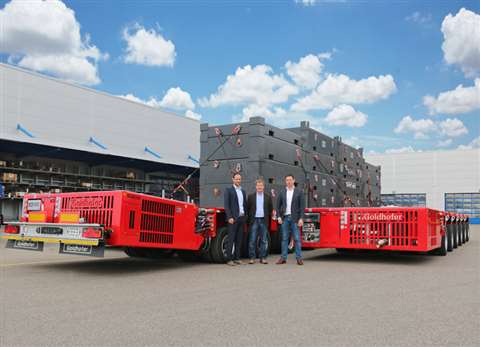 International heavy transport and lifting specialist ALE has purchased two 6-axle units of Addrive self propelled trailer, complete with power packs, from manufacturer Goldhofer in Germany. They will mainly be used in Kazakhstan and the Caspian region.
The new Addrive SPT combines three elements: towed trailers with self-propelled units in a single vehicle and the Addrive for more traction at high speed. Addrive can be installed in trailer or semi-trailer combinations and it replaces the need for an additional truck. Fewer tractor units reduces the gross weight of the convoy which helps when crossing bridges or to meet specific weight restrictions on certain roads.
Commenting on the new additions to the fleet, Ali Yoldashov, ALE regional manager – Caspian, said, "Our common scope of work in the Caspian region involves transporting heavy loads through mountainous areas, where additional traction is required to overcome this challenging terrain. The best solution we found was to invest in these SPTs as they provided the additional drive capacity we couldn't get from previous hydro-static systems on the market."