ALE and Conbit windfarm update
By Christian Shelton01 October 2018
Heavy lift and transportation specialist ALE has announced that, together with its offshore structural engineering and lifting operation Conbit, it has reached the halfway point in its work on Ørsted's Hornsea Project One offshore wind farm, in the North Sea off the coast of England.
The work comprises the offshore engineering, marine transportation, sea-fastening, load-out and ballasting of over 106 transition pieces (TPs).
ALE was contracted to do the job by offshore marine engineering specialist GeoSea.
For the structural engineering, Conbit performed the structural integrity and sea fastening calculations of the grillages on the barge deck of the Sarah S barge - ALE's latest marine investment.
ALE began the heavy lifting and transportation in March 2018, loading-out the TPs, each weighing 337 tonnes and measuring 25 metres high, from the fabrication yard onto the barge and performing the sea-fastening and marine transport.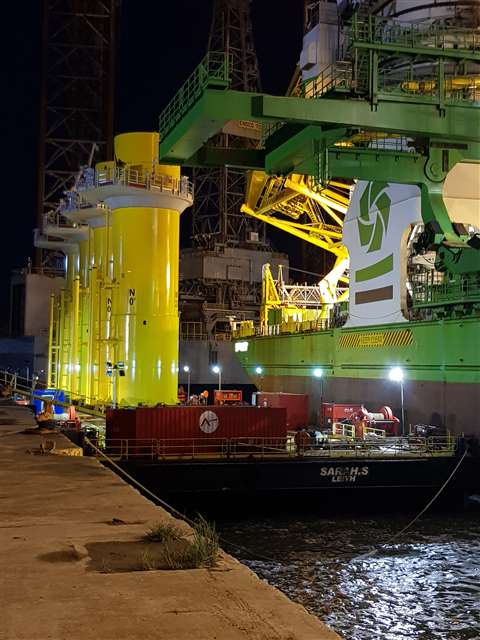 Once on the Sarah S barge, the TPs are transported on the River Tees to the discharge berth.
Conbit is providing the engineering for storage and SPMT stability during the ALE transport operations at the yard. According to ALE, ensuring stability during the SPMT move is challenging so Conbit provides the engineering to enhance the hydraulic stability during the monopile positioning in relation to the sling configuration (used for loading onto the SPMTs) and positioning within the support cradles.
For the storage at the quay, Conbit designed monopile cradles. These have been specifically optimised to reduce the need for welding work, said ALE.
"This project demonstrates our ability to offer the full, specialist marine scope of work. From utilising our internal expertise and engineering unique solutions, to offering an extensive fleet and operative skills, we can manage the complete project," commented ALE's Steve Small, commercial manager – Marine.
Bart Steerneman, engineering manager for Conbit, said, "Using our in-house expertise, we could provide a cost-effective and safer solution for ALE to perform the heavy transport operations. This project shows the strength of the ALE – Conbit collaboration, as we are now able to provide clients with the complete service package, from transport to engineering and stress checks."
So far, ALE has loaded-out and discharged 54 of the TPs onto the installation vessel. The operations are expected to last until early 2019.