ALE Australia takes delivery of Goldhofer THP/SL
By Laura Hatton18 September 2014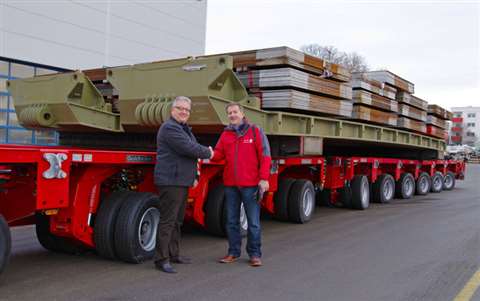 Heavy lift and transport specialist ALE Australia has taken delivery of Goldhofer THP/SL modules with hydraulic width adjustment system.
The modules have a wheelbase of 1,800 mm and an adjustable width of 3,480 to 4,900 mm to meet different road regulations, the manufacturer said. The width of the THP/SL modules can be changed without the use of a crane or other lifting equipment. In addition, the split modules can be used in combination with Goldhofer's self-propelled PST series.
So far 40 axle lines of Goldhofer trailers and accessories, including goosenecks and ramps have been delivered to the Australian branch, a spokesperson said.
Horst Haefele, Goldhofer sales director of heavy duty modules, said, "This means ALE can react with extreme flexibility to the Australian regulations and can handle a wide range of transport operations more efficiently and economically."
David Purslow, ALE general manager of global operations, said, "For this investment, we placed particular importance on providing a user-friendly solution and practical operation to ensure that our people out in the field have the optimum transport solution at their disposal."