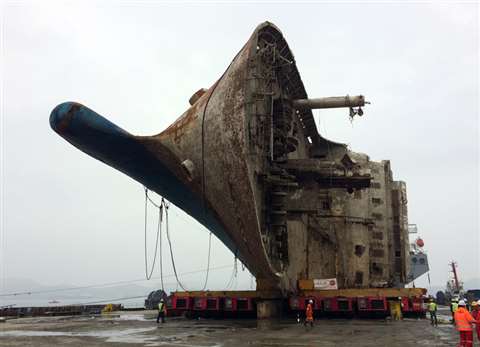 World records for a load carried on self propelled modular transporter (SPMT) are regualrly being broken. The latest, at 17,000 tonnes, is ALE's load-in of the Sewol ferry as part of the passenger vessel's salvage operation from the East China Sea in April. Two years ago in April 2014 the Sewol ferry capsized and sank off the coast of South Korea with the loss of 304 passengers and crew.
ALE was contracted to perform the load-in operation. It was estimated that the ferry weighed between 11,000 and 13,000 tonnes but there was no way of confirming its actual weight or the true centre of gravity until it was lifted out of the sea and positioned on the recovery barge. It was requested that "ALE consider a large CoG envelope of a 3 m radius – 2.5 m bigger than the usual 0.5 m radius."
On arrival for the load-in it was found that mud remaining inside the vessel increased the weight by 4,000 tonnes. Following the first load transfer test with the planned number of lines of SPMT it was calculated that the ferry weighed around 17,000 tonnes. ALE had, therefore, to re-engineer the load-out solution. It resulted in an increase in the number of axle lines from 456 to 600.
It took less than 24 hours for ALE to get hold of the additional 144 axle lines. They were in a configuration of 6 x 2 file 80 plus 2 x 2 file 60.
Additional challenges were presented by the fact that the ferry was lying on its side and its hull and superstructure were damaged. An accurate and careful shimming tuning phase before the load transfer allowed ALE to proceed with the load-in, the company said.
Commenting on the project, Roberto Radicella, general manager at ALE in Malaysia, said "This was an extremely strategic project, not only for ALE's South East Asia region, but for the entire ALE group. Despite the short notice for mobilisation, the complete load-in operation was controlled by ALE, included the engineering and project management." Radicella said that the operation broke the world record for the most SPMT ever used during a load-in operation.