ALE completes bridge installation
By Christian Shelton13 February 2018
Global heavy lift service provider ALE has completed the load-out and installation of a bridge in Belgium, using its Mega Jack 800 jacking system. The Brug van den Azijn bridge weighed 1,200 tonnes and measured 124 metres long.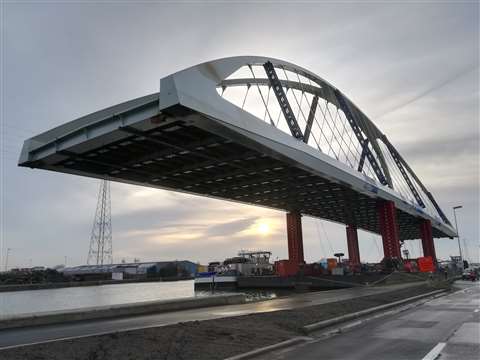 The first stage involved the load-out of the bridge deck, where it was transported by barge from Wondelgem, Ghent, to Antwerp. Due to low bridges on route, the arches of the Brug van den Azijn bridge were transported in pieces.
When the barge arrived in Antwerp, the bridge was loaded-in on a site near the final location. Here the arches were fully assembled. The entire bridge structure was then loaded-out and transported 2.5 km by barge to the final installation location.
It was then installed using ALE's Mega Jack 800 to jack-up the bridge deck 8 metres and position it higher than the abutments. The bridge was then lowered by 3 metres in between the abutments and into its final position.
Tom Van De Locht, project engineer, said, "This was a challenging bridge installation project which demonstrates our capabilities and application of different techniques. By using our Mega Jack 800 system, operational time was reduced, and it was easily integrated on site because of its small footprint and compatibility with our other services to perform the full turnkey installation solution."
The job was undertaken for government agency De Vlaamse Waterweg which manages the waterways in Flanders. The job was carried out in within two weeks, said ALE.