ALE completes in Azerbaijan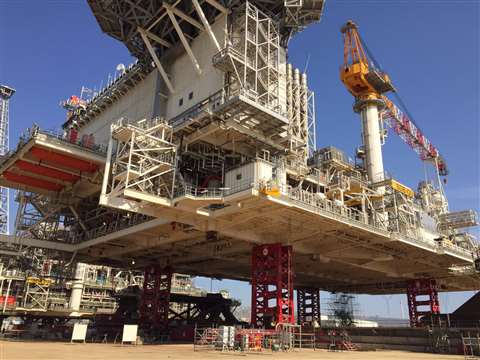 Heavy lift and transport specialist ALE has completed its offshore and marine operations on a major offshore platform project in Azerbaijan.
The UK-headquartered company was contracted to load out two jackets, weigh and jack-up the topsides, perform strand jack skidding load-outs, plus ballasting and mooring operations as well as the offshore floatovers for two topsides. Work began in July 2016 with the ballasting load-outs of the production and riser and the living quarters and utilities platform jackets, weighing 13,977 and 12,369 tonnes, respectively.
Jacket constructor BOS Shelf contracted ALE for the external ballast system and engineering, including the ballast system design and calculations. The jackets were loaded-out onto the 153 x 45 x 12 metre STB-1 launch barge. ALE used the client's push-pull skidding system.
The next phase was to weigh and jack the QU topside for a separate client using ALE's Mega Jack system. Load cells weighed the deck at 12,789 tonnes and the Mega Jack elevated the topside by 14.5 m. Before the deck was skidded out the load-out frame was transferred under the topside. For this 900 tonne strand jacks were used and the barge was ballasted. The deck now weighed 14,200 tonnes. After that ALE did the floatover using its ballast system and mooring winches.
Matthew Hodgson, engineering manager at ALE - Offshore Services, said, "This is a great project for ALE to be working on. We are involved in multiple, complex scopes of work with multiple clients and dedicated experts from different ALE branches and divisions – each with their own specialisms being deployed.
"Our Offshore-Services team, who are also contracted for the engineering and ballasting for the load-out and floatover operations, have designed and fabricated bespoke ballast piping to fit around pre-existing pipework on the barge, which will serve for all ballasting requirements for the entire project thus saving our clients time and money. As a result, we are developing good working relationships with our clients, who are also praising our safety standards and performance throughout every stage."
Last on the list was the load-in of the load-out frame, followed by the weighing, jack-up, load-out and floatover of the PR topside.