ALE completes Serbian bridge
By Christian Shelton30 November 2017
Global heavy lifting and transport contractor, ALE, launched the Zezelj bridge in Novi Sad, Serbia, in October 2017. In total, the bridge weighed 11,100 tonnes and was 474 metres long. ALE was contracted by Spanish civil engineering and construction services company Azvi to perform the bridge launch. The project started in June 2017 and involved jacking as well as launching two arches and the installation of two span sections.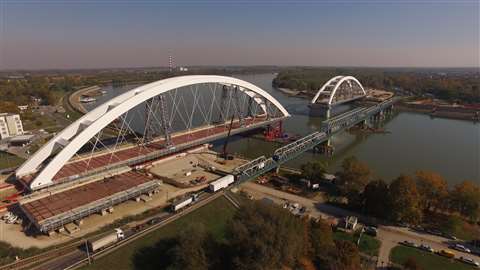 ALE said it deployed jacks, skidding system, three pontoons (coupled to each other) combined with hydraulic winches, a ballast system, and a bespoke gantry designed especially for the project. According to ALE, the first manoeuvre consisted of jacking-up the first bridge section, which weighed 4,750 tonnes, using 16 jacks with a 7,600 tonne combined capacity. ALE adapted the height of the gantry for several river levels and used a modular steel structure with the combination of hydraulic jacks on top the main columns.
The second arch measured 220 metres long and weighed 6,400 tonnes, and was launched in the same way as the first arch.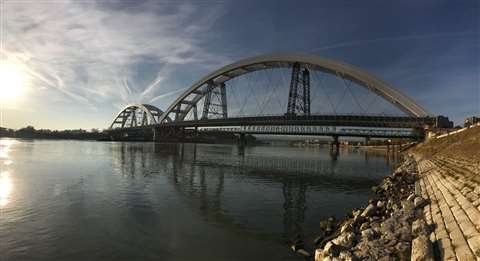 Francisco Gómez, project engineer for ALE, said, "We had a team of bridge experts working on this and, by finding a solution that will allow the client to install the bridge with a range of 4 m between the water levels, we reduced the project costs and optimised the overall duration of the project so the remaining building work of the railway infrastructure could continue.
"We are really proud of what we have achieved during this complex bridge launch. The team's expertise was shown when we launched and skidded an arch 105 m to the pile in just seven hours, before the water levels got too low. By providing beneficial solutions such as these, we can showcase our capability to perform safely and timely bridge installations."
In total, the operation took five days work spread over four months.