ALE floating windmill work
By Christian Shelton24 January 2018
Heavy handling, transportation and installation specialist ALE has announced it has lifted the second section of a telescopic tower for the first self-installing telescopic offshore windmill in Arinaga, Gran Canaria.
The work is part of the H2020 project, where ALE is part of the consortium building the first self-installing telescopic offshore windmill for a 5MW turbine in the Canary Islands. ALE has performed the lifting operations for the tower and the TIM Platform, as well as the final offshore installation and ballasting operations.
According to ALE, the project is so complex it started planning it in January 2016, before performing the tower section test lifts in November 2017.
During the project, ALE's R&D department was tasked with developing a unique Wi-Fi system to enable the manoeuvres to be performed with wireless equipment.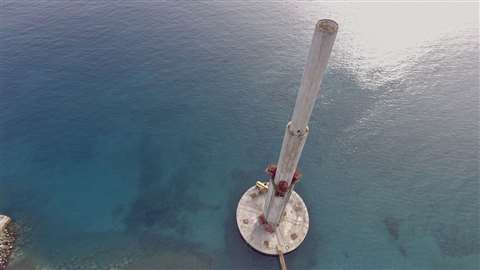 Cecilio Barahona, project engineer for ALE, said, "It is fantastic to be involved in such a unique project that will revolutionise renewable energy production. We are really happy with the what has been achieved so far, with the successful assembly of the two sections and the lifting tests."
The telescopic tower's second section weighed 260 tonnes. The windmill's blades and nacelle, weighing 600 t and 975 t respectively, will be lifted at low height using strand jacks in spring 2018.
The windmill will then be transported with tugs to its final position in the sea and the two tower sections will be connected with the electrical cable. Once completed, the 290 t floating windmill will the first of its kind with a 5MW turbine, said ALE. Energy production is expected to start by the end of 2018.