ALE in record topside project
By Laura Hatton22 September 2015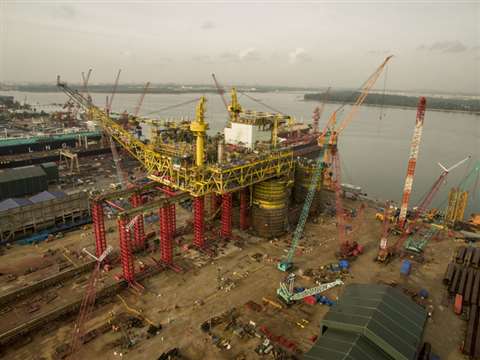 Heavy lift and specialized transport company ALE has jacked up the Malikai topside and skidded it to its new position.
The topside was jacked up 40 metres and skidded 90 m, making it the world's highest jack-up and skidding operation performed on this scale, a company spokesperson said. The 'Superlift' job was carried out during the Malikai EPC TLP Project at Malaysia Marine and Heavy Engineering (MMHE) West in Johor Darul Takzim, Malaysia. The project was carried out on behalf of TMJV.
Tasks for ALE included weighing and transporting four unit hull blocks, living quarters and mega beams for the 'Superlift' activities, a spokesperson said. ALE was also awarded the contract of weighing the topside, skidding the topside, jacking up the topside, skidding at height of the topside over the hull and mating of topside and hull.
The topside weighed 13,800 tonnes and was skidded 85 m onto ALE's Mega Jack system. The Mega Jack was then used to jack up the topside to a height of 40 m. The combined total of the lift at this point was 17,300 tonnes. The topside was then skidded a distance of 90 m at elevation, until it was above the hull and then installed. Equipment used included a computer-controlled skidding system, ALE mast system, Mega Jack system, weighing cells and strand jacks.
Edwin Blösser, ALE Netherlands project manager, said, "It is fantastic to be part of a world first. At ALE we are always willing to push the boundaries in order to offer a bespoke solution for the client. In order to achieve such an operation, our engineers and crew have worked hard to carry out the necessary studies and safety checks.
"This Superlift would not have been possible without a great crew and the Mega Jack System. With its capacity to easily lift the Topside to the desired height, the Mega Jack enabled the client to work on both the Topside and the Hull on ground level, therefore optimising the logistics needed for such a build. As both the Mega Jack and skidding systems are operated remotely via a control room and are equipped with computerised controls, which have numerous safety systems implemented, these provided a safe way of working and protected both workers and the client's equipment being lifted. Because the equipment is easy to mobilise and handle, ALE was able to install within the deadline set by the client and despite the challenges ALE faced on-site, the Superlift was completed without any delay to the project."
The final stage of the project will involve the load-out of the tension leg platform (TLP), which is expected to take place later in 2015.