ALE turbine first in Saudi Arabia
By Alex Dahm01 March 2017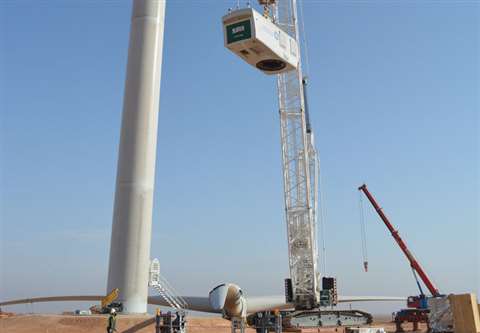 International heavy lift and transport specialist ALE has installed what it claims as the first-ever wind turbine in Saudi Arabia.
Work on the turnkey project started in January. ALE was contracted to transport, erect and install a 2.75 Megawatt wind turbine where the nacelle is 86 metres up and the highest point of a blade is 147 m above ground. The wind farm is in Huraymila, around 80 km north of Riyadh.
Components arrived on a vessel at the Jubail Industrial Port. From there ALE transported them more than 600 km to Huraymila on conventional trailers and a blade trailer. A particular challenge was the 60 m length of the blades.
On arrival ALE used a 600 tonne capacity Demag CC 2800-1 lattice boom crawler crane assisted by a Terex AC 100-4 all terrain for offloading. ALE has a wind division from South Africa and its team of wind installation technicians erected the turbine and handled the mechanical and electrical installation.
Commenting on the project, Andrew Spink, general manager at ALE in Saudi Arabia, said, "We are proud to be responsible for installing Saudi Arabia's first wind turbine. This is a major milestone not only in the country's renewable involvement, but also showcases our capabilities in offering the full TCI package to internationally-recognised standards."
It is the first of three renewable energy contracts ALE has won in Saudi Arabia. The others are for component transport on solar energy power plants.