Algeco targets NHS with temporary modules
By Belinda Smart17 October 2022
Modular building supplier Algeco is targeting UK hospital trusts requiring temporary healthcare facilities, with its modular building solutions. 
The move follows a report highlighting issues with UK healthcare building roofs constructed in the 1960s and 70s using RAAC (Reinforced Autoclaved Aerated Concrete).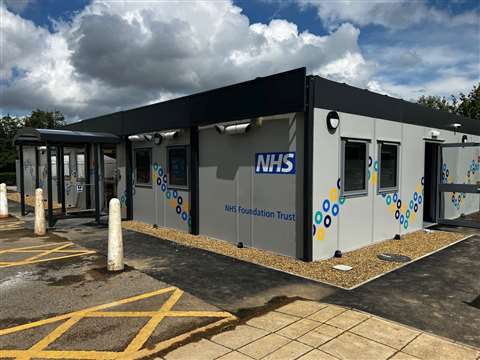 The report, by engineering magazine NCE (New Civil Engineer), identified that National Health Service (NHS) trusts across the country need hundreds of millions of pounds to remediate dangerous roofs made from RAAC, an aerated concrete susceptible to moisture.
Algeco said in a media release that it was positioned to meet demand from hospitals that needed to continue providing care whilst RAAC remediation work is carried out.
"Algeco has already received enquiries from healthcare providers seeking temporary modular buildings for hire to accommodate patients and service users during the works and is now setting about raising awareness of modular building hire benefits with all healthcare trusts.
"The advantages of choosing temporary modular buildings during RAAC maintenance works include being able to move into a turnkey temporary facility much quicker than a conventional on-site build. As a hire solution, the modular buildings can be financed from operational expenditure rather than capex, which means no major capital funding process delays."
"Temporary modular accommodation also offers healthcare providers the ability to upsize or downsize as their requirements change, whilst giving them the flexibility to choose hire only, or purchase."
Ricky Barford, Sales Director at Algeco Modular Hire, said: "There are many benefits to choosing modular buildings for hire when looking for temporary accommodation that covers RAAC upgrade works.
"We provide a wide range of decant modular hire solutions where healthcare buildings undergo refurbishment and require temporary accommodation until works are completed. Our full turnkey service means everything can be included, ready for immediate occupation."
It is understood that a series of freedom of information (FoI) requests submitted by NCE has revealed that five of the worst affected NHS trusts have applied for £331.9M (€385M) of additional funding to be spent on fixing RAAC planks during the next three years.
Algeco is an approved supplier to most major procurement frameworks, such as NHS SBS Modular Buildings Framework, Crown Commercial Services Framework RM6014, Fusion 21 Modular Buildings Framework, LHC MB2 Framework for Modular Buildings and ESPO.
The full range of temporary healthcare buildings offered for hire by Algeco include HTM/HBN compliant ward accommodation, post procedure / step down wards, administration buildings, GP services (including GP streaming buildings), occupational health units, patient assessment units, laboratories, consulting rooms, pharmacy units, WC facilities plus many others.
Algeco is part of Modulaire Group and operates under different trading names according to geography, including the Algeco brand in much of Europe.