ALH Awards winners celebrate in San Diego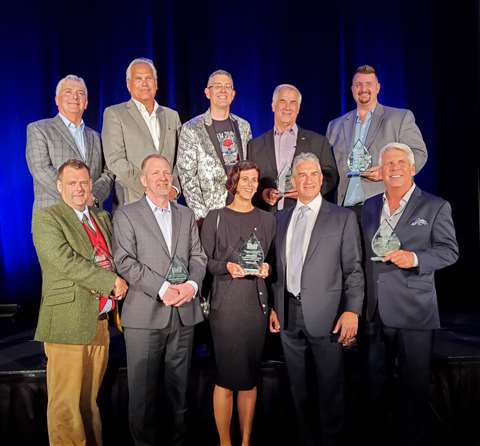 Access and rental industry professionals gathered on Sept. 12 in San Diego to celebrate the winners of the fourth ALH Awards, held in conjunction with the ALH Conference. Organized by Access, Lift & Handlers and publisher KHL Group, the ALH Awards celebrate the best of North America's access and rental industry. It was the first time the event was held in California.
"Congratulations to everyone who took home a trophy this year," said ALH Editor Lindsey Anderson. "With more than 60 entries across our nine award categories, our judging panel had quite the task of choosing the best of the best. Thank you to everyone who entered."
Prior to kicking off the celebration, the industry paused in reflection to honor long-serving IPAF member, North America Regional Council member and powered access advocate Alastair Robertson, who died in January this year following an illness.
The full list of 2019 ALH Awards winners, with judges' comments, is below.
Access Industry Employer of the Year
TVH Parts Co.
"What TVH does is truly remarkable and unique, particularly in today's labor environment. They've obviously spent a lot of time thinking about how to recruit and retain employees and creating a positive work environment."
Access Project of the Year – Access Equipment
Marr Scaffolding Company
"This was an incredible, $2.6 billion project. 12,000 tons of steel and metal decking and 4,900 glass panels were installed. Marr's access equipment provision included booms, scissors, scaffolding and swing stages."
Access Project of the Year – Mast Climbing Work Platforms, Transport Platforms and Hoists
BrandSafway
"The circular suspended access system installed by BrandSafway for the renovation of Seattle's Space Needle was the highest, most weather protected suspended platform ever constructed. It was a really cool project, taking a lot of engineering, a lot of thought, and expert management to make it happen."
Access Rental Innovation
Skyjack – Elevate On
"Skyjack is to be congratulated. This type of technology is making life easier and more streamlined for equipment users and rental companies. It not only streamlines processes but makes jobsites safer."
Access Safety Innovation
Serious Labs – ESP Scoring
"Being able to track a trainee's behavior regarding control selection, positioning, precision, and reaction, is unlike anything we've seen in the industry. Amazing technology and a real advance."
Product Innovation (MEWPs over 20 feet)
Teupen North America – LEO92SJ Plus
"It is a huge factor that the boom sections auto-grease for maintenance. Working indoors through a double door with a capacity of 882 pounds at 98 feet is extremely impressive."
Product Innovation (MEWPs under 20 feet)
Snorkel – S3019E
"It's an impressive lift. No hydraulic hoses, it's all electric and the scissor stack goes into base to give a really low step-in height. This makes a huge difference for anyone climbing in and out of a platform all day."
Product Innovation (Telehandlers)
Magni Telescopic Handlers – RTH 13.26 SH
"When talking about innovation, Magni keeps doing it. These units are seen in urban areas across North America and are replacing crane use in some instances."
Rising Star Award (Rental companies with less than 10 locations)
ABLE Equipment Rental
"ABLE has an excellent team: Responsive, professional, progressive and fair. They are excellent to work with and have really told a story of success over the last decade. In 2018 alone they opened three new locations, bringing their total number to six."
ALH Person of the Year
Tony Groat, IPAF
ALH Editor Lindsey Anderson spoke to the crowd about ALH's Person of the Year:
"The ALH person of the year is someone who has dedicated himself to improving standards and safety in our industry. He is a tireless campaigner with enormous passion, personality and persistence.
He began his career in the rental industry working with a major aerials provider and then, almost 13 years ago, moved into the regulations and associations sector with an international safety and training association dedicated to our industry.
When I say he works to improve standards, I mean that literally, because our person of the year sits on the committees of both ANSI and CSA responsible for drafting the standards for our industry.
Over the past 18 months he has dedicated himself to providing expert guidance to help rental companies and the entire aerials supply chain adapt to the new ANSI A92 and CSA B354 standards. That work continues – and was included his presentation at the ALH Conference earlier.
Of course, the international safety and training organization I referred to is IPAF, and our person of the year is Tony Groat, IPAF's North American manager."