ALH Conference provides expert advice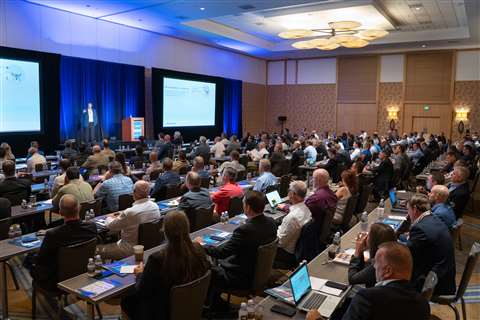 Almost 200 industry professionals spanning the rental and access industries came together on Sept. 12 at the ALH Conference in San Diego to discuss the latest trends and technology in the marketplace.
The event, produced by Access, Lift & Handlers magazine and its publisher, KHL Group, covered a range of topics, including the outlook on 2020 and beyond, rental and manufacturer executive insights, technology updates and discussions surrounding the upcoming ANSI standards. It was a day-long, crash-course in all that is, and is to come, for the access, telehandler and rental industry.
While a bright light shone on technology that aims to better rental and OEM operations, there was a whisper of caution – 2020 is expected to be a bit more mellow than '18 and '19, according to both Dale Asplund, COO of United Rentals, and John McClelland, chief economist for the American Rental Association.
"We have seen some softening," McClelland told the ALH crowd during the conference. "But is a recession imminent? Not necessarily."
McClelland said there's a 35 percent chance of a 2020 recession but also explained what a recession is: a general slowdown in overall economic activity lasting for a period of two or more consecutive quarters in order to nullify seasonal effects.
However, by 2023, the entire rental industry across the U.S. will be sitting at $65 billion in equipment rental revenue.
Discussing the rental market, Asplund made a number of remarks on what companies can do to stay ahead of the curve.
Asplund said, "Specialty is the future for rental," as he explained United's expansion into trenching, power and HVAC, fluid solutions, tool solutions and onsite services. He also talked about cyber security and digital commerce – United has gained 31,000 new customers since 2018, which is when it implemented digital "shopping" options on its website.
The company also divulged it has 315,000 devices currently equipped with telematics and its goal is to reach 450,000 by 2021.
In a similar vein, Matt Fearon, president of Genie, said the company currently has 8,700 assets in the field equipped with telematics, and the goal is to push that number to 40,000 within the coming year. Fearon said the opportunity for our industry to become more efficient with technology is currently happening. "Now is the right time to be integrating technology into our machines," Fearon said.
Greg Bennett, vice president of sales for Point of Rental Software, touted how important it is for rental operations to adopt paperless operations.
"The more you stay stuck with old technology, the slower your business runs, and then you fall behind," he said.
Dan Middleton, EquipmentShare's chief revenue officer, who stepped in for the company's co-founder Willy Schlacks, said the Internet of Things is a major impact for rental fleets due to its ability to increase customer satisfaction and recurring revenues while reducing maintenance.
"The rental industry faces constant issues with equipment location and units moving from jobsite to jobsite, along with productivity and utilization," he said. "GPS location tracking and historical mapping improves utilization and pickup accuracy."
Middleton also noted that over-the-air software updates reduce service downtime and add feature capabilities while allowing customers to remotely diagnose fault codes to reduce service downtimes.
While telematics and technology were the forefront of the day's talks, the labor shortage was another hot topic.
Korry Kobel, JLG's director of engineering, said the slow adaption of technology within construction and working at height cost the U.S. heavy equipment industry $2.4 billion in lost revenue last year. There are currently 200,000 unfilled construction jobs nationwide, Kobel said, but by utilizing connectivity and mobile tech, the industry could attract more young people. By infusing technology and innovation, such as augmented reality and virtual reality, a surge of fresh talent could occur.
Much more was discussed and questioned at the ALH Conference. For speaker presentations and videos, please visit www.alh-ca.com or www.khl.com/alh. The date and location of the 2020 event will be announced soon.