Alimak Hek upgrades deepwater rig
By Sarah Ann McCay26 April 2014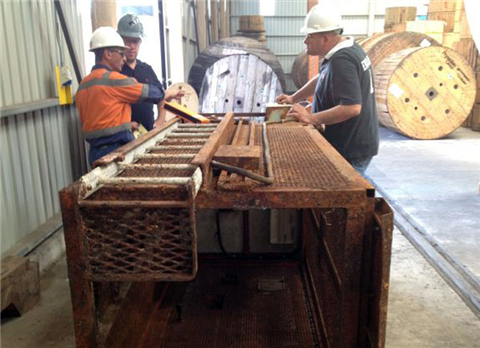 Alimak Hek has carried out the refurbishment and installation of four U500 industrial elevators on board Diamond Offshore's Ocean Apex ultra deepwater semi-submersible drilling platform.
The upgrade was carried out at Singapore's Jurong Shipyard. The rack and pinion industrial elevators, located within the rig's service and maintenance shafts, travel 40 m below deck to provide crucial maintenance access to the lower pump rooms and ballast areas.
After 39 years of operations in harsh marine environments, the elevators had become corroded and damaged through exposure to salt, damp and humidity. Two of the elevators, the PC2 and SC2, were damaged beyond repair and required a complete refurbishment. The remaining two elevators, the CPC4 and CSC4, underwent an electrical refurbishment.
To preserve the uniformity of all four elevators, and make use of the undamaged original mast and rack sections, the refurbishment team used original elevator designs to manufacture two U500 elevators for installation on the existing mast and rack.
Manufacturing replicas of the original Alimak U500 elevators also solved space issues on the rig. The U500 was the only elevator that could be configured to fit the tight space. With a car size of only 0.8 m2, each U500 elevator is capable of transporting two people, or a maximum capacity of 1 tonne, 40 m between the rig's top and bottom landings.
The CPC4 and CSC4 elevators required only electrical refurbishment to bring the supply of the original elevators in line with the electrical supply of the newly refurbished U500s.
During the electrical refurbishments, each of the CPC4 and CSC4 elevators were equipped with DOL (Direct On Line) motors with new base/main electrical panels, call stations, limit switches and gearboxes, with the busbar on all four elevators removed to allow for the safer and more efficient supply of electricity to the elevators.
As a result, all four of the Alimak U500 elevators on board the Ocean Apex now operate on a uniform set of electricals and standard electrical supply.
To complete refurbishment works, all four elevators cars had to be removed from within the tight elevator shafts; this was done by cutting into the side of each column leg and then removing the U500s using manual winching equipment.
Once refurbishment of the machines was complete, portions of the rack and mast within each column were removed to allow the newly refurbished U500 elevators to be hand-manoeuvred back into place.
The Ocean Apex semi-sub is designed with depth capacities of 6000 ft (1800 m) and a drilling depth of 30000 ft (9150 m) to meet the rising demand for deep-water drilling rigs.