Alimaks for major bridge project
By Euan Youdale14 March 2018
Two dual Alimak hoists are aiding the construction of the Hålogaland Bridge in Norway. The bridge will be the second longest in Norway and one of the world´s 20 longest suspension bridges, at 1,533m.
The Hålogaland Bridge will cross the Rombaksfjorden in the municipality of Narvik in Northern Norway. It will form part of the European E6 highway and will shorten the driving distance from Narvik to Bjerkvik by 18km. The highway is among the most important in Scandinavia, as it connects several key locations in Sweden and Norway.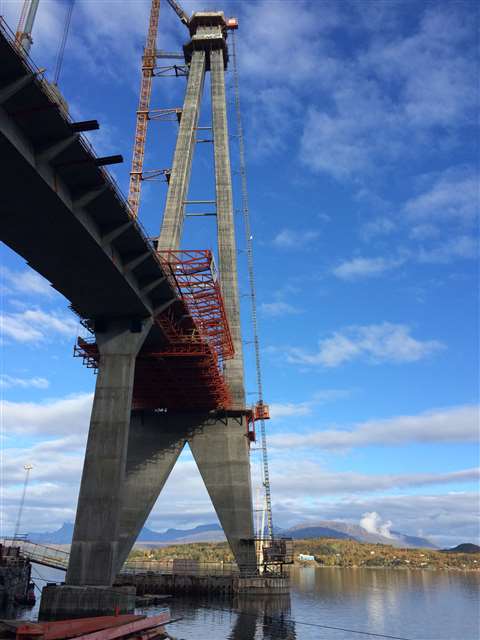 Alimak Hek provided two new dual Alimak passenger and materials hoists to its Norwegian dealer Kranor, which rented them to the bridge contractor. The Alimak Scando 650 FC hoists have provided access for workers and materials during the slip-forming of the concrete pylons as they rise to their final height of 175m.
The contractor Sichuan Road and Bridge Group, based in China, is now using the hoists to erect the two main steel bridge cables at the top of the pylons. The cables are 1,621m long with a diameter of 47cm. The Alimak hoists have also been used to access the cabins of the tower cranes on the site.
The operation of the hoists has gone very smoothly, said Alimak, despite two storms with winds up to 40 m/s. The hoists have been serviced monthly by Alimak Hek's dealer to ensure the highest level of operational performance and reliability.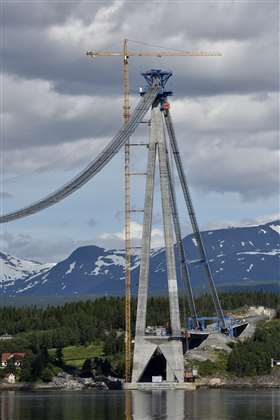 The construction hoists are installed with an inclination of 4.5 degrees to follow the incline of the A-shaped pylons. Dual hoist cars were specified to ensure that one out of the two hoist cars can be used in case of emergency situations.
Construction of the bridge commenced in May 2015 and is expected to be completed in the middle of 2018.
Hoist details

Location: E6 Hålogaland Bridge, Narvik, Norway
Hoist type: 2 x Alimak Scando 650 FC II 22/32
No. of hoist cars: 4
Capacity/hoist car: 2,200 kg
Hoist car size (W x L x H): 1.5 m x 3.2 m x 2.3 m
Speed: 42 m/min
Inclination: 4.5°
Lifting height: 175 m
Bridge details

Carries: Two lanes of traffic and a foot and cycle path
Crosses: Rombaksfjorden, Narvik
Design: Suspension bridge
Longest span: 1,145 m
Total length: 1,533 m
Height: 175 m