All terrain cranes: all together
By Alex Dahm21 September 2020
All terrain cranes are considered as the most technologically advanced and sophisticated of all mobile cranes. They only account for 6 per cent of the total global mobile crane market in terms of numbers of units. In value terms, however, those 3,150 units or thereabouts, sold worldwide in 2019, account for 30 % of the total value of mobile cranes sold worldwide in 2019.
Good news for the manufacturers is that the number of units sold in 2019 was up nearly 20 % on the previous year's figure. By value the increase was an even more impressive 22 % over 2018, estimated at a total of more than US$4 billion for ATs alone.
Largest of the world's regions for all terrain sales is Europe with very slightly under 50 % of the market in unit terms. Next is north America with between 15 and 20 % of the total, followed by China with about 14 %.
Liebherr is by far the biggest player in the global all terrain crane market. It builds half of all the AT cranes sold each year and offers about 25 models, up to 1,200 tonnes. The company's mobile crane division, which includes large crawler cranes, had a record year for sales in 2019, at €2,540 million, up 13.2 % on the €2,243 million of 2018. Almost half of its sales were in Europe and a quarter were in North America. Asia followed with 14.6 % of the total. Most popular sellers in the AT range were models in the three, four and five axle classes, the company said. That equates to an approximate capacity range from 60 to 200 tonnes.
New products
Sitting right in the middle of that range mentioned above is Liebherr's newest model, the 120 tonne capacity LTM 1120-4.1 on a four axle carrier. It replaces the LTM 1100-4.2 launched in 2009 and made its global debut at the ConExpo construction equipment exhibition in Las Vegas, USA, in March. The manufacturer said it is designed to maximise what is possible on a four axle carrier. Its 66 metre telescopic boom puts it on an equal footing with 200 tonne capacity cranes, Liebherr says. For full details see the February 2020 issue of ICST.
Also recently added by Liebherr is the LTM 1650-8.1, an 8-axle crane designed for maximum power. It was shown as a prototype at the Bauma construction show in 2019 and then again at ConExpo. Capacity is 700 tonnes and it replaces the LTM 1500-8.1 which has been around for about 20 years and is the best-selling large crane of all time. The 80 metre main boom can be extended with a series of jibs to give a maximum hoisting height of 153 metres.
Also at ConExpo, Grove showed its GMK5250XL-1 variant of the GMK5250L. Announced at Bauma in 2019, it has a 78.5 metre boom instead of the 70 metre one on the GMK5250L. Maximum system length is 109 metres, a metre shorter on the XL-1 version than on the L version.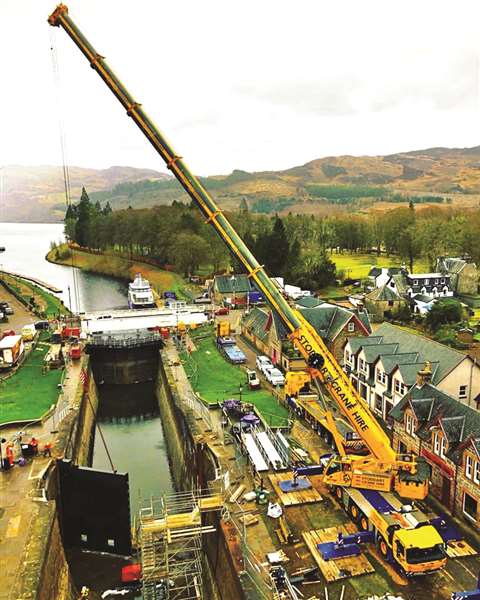 That is about it in the way of recent new AT cranes. Of course, more are in the pipeline. Demag is working on a new large all terrain crane and there will be other, smaller, new models from Demag and Tadano later this year or next. Following completion of the acquisition on 1 August last year, both companies' sales and service teams have now been merged and are working together.
Tadano says it will continue with a dual-brand strategy and retain the Tadano and Demag names for the foreseeable future. All current models will be kept to increase market share worldwide, even where there are overlapping models competing in the same capacity class.
"We will allow Tadano and Demag products to follow their normal lifecycle, launch new products and phase out old for both brands," says Jens Ennen, Tadano Demag and Tadano Faun president and CEO. "As with other products that have been phased out, Tadano and Demag will continue to support these products and the customers who own them."
Italy's Marchetti offers a range of three AT models. These are a 60 tonne capacity model on three axles and then 70 and 90 tonne models on four axle carriers. Boom lengths are 40, 42 and 48.5 metres, respectively and lattice extensions are available. Paolo Brizzolara from Marchetti's sales department said the 60 year-old company keeps stock for prompt delivery. "Our main focus at the moment, however, is on customised applications where we feel our 60 years of experience helps us to give good service."
Customisation Brizzolara is talking about includes things like special protective paint finishes and offering a right hand drive option. These and other options build on the philosophy of designs for easy and durable operation with low maintenance requirements, Brizzolara says.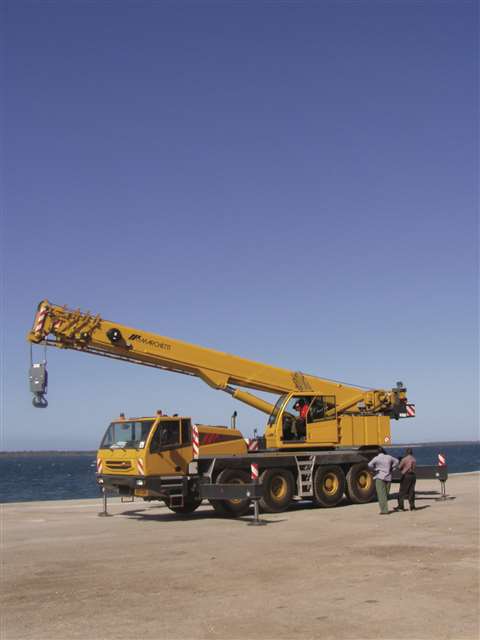 New systems
Electronic operator aids are often introduced first on all terrain cranes.
Manitowoc has announced its Maxbase which allows positioning of outriggers in many configurations, including asymmetric layouts so the operator can maximise capacity in the space available.
Andreas Cremer, Manitowoc vice president of product management for mobile cranes, explains the system, "Maxbase enables a greater variety of options for positioning the outriggers and removes the need for symmetry. It also provides improved load charts, allowing the crane to make better use of its full capacity. Ultimately, this means better rental rates for owners."
Maxbase is available on 12 Grove all terrain crane models. It works with the CCS, Manitowoc's crane control system, calculating available capacity and providing load charts for each configuration.
The Tadano Demag outrigger optimisation system is called Flex Base. It is an infinitely variable outrigger system. Outriggers can be extended to any point in their range, right out to a surrounding obstacle, to get the largest possible outrigger base. It operates with the IC-1 Plus control system.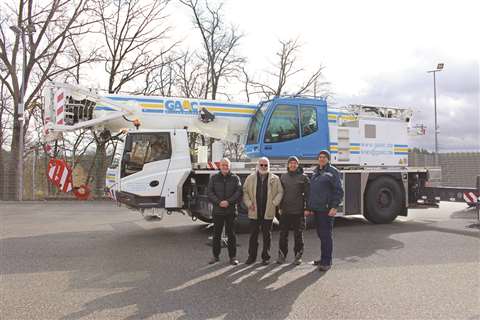 First with the outrigger maximisation system was Liebherr with its VarioBase. More recently Liebherr has introduced its RemoteDrive remote control system where operators control the crane from outside the cab. It helps allow the operator a clear view of problem areas, especially when working on confined construction sites. For more on RemoteDrive see the radio remote controls feature in the April issue of ICST.
Liebherr mobile cranes is also working with the construction machines division on applications to bring digitisation to life with the "Liebherr AR Experience" augmented reality app. It allows technology lovers to turn their own living room into a construction site.
Continuing with a theme of digitising the working world, Demag has its IC-1 Remote, which offers cloud-based remote access to and diagnosis of crane data from any location. It includes online troubleshooting by Demag Support. It is the only solution to offer this option, the manufacturer says.
IC-1 Remote is a radio unit with SIM card connected to a cloud server for data storage. Owners can manage their cranes and the fleet more efficiently, also seeing the crane's location and all operating parameters: from hook load to main boom length, including angles, hoist speed and so on, plus engine figures. It can even support invoicing, Demag says. Service intervals can be planned better. Also possible is fault analysis which can be run in the background while the crane operator continues working.
Liebherr 750 upgraded to 800 tonnes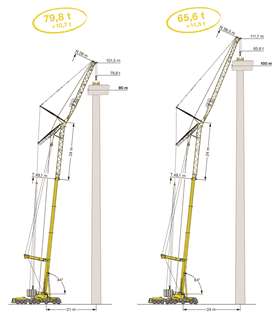 Liebherr has upgraded its 750 tonne capacity LTM 1750-9.1 wheeled mobile crane by making it an 800 tonner. It has refined the static calculation methods and increased capacity across almost the entire working range, the company says. It will, however, retain its LTM 1750-9.1 designation. The development is a new luffing fly jib configuration using existing lattice sections to give more capacity. Application will primarily be wind energy work. Cranes already delivered can be retrofitted with the new system.
As an example, more than 10 tonnes of additional load capacity is available for mounting wind turbines on 90 and 100 metre towers. It is also stronger when lifting heavy loads, such as loading ships with transformers at typical radii of 12 to 16 metres. More than seven tonnes of extra capacity is available in this situation.
GAAC Commerz, based in Mittenwalde on the outskirts of Berlin, has been a Tadano customer for many years. The arrival of its latest fleet addition, a 60 tonne capacity ATF 60G-3, coincided with GAAC's 30th Anniversary. Pictured left to right are: Uwe Degenhardt, Tadano area sales manager, Peer Vogel, GAAC Commerz managing director, and his colleagues