All terrain cranes: extended reign
By Christian Shelton27 August 2019
Milwaukee, USA-headquartered crane manufacturer Manitowoc has three new all terrain cranes. The cranes are two three-axle models and a five-axle model.
The five-axle model is the GMK5250XL-1. At maximum extension the seven-section boom is 78.5 metres long, making it the longest boom in Manitowoc's five-axle series. Capacity is 250 tonnes. It has independent Megatrak suspension, a Twin-Lock boom pinning system, and can be specified with Manitowoc's Maxbase variable outrigger system. Another option is Manitowoc's Viab turbo retarder clutch, which the company says enables wear-free starting and braking, thus enhancing manoeuvrability and operator comfort.
The crane has a compact footprint which Manitowoc says makes it particularly suitable for use in crowded or urban areas.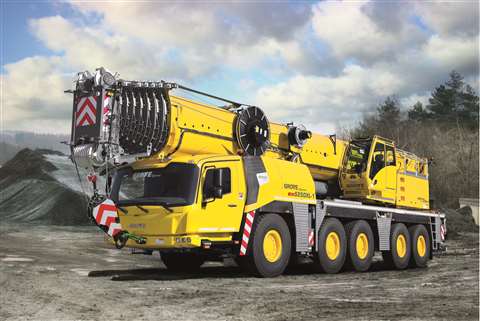 Compact cranes
The first of the two three-axle cranes is the GMK3060L. It has a seven-section Megaform boom with 48 m of main boom extension and a maximum tip height of 65 m when working with its full jib. It has a maximum carrying capacity of 60 tonnes. It comes with Manitowoc's Crane Control System with boom configurator, designed for fast set up. Manitowoc emphasises the compact dimensions of this crane.
The other three-axle model is the GMK3050-2. It is an updated version of Grove's long-running GMK3050-1. Manitowoc says it has a 40 m main boom, fast operating speeds and a single counterweight configuration for ease of use. It's engine and design have also been updated to meet the latest Euromot 5 requirements (which also covers both Tier 4 Final and Tier 3 regulations in the USA and the rest of the world).
Manitowoc claims both the GMK5250XL-1 and GMK3060L offer the most compact footprint in their classes and both have best-in-class load charts when configured in taxi-mode, at 12 tonnes per axle.
Eight-axle crane
Manufacturer Liebherr made a spectacular entrance at the Bauma 2019 show in Munich with its new eight-axle crane. The LTM 1650-8.1 succeeds Liebherr's popular LTM 1500-8.1. It has a nominal capacity of 700 tonnes and there are two boom options: 54 m or 80 m. Maximum hook height is 153 m and the longest radius 110 m. Full details on this crane can be read in our exclusive Product News Special in the April issue of ICST.
At Bauma Swiss crane and heavy haulage contractor Friderici Spécial SA Transports and German crane rental company Riga Mainz both bought an LTM 1650-8.1 each.
Liebherr also launched a smaller wheeled mobile telescopic crane at Bauma 2019: the LTM 1110-5.1. The five-axle crane has a capacity of 110 tonnes at a radius of 3 m and a telescopic boom that extends from 11.50 m to 60 m.
While carrying 13.1 tonnes of ballast, the crane can achieve axle loads of 12 tonnes. According to Liebherr, this means that crane operators can complete the majority of crane jobs without having to transport additional ballast. The crane can also be driven with a gross weight of less than 48 tonnes with axle loads under 10 tonnes. And with 28.7 tonnes maximum ballast it remains below a 15.5 tonne axle load. Ballast slabs can be rapidly swapped due to a quick-change system, Liebherr says.
The crane has a version of Liebherr's variable support base system called VarioBase Plus which it claims delivers particularly high load capacities due to 8.3-metre-wide rear supports.
In addition to the telescopic boom, a 10.8 to 19 metre folding jib can be specified. This can be hydraulically adjusted between 0° and 40°. Two 7 m lattice sections can also be installed to extend the telescopic boom. It also has a 2.9 metre erection jib and a runner which can be swung to the side.
The LTM 1110-5.1 has a six-cylinder Liebherr diesel engine in the undercarriage which develops 400 kW / 544 bhp and 2,516 Nm of torque. Emissions-wise, it meets Stage V and can be adapted to meet Tier 4f or stage III requirements.
Power is transferred to the crane's axles via a new ZF-TraXon gearbox. Like its previous model, the crane has automatic gear change. A new feature is eco mode, which is designed to help save fuel and reduce noise.
Doubling up
New from Japanese crane manufacturer Tadano are the ATF 120-5.1 and the ATF 100-4.1 all terrain cranes. Both meet the Euromot Stage V emissions standards and share the same modular superstructure with a newly developed 60 m main boom and 3.5 m to 31.7 m jib. A hydraulic folding device means a single operator can unfold the jib from the main boom and pin it via a crank handle from the ground.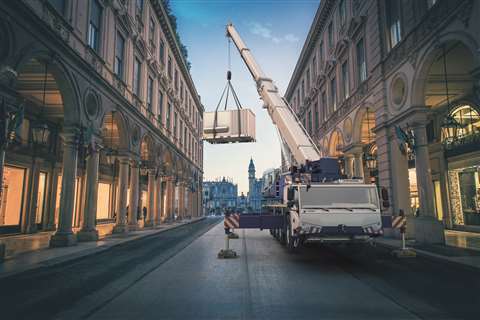 According to Tadano the new boom makes the 120 tonne capacity, five-axle ATF-120-5.1 the most powerful crane of its class for radiuses between 16 m and 56 m. When carrying 9.2 tonnes of counterweight, slings, and a 17.7 m jib (with an integrated heavy-duty jib), it remains under a 12 tonnes per axle limit. The crane can take up to 24 tonnes of counterweight. It measures 2.75 m wide. With 35.4 tonnes of ballast the ATF-120-5.1 has a slewing radius of 4 m.
Tadano claims the new 60 m boom means that the 100 tonne capacity ATF-100-4.1 achieves lifting capacities that are at times up to twice that of some competitor models in some parts of the lifting chart. Tadano also highlights the compact nature of this crane, which, like the ATF-120-5.1, has a width of 2.75 m with 24 tonnes of counterweight. It is 13.15 m long and 3.99 m high. And with 30.4 tonnes of ballast, the ATF-100-4.1 has a slewing radius of 3.8 m. Both models continue Tadano's dual-engine concept.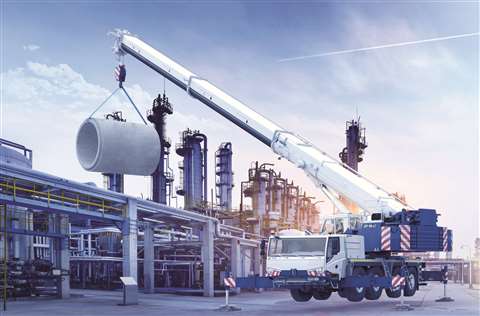 Packing a punch
At Bauma, Terex Cranes launched the E-Pack for its AC 45 City crane. It says it enables the AC 45 City to work with zero emissions while also making it quieter.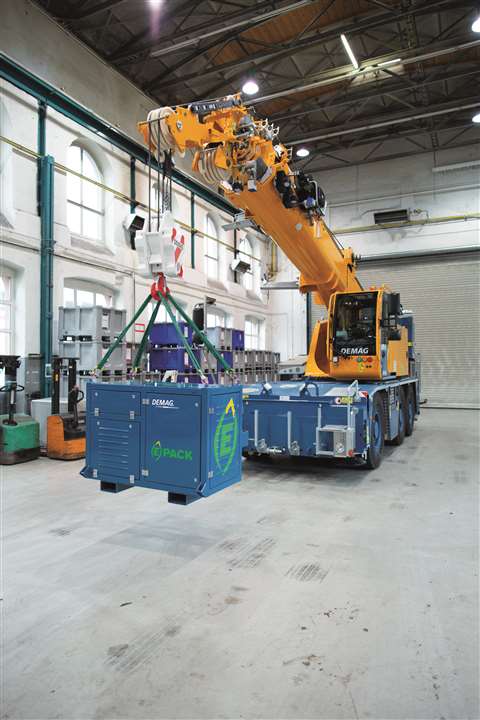 The E-Pack can also be used to run the crane's air conditioning system and charge the vehicle's battery. The E-Pack can be carried on the crane when travelling. To charge the E-Pack it can be connected to a common 400 V / 63 A electrical power supply.
According to Terex, there are few limitations when running the crane from the battery compared to the diesel engine. For example, the maximum lifting capacity is available with a hoisting speed of 32 m per minute, compared to the 111 m per minute when using diesel operation, while when rotating the superstructure, the diesel engine achieves 1.9 revolutions per minute while the E-Pack delivers 1.24 revolutions.
The E-Pack can be retrofitted to the AC 45 City crane or, for new orders, specified from the factory.
Terex Cranes has also implemented a new cab design for all new Demag all terrain cranes in the AC 55-3 to AC 300-6 series. One key change in the cab, Terex explained, is the cockpit display in the superstructure cab. It used to be installed on the instrument panel but is now integrated into it so that the operator has a better view of the front right area while operating the crane. The display can also be tilted in order to avoid glare and reflections caused by direct sunlight.
To ensure that the re-engineered carrier and superstructure cabs will open and close even under extreme weather conditions, Terex said they have particularly sturdy mechanical lock systems. A central door locking system is available as an optional extra. Finally, the remote controls for the carrier and superstructure diesel auxiliary heaters are also new.
At Bauma 2019 XCMG promoted its XCA60_E (60 tonne capacity) and XCA130_E (130 tonne capacity) cranes. The 'E' designation indicates 'European' market versions – an area that XCMG has been looking to increasingly sell to.
To help achieve this aim, XCMG has partnered with a new company called Cranes For You. It is based in the Netherlands and will sell XCMG cranes in the Benelux countries – with a focus on selling the 60 and 100 tonne capacity all terrain crane models. At present, XCMG says that annual demand from Europe for 60 tonne all terrain cranes is currently around 230 to 260 units.
East to west
According to XCMG both cranes have been adapted for the European market. The XCA60_E has six boom sections, a compact design, an off-road chassis with independent suspension, multi-mode steering and is Internet of Things equipped. A mobile remote control and display unit shows the crane's key parameters and the crane can self-diagnose any faults. The European model has a new hook block with anti-swing technology and it uses an energy-saving hydraulic system. Repeat hoisting can be set where the crane automatically repeats a sequence of movements, says XCMG. It also has 'push button stowing, where the crane automatically returns to its original travel configuration.
Similarly, the five-axle XCA130_E is being marketed by XCMG as having a high level of in-built technology including remote control for the riggers and lifting, as well as counterweight erection and jib unfolding and folding.
Chinese construction manufacturer Zoomlion is also looking to sell all terrains in Europe and it displayed its ATC 960 and ATC 1000 all terrain crane models at Bauma. The cranes are scheduled for production in 2020 and were designed and manufactured in Italy by Zoomlion. They will use Brevini winch drives and slew drives from USA-based power transmission specialist Dana. "Our new all terrain cranes have been designed with best-in-class features to meet the high expectations of European equipment buyers," said Davide Cipolla, general manager at Zoomlion CIFA Europe.
The latest all terrain crane from USA-based crane manufacturer Link-Belt is the 175|AT. It has a base rating of 150 tonnes (175 US tons) and a six-section 13 to 60.1 m (42.7 to 197 ft) pin and latch greaseless formed boom. It also has an optional three-piece 10 to 32.5 to 55 ft (3 to 9.9 to 16.8 m) on-board hydraulic or manual offset fly and three 5.4 m (18 ft) lattice extensions. Maximum tip height is 315.1 feet (96 m).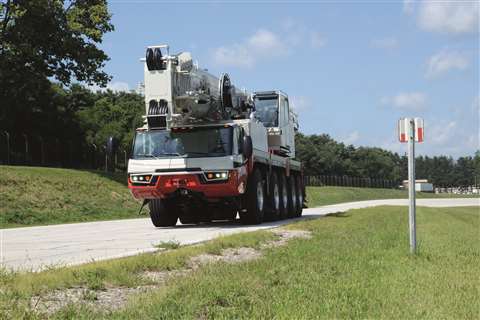 The crane's width is 2.84 m and over-the-front and boom dolly configurations make the 175|AT suitable for domestic and international transport. The 175|AT has a 15-litre Cummins QSX15 tier 4 final off-highway engine. The crane can transport to the jobsite with 41 tonnes (90,000 pounds) of counterweight in two overflow loads. It is capable of travelling under 12,020 kg (26,500 pounds) per axle with 3 tonnes (10,800 pounds) of counterweight and the boom over the front. In dolly configuration, the counterweight can be stowed in several different configurations to meet different weight requirements.
The operator's and driver's cabs are new and equipped with Link-Belt's Pulse 2.0 control system. The crane also has in-cab digital readouts of all the carrier tyres' air pressures and tyre temperatures, as well as automatic climate control, Bluetooth radios, heated and ventilated seats, and a comprehensive lighting package.
Reaching out to Canada
Ontario, Canada-based Modern Crane has taken delivery of a Demag AC 300-6 all terrain crane – the first in Canada. It was bought through Terex Cranes distributor, Cropac Equipment, and it plans to use the crane to assemble tower cranes.
The six-axle Demag AC 300-6 all terrain crane has a 300 tonne capacity classification. It has an 80 metre main boom and is the smallest crane in the Demag all terrain range equipped with a luffing jib. The 80 m main boom can perform jobs at heights up to 78 m or 74 m radius without rigging a jib. It has a 15 tonne lifting capacity when the main boom is fully extended.
According to Modern Crane's vice president of sales, Aaron Hanna, the Demag AC-300 -6 all terrain crane's long main boom was key to the company's decision. "The crane has the reach we need and it is easy to set up around potentially impeding obstacles," he said.