Allelys lands historic move
By Alex Dahm23 October 2020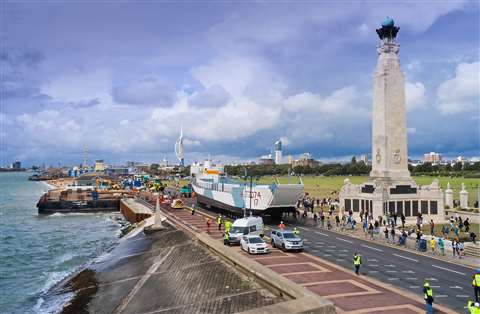 Moving a 220 tonne, 57.4 metre long Second World War landing craft was all in a day's work for UK-based specialist Allelys.
The company completed the transportation, offloading and positioning of the vessel, which is the last one in the UK and one of the last in the world. It was a campaign veteran of the D-Day landings on 6 June 1944.
Allely's used 24 axle lines of self propelled modular transporter (SPMT) in a 2 x 4 file configuration. The craft was moved 100 metres from where it was restored, at Portsmouth Naval Base on the UK's south coast, to the barge location. It was rolled onto the barge, transported the short distance to Southsea, and rolled off the barge.
After its 800 metre journey to Clarence Esplanade Allelys jacked it down using eight synchronised climbing jacks. Next, a 200 tonne capacity wheeled mobile crane was loaded the landing craft with a Churchill tank and a Sherman tank, both also from the Second World War. The now much heavier load was then moved into its final position. Four lines of heavy duty skidding equipment did the job.
Allelys was also contracted to provide the full scope of engineering and project management, including transport studies, stability calculations, load calculations and offloading methodology from the beached barge to the land.
"With the piece having limited remaining strength in its hull, the engineering studies were critical to the success of the project," explained Charlie Latham, Allelys head of tendering and business development. "It was great to be involved in such a prestigious project and to be able to deliver the landing craft to the National Museum of the Royal Navy in Southsea where it will now be on display to the public."