Allight's milestone lighting tower goes to Coates
By Thomas Allen17 December 2019
Australia-based on-site equipment manufacturer AllightSykes has produced its 13,000th lighting tower, which was delivered to Australian rental company Coates Hire as part of an order for 95 lighting towers. Coates is a sister company to Allight within Seven Group Holdings.
Produced at Allight's Landsdale facility, the current generation of MineSpec lighting towers has a 300 litre tank as standard, offering up to 375 hours of run time.
Also, the chassis has been refined to ensure that the total weight of the unit remains under 2,000kg in all configurations to comply with ADR transportation regulations.
A new control system that can be integrated with any telematics solution makes it possible to monitor the lighting towers remotely, and the LED offering on the units has been expanded with the new Allume 450W LED floodlight, which produces 60,000 lumens.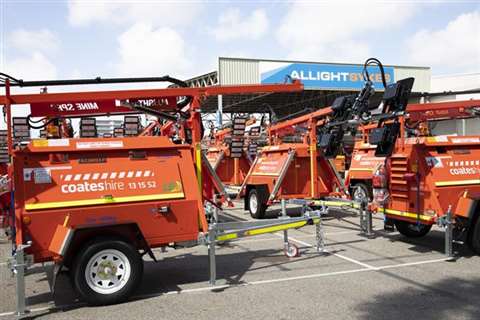 Latif Ahmad, General Manager of Technical Services at Allight, said, "This is a huge milestone for the business. With these new developments now in full production, we are turning our attention to the next evolution of mobile lighting solutions for global mining and civil works."
Currently, the production facility has the capacity to deliver up to 110 light tower units per month.