Allseas lifts 25,000 tonne platform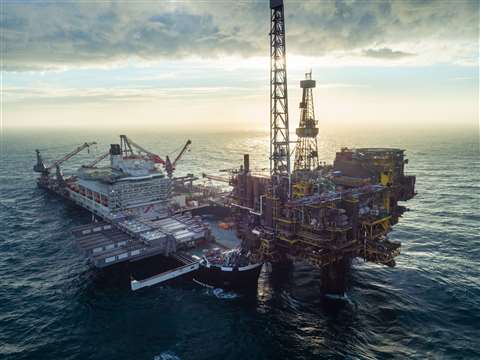 A single lift by heavy lift vessel Pioneering Spirit saw the 25,000 tonne Brent Bravo topside removed from its foundation in the North Sea between Scotland and Norway.
Removal of Brent Bravo for decommissioning follows the same work by Swiss company Allseas on the Brent Delta platform in April 2017, also using Pioneering Spirit. The Bravo job took four hours from positioning the vessel to the start of the lift. While the vessel has a motion compensation system the actual lift needs to be done quickly. In this case the "fast lift" was done in nine seconds.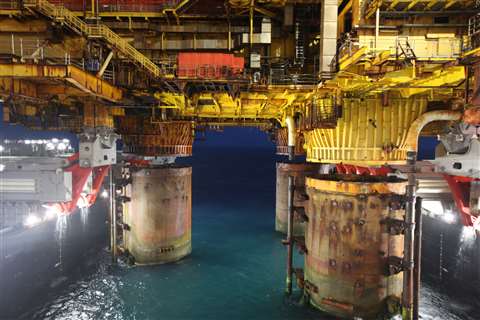 The Brent Bravo topside was 186 km off the coast of Scotland, past the Shetland Islands, on the way to Norway. It stood on three steel reinforced concrete legs, each 12 metres in diameter and in 140 m of water. They remain in the sea, capped off and fitted with a solar powered navigational aid to help prevent collisions.
The platform is 125 m tall and 70 m wide. In the months leading up to the lift, cuts were made between the topsides and its legs. Lateral movement was prevented by specially made shear restraints installed beforehand.
After sea fastening, the twin-hull Pioneering Spirit set sail for the Able UK decommissioning yard in Teesside, north east England.
At 24,200 tonnes the Brent Delta lift in 2017 was a world record for lifting at sea. Pioneering Spirit broke that record earlier in 2019 with its installation of the 26,000 tonne Johan Sverdrup production platform off the coast of Norway. Since it began operating in 2016 Pioneering Spirit has lifted more than 130,000 tonnes of topsides. The twin-hulled 382 m long vessel was built by Daewoo in South Korea at a cost of US$ 3 billion). It is scheduled to remove the remaining two Brent field topsides, the 15,000 tonne Brent Alpha and 29,500 tonne Brent Charlie, for Shell.
In May 2019 Allseas was awarded the removal contract for the 48,000 tonne Statfjord A platform. To get an idea of the weight, it is the equivalent of six Eiffel Towers, Allseas said. Pioneering Spirit's lifting capacity will be increased prior to this enormous lift.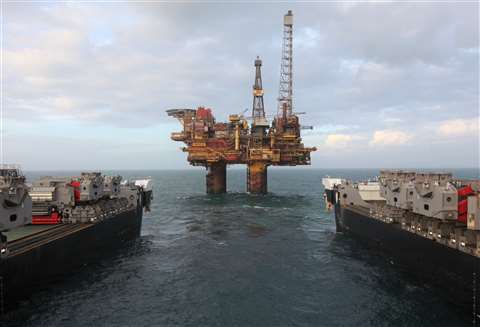 Supporting documents
Click links below to download and view individual files.