Almac appoints Pacific manager
By Euan Youdale04 May 2020
Almac Italia has appointed Bob Mules as its new general manager for its Almac Pacific branch.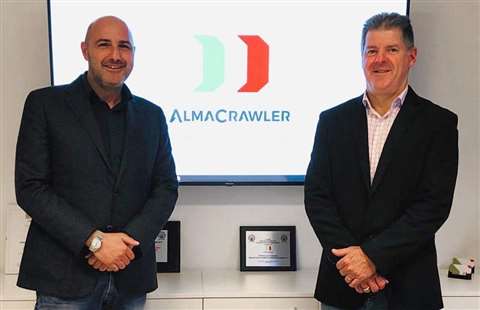 Andrea Artoni (left) and Bob Mules, Almac Pacific.
Mules starts in his new role today at the branch, based in Australia. He has decades of experience in the rental and access equipment sectors, 13 of which were with Wreckair Hire, that was acquired by Australia-based Coates Hire in 2002. Since then he has worked for access OEMs, and for the last 10 years as JLG's general manager for Australia and New Zealand.
Almac manufactures a range of innovative bi-levelling scissor and self propelled boom lifts. Mules said, "I'm excited to join such a dynamic company that is driven by innovation and providing the highest standards of safety in daily use. The AlmaCrawler products, with their self-levelling capability, are definitely industry leading. Being able to combine my years at the helm of a leading company in the sector with Almac's technology initiative, is an exciting challenge and opportunity."
Andrea Artoni, general manager and owner of seven-year-old Almac, added, "The Pacific region is an extremely strategic area for Almac. In fact, our products have already been implemented in the rental fleets of the biggest players. For this reason, our company wants to organise, consolidate and reinforce its presence, especially looking at the upcoming development of our range in the next three years.
"The appointment of Bob complements the new recent strategy that saw us establish our new operational headquarters near Melbourne. This dedicated warehouse, for spare parts and products stock has been set up to support our direct customers and our national retailers, United Equipment for Australia, Youngman & Richardson in New Zealand and Alfasi Hire in Malaysia."