Almac debuts crawler boom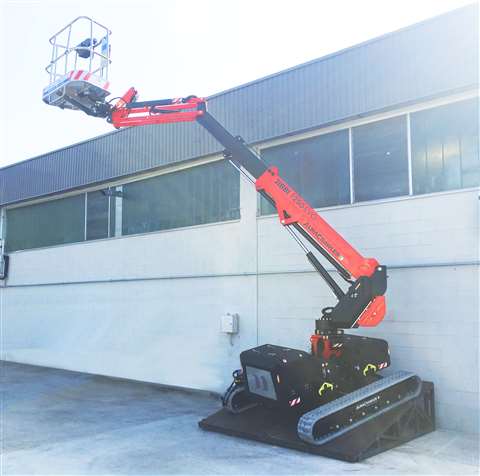 Almac launched its latest concept, the AlmaCrawler, at Platformers' Days, Sept. 14-15 in Hohenroda, Germany, to debut a new product.
The Jibbi 1250 EVO is a self-propelled, telescopic crawler mobile elevating work platform that features a jib.
The unit is equipped with a 19.2 hp, three-cylinder Yanmar diesel engine and track crawler undercarriage that is retractable from 1.95m to 1.15m. The unit has an automatic telescopic boom leveling system with a maximum working height of 12.2 m. Lateral outreach ranges from 5.5 to 7 m depending on operating conditions and the load in the basket, which can hold a maximum of 230 kg with two operators.
The Jibbi 1250 EVO can slim-down to 1.15m wide, 1.98m tall and 3.7m long. The basket can be removed to shorten the unit a further 3m. The MEWP weighs 2,850kg and can be operated on a slope of up to 22 degrees (40%).
The MEWP also features a safe-lock system, an anti-collision ultrasonic system, dynamic working performance and a setup for a winch kit. The winch kit will be an optional accessory starting in 2019. The unit will be available for delivery in the second quarter 2019.