Alternative powered gensets: sustainable solutions
By Belinda Smart04 January 2023
Releases in gensets – including key Bauma launches – demonstrate a concerted response to emissions reduction and the energy crisis, writes Belinda Smart.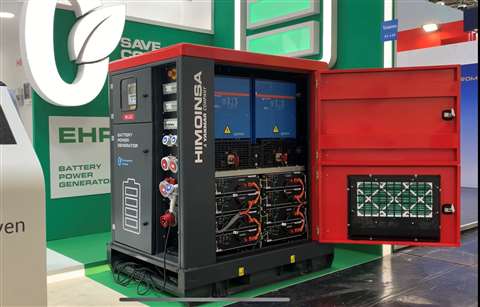 Sustainability roadmaps are a focus for OEMs across the board, but the power generation sector represents a biting point for the energy transition.
At mega-show Bauma last October, this was evident among numerous exhibitors.
One of these was Himoinsa, which recently introduced the EHR | Battery Power Generator (<60 kWh) and is in development on 500 kWh and 1 MW units in 20-ft. containers and 2 MW units in 40-ft. containers.
The EHR, which was demoed at Bauma, is equipped with the HiCore System, a smart management technology designed by Himoinsa that selects the most favourable energy source for each charging condition.
"EHR is a new power storage and distribution system which can operate as a single source of power generation (stand-alone basis) for powering construction machinery (cranes, pumps...) or even as a recharging station for electrical construction machinery, as well as allowing integration with gas and diesel generator sets, thus reducing the number of hours of operation of the generator sets.
"The EHR is also designed to be connected to the grid or to photovoltaic modules," said Miguel Ángel Ruiz, global engineering and product development head at Himoinsa.
The company also recently developed a generator set with an integrated LPG tank that can be connected to an external liquefied gas tank to extend runtime as required.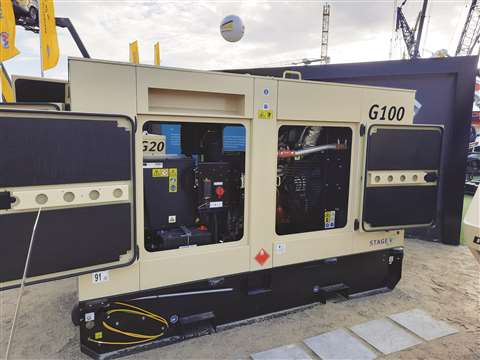 In addition, Himoinsa's Bauma stand also exhibited Stage V diesel generator sets.
The lineup ranges from 17 to 550 kVA and is suitable for use with HVO biofuel, as well as 1 MW gen-sets with Yanmar engines and the HRYW 1275 D5/6, which is powered by the AY40 engine incorporating Yanmar's "Assign" combustion technology.
Elsewhere, Doosan Portable Power (DPP) launched the new G100 Stage V-compliant generator.
On display at Bauma in Munich, the unit provides a prime power output of 100 kVA, the model is powered by a Cummins F3.8 82 kW diesel engine.
The OEM says that despite featuring an identical footprint to its predecessor, the Stage V G100 offers improved performance in most areas, including customer connections, autonomy, fuel consumption and noise levels.
"Thanks to its Cummins engine, service intervals have been extended to 1000 hours and the risk of engine issues at low loads – a common issue in the rental market – has been eliminated."
The G100 is also compatible with hydrotreated vegetable oil (HVO).
The new model was among those on display – including a comprehensive range of generators, portable compressors and lighting products – at Bauma 2022.
Algeco partners with generator specialist
Modular building rental company Algeco has partnered with generator specialist ABird/Apex Power Solutions, to give customers more environmentally friendly generator options.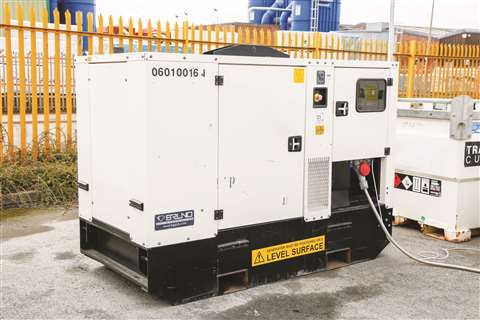 The deal will see Algeco offer a range of ABird/Apex's generators, including hybrid unit options and models that can be powered by hydrotreated vegetable oil (HVO), as well as traditional diesel powered generators.
Suitable for use on small to large-sized sites, with outputs ranging from 10kva to 1,260kva, the ABird/Apex generators incorporate advanced telemetry that provides real time reporting on fuel management and GPS location data.
"With the energy crisis in Europe, which is also a high concern for rental as more and more standby electric equipment is needed and being used, having a wider product offering to provide independent energy supply is definitely an important gap being filled by the G100," says Tanguy Calvez, Product Manager EMEA, Generators - Lighting systems for Doosan Portable Power.
"The important gap this unit is filling is the capability to protect itself from the low engine load issue, as in the past generators were required to be used above 40% of their rated standby value.
"In our case, the engine will work internally harder to compensate for the lack of power required while being used, and this will avoid time at the dealer afterwards or expensive damage repairs."
Stage V compliant gensets
Italian power specialist Pramac has introduced a hybrid Stage V generator to meet European emission regulations (EU Regulation 2016/1628).
The new GRW 60 Hz Hybrid is described as an efficient, reliable unit that reduces operational expenditure, with a choice of available operating modes that allow the correct selection according to site specificities, such as, events, constructions, working sites or city centres.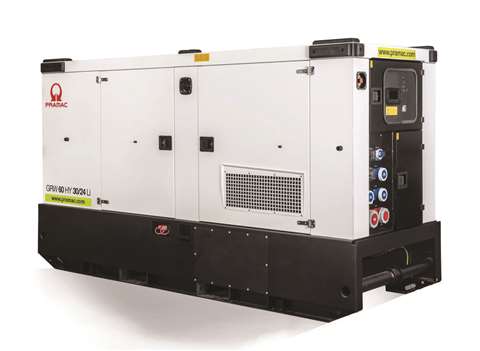 "The hybrid philosophy of this rental solution has many advantages for operators: avoid running diesel genset with low loads; best efficiency when needed; covering power peaks, with batteries; reducing fuel consumption and CO2 emissions up to 50% (with typical load profiles for construction sites and lowering noise emissions."
Pramac generator sets have engines compatible with Hydrotreated Vegetable Oil (HVO)
In 2022, the company also launched a new line of battery-driven energy storage systems (BESS), the Off Grid Range.
These mobile power banks are available with different enclosure configurations – canopy, container, trailer mounted.
Another key player from Italy, Trime, is positioning its lines of hybrid and solar generators, alongside innovative, emission, and noise-free battery packs, as a solution for the rental industry.
All Trime generating sets feature robust canopies, and safe lifting properties with fully bunded tanks, helping to guard against spillage or leakage.
The Trime hybrid range starts at 5.0kVA, with 8.0, 15.0, 24.0, 30.0, and 45.0 in single and three-phase outputs.
Each hybrid set is fitted with a combination of the latest quick-charge lithium battery and a Stage V, fuel-efficient diesel engine.
For emission-free power, Trime has built a complete range of battery packs. Each Trime battery pack is fitted with the latest lithium batteries and offers 100% silent running.
Trime battery packs can be also combined with traditional gen sets, helping to optimize an existing rental fleet.
Mobile gensets
Kohler Power Systems EMEA has released the R550C5 rental compact genset designed for Stage V compliance – meaning that Kohler's rental genset product line now complies with European regulation 2016/1628 EU Stage V on polluting emissions.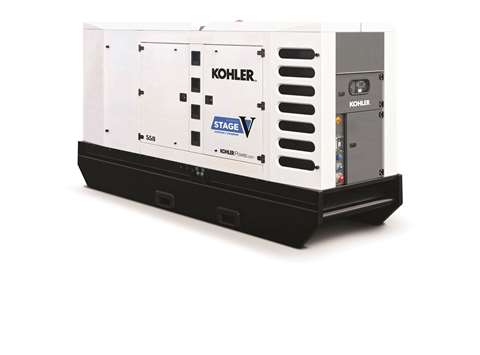 Showcased at Bauma, the product is integrated into the M5228 module of the Rental Compact range to create mobile generating sets for demanding rental applications.
It provides 500 kVA PRP / 550 kVA ESP, while ensuring a reduction in polluting emissions to comply with Stage V standards.
Kévin Bougault, Product Manager, Small Diesel, Kohler, said: "The Rental Compact line provides robustness, ease of handling, usability, quick maintenance access and optimum safety.
"Backed by our comprehensive aftermarket support services – including training, commissioning, spare parts - and world-leading product availability and delivery times, rental customers can rely on Kohler as a trusted partner."
Hybrid powered generators
Bradley Ireland – Group Sales Director at UK company MHM Group, tells IRN the company has released the MGTP 10 USY-5.
Ireland describes the MGTP 10 USY-5 as "a 10kva Ultra Silent generator an extension to our Ultra Silent stage V generator range which now extends up to 500kva in this spec.
"All feature MHM's ultra-silenced technology, reducing noise emissions to as low as 50dBa at seven metres. specifically designed for outdoor events or use on movie and TV sets, providing the same power as our standard MHM generators with the benefit of reduced noise levels.
"Our solar hybrid range has seen an expansion from our previous 3.5 to 10kva range now including MGTP 20 SHG-5 a 20kva solar hybrid battery diesel generator out in the market plus a 60kva and 100kva due to launch to market next year.
"This range now features a lithium battery combined with the Stage V engine."
The Solar Hybrid Battery Diesel Generator Range – MGTP 20 SHG-5 – offers combined solar, battery and diesel generator power, for low and variable temporary power applications over long periods of time; reduced fuel costs, engine maintenance costs, noise and co2 emissions.
It is also suitable to run off either diesel, HVO or a mixture of both fuels, and it comes with telemetry.
The Ultra Silent Event Ready Diesel Generator Range – MGTP 10 USY-5 – has "plenty of power to meet the demands of small to medium event hires" is Ultra Silenced: 80LWA / 50 dBa@7m, with a Stage V engine, World class performance and water-cooled
"Thanks to our partnership with TrackUnit we can offer remote telemetry across our product ranges which provides detailed information into how a generator is working, to give a much more comprehensive understanding of the inputs and power requirements of performance," says Ireland.
Battery powered gensets
US company Hipower Systems has launched the EHR Battery Power Generator. The EHR is a battery energy storage system that allows the user to run load through the batteries and charge the EHR with a genset, utility, or solar panels.
The EHR series has a power capacity rating (measured in kVA) and energy capacity rating (measured in kVAh). Models range from 10-40 kVA and 20-60 kVAh.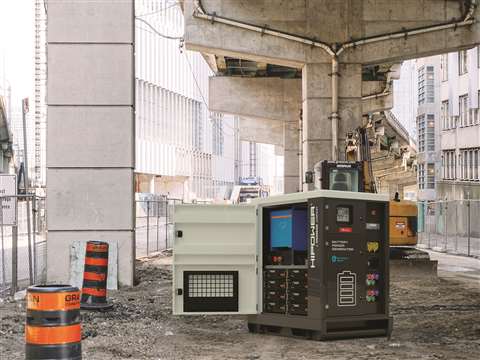 "The EHR is designed for the rental market with a customer connection panel which has standard series 16 camlock connections for quick and safe disconnection, mechanical lug connections, 50A receptacles, and 20A receptacles.
"Hipower's EHR Battery Power Generator is great for light loading. Instead of a genset being light loaded or having to be shut down during periods of low energy requirements, the EHR can be used as needed.
"Once the batteries are depleted, the EHR will call for the T4F genset to start and charge the batteries. Once the batteries are charged, the genset will be turned off.
"This will allow the genset to be under the full load of the batteries essentially load banking the genset each time it is called to start.
"This will increase exhaust temperatures, which in turn will help, burn off soot in the after-treatment system.
"This will significantly decrease fuel costs and run time while also extending the time between maintenance intervals on the genset."
Hydrogen enabled power sources
Said to be the first of its kind, a Hydrogen-Flywheel Generator from Italian genset specialist Bruno Group was launched at Bauma.
The collaboration between Tecnogen – part of the Bruno Group – and hydrogen power and storage specialist Punch Group combined a hydrogen engine with Flywheel Power System technology, integrated into a generator.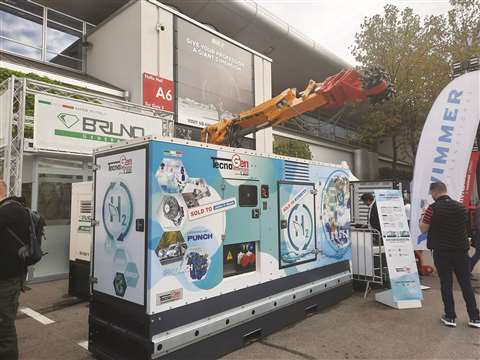 Punch Hydrocells developed the hydrogen engine, based on a diesel engine design, while the integrated Flywheel Power System, developed by Punch Flybrid, injects high powered energy, increasing the dynamic load response and peak power of the generator for demanding applications.
The unit itself was created by Tecnogen, part of the Bruno Group. It has been purchased by UK construction engineering and rental business John F Hunt Power.
According to a statement on John F Hunt Power's website, Renato Bruno, Founder Bruno Generators Group commented: "We have a 20 year business relationship with John F Hunt Power and appreciate their commitment to our latest product developed together with the Punch Group.
"This new Hydrogen + Flybrid generator underlines the ambition of Tecnogen to be market leaders."
Rental customisation
From Spain, Dagartech's recently released Rental Plus EU Stage V range is offered in models available from 20 to 670kVA power, and customisation options for renters to fully adapt their fleets. The series has been designed and developed with Perkins, Yanmar, Deutz and Volvo engines.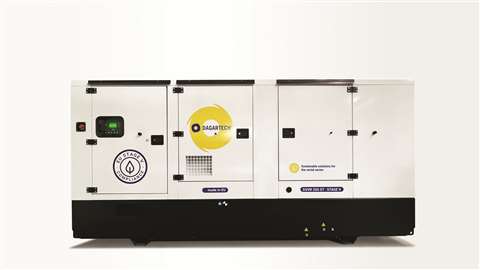 "However, the integration of different technologies to neutralise exhaust gases makes that these machines increase their complexity in terms of use.
This requires greater product awareness for rental companies and users and has also been a challenge and, at the same time, an opportunity for Dagartech: being able to offer an intuitive product."