Ammann's mixing focus
By Chris Sleight31 March 2010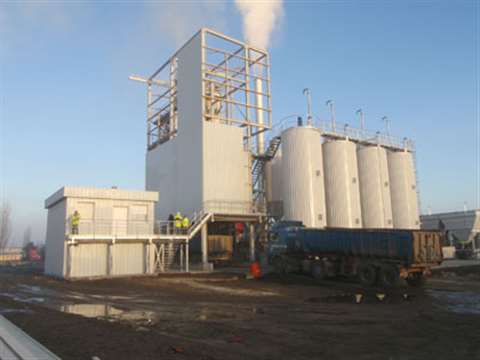 Ammann will debut its stationary Contimix asphalt mixing plant featuring an output of up to 360 tonnes per hour. The forced, twin-paddle continuous mixer produces a high quality, homogeneous asphalt mix and is suited to the production of both cold and warm mixes.
Through separation of the heating and mixing processes, the stationary Contimix system benefits from low energy consumption and emissions levels. Its environmental credentials are bolstered further through its ability to produce asphalt with up to 60% of recycled material.
Ammann will also unveil a new drying and heating unit, based on the counter-flow principle, which can heat up to 240 tonnes of asphalt granules per hour, while offering a +10% saving in fuel consumption.
Designed to recycle 100% of reclaimed asphalt pavement (RAP), the non-flame heater gently warms the binding agent in RAP and therefore maintains the asphalt's quality.
The company will also launch a new generation low-pressure burner with an output of up to 24 MW. Capable of running on heating oil or natural gas, the burner adopts a venturi effect for fuel delivery rather than injection.
Due to its capacity to run on alternate fuels, the burner can handle fuels with varying viscosity and is not sensitive towards contamination in the fuel. Optimised combustion leads to reduced CO2 emissions and enhanced fuel efficiency.
Also new at Bauma will be Ammann's 17 MW output thermal dryer with a capacity to process up to 50% of RAP. With a rotation speed of between six and 11 rpm, the dryer boasts a maximum production of 260 tonnes per hour.
Research has resulted in the company being able to regulate the degree of heat applied to the RAP, which in turn has led to +15% energy savings and a reduction in emissions.