Amtrak to 'triple investment' in railway infrastructure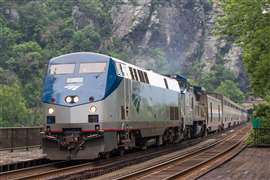 US public rail service Amtrak has announced plans to triple its annual investment in its infrastructure from US$2 billion 2023 to more than US$6 billion by 2025.
Speaking at Engineering New Record's second annual NY/NJ Infrastructure Forum in Manhattan, US, Laura Mason, Amtrak executive vice president of capital delivery, also revealed that she is doubling the size of her department to handle the rising amount of project design and delivery to come.
The rail operator received US$66 billion under the 2021 federal infrastructure law, the largest investment it has received since its founding more than 50 years ago.
Amtrak – which receives a combination of state and federal subsidies but is managed as a for-profit organisation – recently published details of a survey it had commissioned which showed that 86% of 1,000 respondents support an 'American passenger rail system' and further rail investment.
In addition, the survey asked for registered voters' views on the importance of a public rail network, and on specifics around state and federal funding. Nearly 90% of voters said a passenger rail system was at least "somewhat" important, with 31% saying it is "extremely important". Only 9% said such a service was "not important."
Amtrak has previously said that it will invest over US$50 billion into modern trains, enhanced stations and facilities, new tunnels and bridges, and other critical infrastructure upgrades.