An easier drive
By Laura Hatton07 October 2014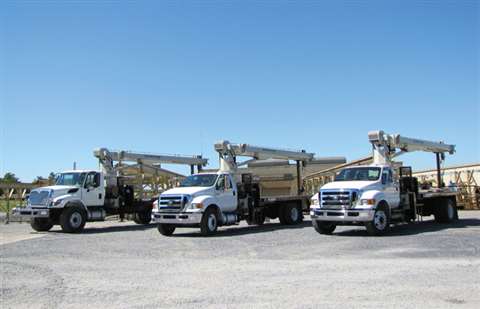 As markets in the energy sector continue to improve, so too does the demand for boom trucks. Laura Hatton finds out more
Compared to truck cranes and all terrains, boom trucks can be a more cost effective way to carry out a lift as the upfront cost, transport and service costs are less. Jim Glazer from manufacturer Elliott Equipment Company explains more, "The major advantages of a boom truck over a truck crane is that the commercial truck chassis is more comfortable, easier to service and easier to resell than a purpose-built carrier. There are dealerships around the world for commercial truck chassis and cranes can easily be remounted on new chassis when the original has finished its useful life."
Ruben Olivas Saunders, Manitowoc global product director of boom trucks and carry deck cranes, adds, "Another advantage of a boom truck is that because they are mounted on commercial truck chassis, most often they comply with highway travel rules, which means travelling from one job site to another can be accomplished easily."
A spokesperson from manufacturer Altec adds, "Other primary challenges associated with propagation are compatibility with local chassis (that may not meet typical North American chassis specifications) and compliance with local mobile crane standards, like EN13000."
A spokesperson from Terex explains further, "North American manufacturers are challenged by the chassis offerings available in foreign markets. Most design installations are based on North American chassis dimensions, frame strengths and axles. These requirements are not available from most foreign chassis manufactures and domestic North American manufacturers do not support their brand in many overseas markets."

Latest designs
To help meet demands for chassis compatibility and the varying road and emission regulations, manufacturers have launched a number of new models. The most recent model from manufacturer Elliott Equipment Company is the 45142. The 45 US ton (40 tonne) capacity crane has a reach of 63.1 metres and a lifting capacity of 40.8 tonnes at 2.1 m radius. It is fitted with a five section 43.3 m powered boom. Maximum tip height is 46 m when mounted on a truck. Options include radio remote control, air conditioning. There is also a federal bridge-legal version of the 45142, which is legal in all 50 US states, the manufacturer adds.
Altec's latest offerings include the 45 ton capacity AC45-127S boom truck, a new cab, and a new load moment indicator (LMI). "Altec has a customer-focused product development process," says Matt Trefz, Altec Cranes, marketing manager. "When we began the 45 ton project, customers told us they needed more capacity beyond a 25 foot (7.6 m) load radius, a solid feel at a 100 foot (30.4 m) load radius and road transport without weight permits."
The AC45-127S is designed for installation on a range of commercial chassis. It has lower winch control, dual entry cab and engine start and stop functions at the tail shelf to minimise fall hazards. The LMI reel is mounted at the boom heel and protected by a metal cover, while the anti-two block cable is routed through the boom, which provides better reliability. Altec also recently released a patent pending Dual Entry Cab, available on all riding seat models. The new cab has a front entrance and a side entrance. "This is a first for the boom truck crane industry," Matt Trefz says. In addition, Altec also launched a new load moment and area protection (LMAP) system, which assists the operator at the job site by monitoring crane operations. It provides a rated capacity limiter and audible alarm set points, the manufacturer adds.
Launched at ConExpo by National Crane are the NBT60 and the NBT15 series. The new NBT60 has a 60 US ton (54.4 tonne) capacity and a 39 m five-section, full-power boom. A 13.7 m two-section, off settable manual extension is also available. The crane is roadable without the need for additional permits in many regions. It has two-piece, hydraulically removable counterweight slabs that can be stored on the front outrigger box, CanBus outrigger controls and an X-shaped footprint eliminate the need for a single front outrigger, the manufacturer adds.
The new NBT15 models include the 14 ton (12.7 tonne) capacity NBT14, the 15 ton (13.4 tonne) capacity NBT15 and the 16 ton (14.5 tonne) NBT16. All three crane models have an 18.3 m three-section boom. A 6.7 m single section jib is also available. All three models have updated out and down outriggers, which expand between 2.23 m and 5.28 m.
"These new boom trucks remain ideal for getting into tight spots on the job site and can easily hop on and off of the highway without special permitting – in some cases, a commercial driver's licence (CDL) is not even required for the NBT14. The NBT15 series has the longest boom in its class and flexibility in lifting capabilities with their strong capacities and variable outrigger positions," Ruben Olivas Saunders adds.
The latest model of boom truck from Palfinger Sany is the SPC250 truck-mounted telescopic crane (TMTC). The crane is built on a commercial chassis and is the first model in this range. Further models with higher lifting capacity are planned for later in 2014. The SPC250 has a lifting capacity of 25 tonnes, a maximum lifting moment of 102.0 tonne-metres and a four four-section 32 m telescopic boom. Optional extras include an Arctic package, which will help the crane to work in temperatures down to minus 40 degrees Celsius.
From US crane manufacturer QMC Hydraulic is the 50 ton (45 tonne) 8060R. It has a lift capacity of 30 tons at 4.5 m and fits on an 8.4 m wheel base chassis that only requires one tag axle to be 50 states DOT legal. Payload for tools and equipment is more than 2.7 tonnes, the manufacturer adds.
New from crane manufacturer Terex is the Crossover 8000, which was launched at the ConExpo 2014 show in Las Vegas, USA. It has a proven X-pattern outrigger design for extra stability, an 80 ton (72 tonne) rated capacity and a 38.4 m boom. When configured with a 17.3 m jib, maximum tip height is 57 m. The Crossover 8000 is approved for Freightliner, Kenworth and Western Star commercial chassis. Options include hydraulically removable counterweight packages.
Future shifts
Most manufacturers are keeping quiet as to what new products are in development. Demands for boom trucks are, however, shifting towards the higher end of the capacity scale. Ruben Olivas Saunders explains, "The industries driving these product needs constantly need larger tools, which in turn, require larger lifting solutions." Matt Trefz adds, "Boom truck cranes are always getting bigger. Certain work applications favour an ever-increasing lifting capacity and this pushes manufacturers to develop larger models."
Coupled with the demand for long booms and increased capacities, some end users are questioning how long it will be before boom trucks displace truck cranes.
However, as a spokesperson from QMC Hydraulic cranes points out, although some manufactures offer more flexibility in how a truck is configured, it's certainly not like using a specialty carrier that was designed around the crane.