Southeastern Equipment Co., Inc.'s Vice President Heath Watton talks to Lindsey Anderson about his company's unique approach when it comes to rental business.
Founded in 1957 by William and Nancy Baker, Southeastern Equipment Co., Inc. has since grown from a single location to more than 18 stores across Ohio, Indiana, Michigan and Kentucky. The company is in "expansion mode again," says Vice President Heath Watton. "I can't share where, but I can tell you we might be moving our footprint a little North. I'll leave it at that."
Today, the company employs about 225 employees and its business approach is that they are a sales company with a rental fleet.
"I like to differentiate that because it's also what sets us apart," Watton says. "We like for our customers to have rental fleet available that is in wonderful condition and that is very-well maintained."
Watton says 65 to 75 percent of Southeastern's sales originate from a rental. "So, we use our rental to feed our sales opportunities," he says.
Southeastern Equipment has watched over the years as national rental fleets – and the companies themselves – continue to grow and expand. The approach Southeastern has taken is to delve into a more-dedicated rental fleet; embracing the rental-side of its business more.
"That's a tough nut to crack for us because we have always been very sales-oriented," Watton admits. "But we are doing quite well with it."
The company, which specializes in dirt equipment and has a heavy-hand in telehandler rental and sales, is "in a very good place," Watton says. "We had a record year in volume and we were up 10 percent in our rental business, which is nice growth because we continue every year to grow that part of the business."
ALH asked Watton about what's fueling rental in the area, how the company views competition from nationals, what rental rates are like, and more. Here's what he had to say.
ALH: What's fueling the rental growth?
Watton: I really think in Washington, D.C., the commitment to infrastructure, is helping. We have seen in eastern Ohio, a lot of oil and gas growth is returning. It had dropped off for three or four years. With that we see expansions from natural gas, the expansion of power plants and plastics plants. We see a lot of activity.
Here in Ohio, roads and bridges are always a mess because of our winters. In Ohio, the number of bridges that need to be fixed is astronomical. We see so much work into the bridge and that part of the infrastructure. Those are some of the mainstays, the real meat and potatoes of where we see growth.
We also are seeing a nice bit of recovery from the housing market, so that helps our rental fleet.
Do you feel this growth will continue for the next year?
We are very confident. Every person I talk with is very excited. Our customers are excited with what's out in front of them. A lot of people, speaking back to oil and gas, they say, be prepared for the next 36 to 42 months – when the weather breaks – to go crazy. I anticipate a big push.
For instance, we can't typically have enough telehandlers on the ground. We have graduated as a company. We had all kinds of 6,000 to 8,000-pound units – you could always find one. You can't find a 6,000 to 8,000-pound unit now because we don't have them; we have 10s and 12s. That's what the industry calls for. We have 10,000 and 12,000-pounders everywhere.
Even though the machines are large, they're so much more efficient and even for their size, they're nimble because of horse power and transmission efficiencies. A 10 can always be an 8. A 10 can always be a 6. We do keep some 5,000 pounders around that we find the home builders like; but, really, the 10,000 and 12,000-pound units are staples for us.
How are rental rates now compared to a couple years ago? Are they steady?
I think you will see them stay steady and probably even tick up a bit. It's nice to see some of the big national firms say they're going to be a little more steadfast in their rental rates. Obviously, the big animals like that are the ones who dictate the industry.
Honestly, I don't want to make too much [money] on our customer. That's not what I'm trying to do. I've seen a lot of companies say this year they're going to hold their rates, and that's good. When oil and gas started to slow up, we started seeing some rates that were like before the Great Recession. People were giving things away. They make large investments and I get it; they want to put it to work to make payments. But it hurts the whole industry and makes it hard to bounce back.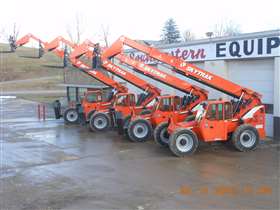 We consciously – Southeastern – stepped back a long time ago when the first oil and gas push happened. It really touched five or six of our locations and we saw the benefit of oil and gas in Ohio. I sat with the owner and some of the managers and we made a conscious effort to expand ourselves but we also didn't want to expand ourselves to the point where the customer that has walked in the door for the past 40 or 50 years didn't want to do business anymore.
We match ourselves up with a lot of good people and build good relationships. I think our rental increased with that mindset about 30 to 40 percent. We were being mindful of who the equipment went out to. So, we are going to take that same approach again. We've built some relationships with people who will be here; we're going to provide them with everything we need to and without harming our core business.
What's your competition like?
When Southeastern Equipment opened its doors and they started to grow, everybody in Ohio was independent. But what we've seen over the years, the big boys buy up the little boys and the landscape changes. The Ohio market was one of the largest equipment markets in North America. I think every year Ohio is in the top five – for equipment moved, equipment into the industry, etc. So, you can imagine every large national rental company is here to play.
So, yes, we see a lot of national competitors. As they continue to buy one another out, it becomes extremely competitive.
What makes us different? It's very clear – and I hope we do a good job of this every day. It's my job to make sure we do. Because some days we don't. The reality is we are an owner-operator company. We like to deal with the owner-operator but we have a lot of success with a lot of the large players in this business because we offer more of a hands-on approach.
We don't run eight different people out to customers because, "This guy is a rental guy. This guy is the insurance guy. This guy is the that guy." We keep short points of contact. The same salesman that can sell to you is the same salesman who can rent to you. The salesman can talk to our customers about financing. To get answers – because we have to be flexible – it's pretty much a quick phone call. Our owner is very involved. I'm available. Our other VP is very available. Our president is very available. We make decisions right now which allows us to be extremely flexible. And that keeps us competitive. So, I think the difference is, we're very hands on – we are more and more embraced in what our niche is with our customer and that cross section of the business. And we will continue to be successful like that
Is there room for consolidation in our market? Do you foresee any further buyouts?
I do think there will be more acquisitions. I think there will be more acquisitions at even the manufacturer level. One of the things that makes it tough to be who we are, the big national players have our same machines. They rent our brands. They may rent them cheaper per month. We're going to hold our number because of how we support the product. We're not just going to price down. We're the dealer and the renter. But, you know what, competition is fantastic. I'm a jock from way back so I like to compete.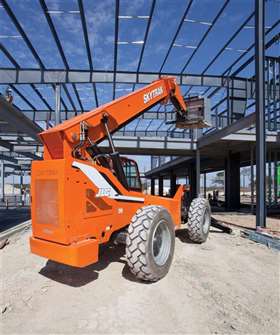 We as a company, if we know what we're about, we'll always be ok. It doesn't matter what everybody else does, we have to take care of ourselves.
From your perspective, what are your biggest challenges facing the rental market now?
It has a lot to do with who we are. I really don't think it has anything to do what somebody else does. I want to embrace having a specific mix of equipment – you know you can't always have everything. Sometimes I think as a rental company, we might have too much stuff. Could we pretend that we're going to be like the small, little hardware that has rental because we have stuff on the shelves to clean a toilet? I don't think that's a good move for Southeastern. But, do I believe we can have the right amount of skid steers with attachments and telehandlers with attachments, yes, that makes sense.
I think embracing how we want to continue to have a dedicated our fleet, how we want to continue to have a mix of our fleet, how we want to continue to purchase for our fleet and pick up new lines. Those are the biggest challenges. Because of our size, and because of our product offering, sometimes our bag is very full. Our sales guys have something to do every day. Sometimes we need to refocus. If we refocus on rental and what we want to do good there, it would help us. As our company refocuses, rental can drive that.
What's your management philosophy?
It depends on what day it is! One of the things I really push for in Southeastern – because our owner is here every day, he makes the coffee – we are a very family oriented company that tries really hard. And some days we fail. I'm willing to admit that.
But, keeping our employees as involved as we possibly can is important. The reality of being a family owned company like we are and the rental industry we're in, there's multi-national companies that you're dealing against. It seems like the pot of gold is endless for them. They can throw money at things. Our company is very healthy but we're not just going to throw money at it to throw money at it. We have to manage very efficiently. We have to manage smart. We have to be willing to make decisions on the fly. Keep our people involved so they see and understand how important it is when our customers walk in – that's our lifeblood.