ANAPAT conference forecasts AWP growth in Spain
By Euan Youdale19 May 2015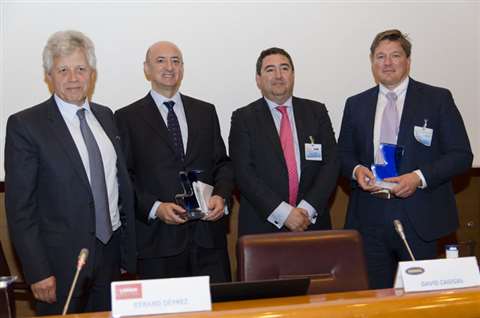 The annual ANAPAT aerial work platform conference took place in Bilbao, Spain last week with the confident message that the country is on its way back to growth.
Speakers included Luis Ángel Salas, director general of Spain-based rental company Hune, Jonathan Dawson, senior director of sales at JLG and Gérard Déprez, president and CEO of Loxam. The conference was chaired by David Cagigas, president of ANAPAT, Spain's assocation for aerial work platforms; he is also country manager for Riwal in Spain.
During the 21st ANAPAT conference, Mr Salas explained how companies must adapt and learn from a crises to ensure they don't 'trip over the same stone twice'. This includes recognising a crises when it comes along and realising that appropriate changes must be made, but not falling into the trap of panicked decisions when it comes to price adjustment, fleet retention and workforce.
Mr Salas explained there are a number of options open to companies working through a crises, including, for example, restructuring and mergers. However, he pointed out that once a company has taken this route it fundamentally changes. "If you manage the company in the same way it will not work. They have to be managed differently."
Mr Dawson explained how new equipment, like hybrid technology and a range of safety features, must adapt to the modern working environment and provided an insight into how technology will enhance the way we work in the future. That could include smart safety vests and other wearables with sensors to detect proximity to permanent structures and other potential hazards.
Augmented realty is also a likely possibility, providing immediate access to user manuals, for example, in relation to work being carried out in real time. Concerning Spain he said, "The Spanish economy is picking up and we want to be a part of that. But the market has changed and yesterday's competitors might be today's partners."
Mr Déprez, looked at European growth figures over recent years, including construction in Spain. There has been a marked move in the right direction since 2013. He said construction in the country dropped 18.8% in that year, followed by a 2.4% drop in 2014. However, by the end of 2015 the country will have seen overall construction growth of 1.8% over the three-year period.
The European Rental Association (ERA) forecasts growth of 2.5% in 2015, following a 2% decline in 2014. Mr Déprez said, "Based on my experience I am confident of these figures. There is big potential in Spain, so companies are looking to grow there, including Loxam."
Read more about the conferenec in the Juy/August issue of Access International