ANAPAT conference marks Spanish upturn
By Euan Youdale08 August 2016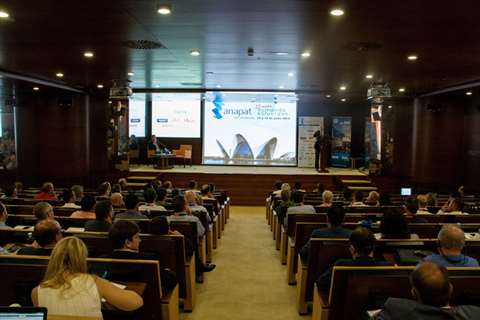 The Spanish AWP rental association ANAPAT held its 22nd Annual Convention at the Hotel Las Arenas in Valencia in June.
Bringing together the main players in Spain, this year's conference boasted 22 sponsors, the largest sponsorship participation in the history of the association.
"This positive data offers us an optimistic panorama for the next few months, because companies are willing to take part in the event than on previous occasions. The investment is encouraging, as the very positive comments," said an ANAPAT spokesperson.
During the first day, 15 June, the General Assembly included the participation of most ANAPAT members and included interesting discussions and important decisions about the association. It was followed by a networking opportunity for all involved. In the evening participants gathered for a gala dinner at the hotel.
On the second day, 16 June, Júlia Company Sanus, director general secretary of industry and energy for local government organisation Generalitat Valenciana, opened the conference.
The first speaker was Matt Skipworth, service solutions director for Europe at Genie. In his presentation, he focused on calculating costs, organisation and management in a multinational company, in addition to sharing new methods in managing costs and investments..
Emma Castelló Taliani and Silvia Escobar Giralt, accounting specialists at the University of Alcalá de Henares, presented a study entitled Methodology of Costs Calculation in Machinery Rental, which have been carried out over the last year with ANAPAT and its affiliated companies. The objective of this study is to establish a useful tool which helps rental companies understand the real cost of their operations.
Carlos Rodríguez Braun, renowned Spanish economist and columnist shared his vision and prognosis for the Spanish Economy. From his point of view, the economic situation in Spain is positive, as long as the measures and policies that have been initiated in recent years continue.
ANAPAT thanks all its staff, along with participants, sponsors, partners, speakers, press and associations for their support.
Planning for next year's event is underway.