Anniversary model from Yanmar CEE
Yanmar CEE has announced a special edition livery for its SV60 compact excavator model, to celebrate 50 years since launching the first of its kind.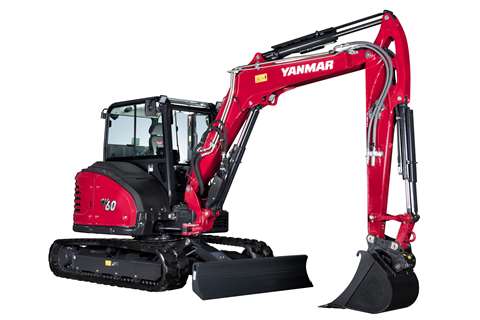 A limited run of 10 units will be made available through the compact equipment's global dealer network.
The models will feature a distinctive red colour scheme and combine "sector-leading technology", according to Yanmar, along with a business-class feel. The 5-6 tonne machine will boast a 3.56mm working envelope but promises the performance of a midi excavator.
In addition to launching the limited-run model, Yanmar has also revealed a special film to showcase the crawler excavator build process on its YouTube channel. It has interviews from the production team at Yanmar's manufacturing facility in St-Dizier, France, and takes a behind-the-scenes look at the company's factory and profiles its innovative product portfolio.
Andreas Hactergal, sales and marketing director at Yanmar CEE, said, "We wanted to celebrate the 50th anniversary of our very first mini excavator with a series of festivities. Yanmar is renowned worldwide for its excavator range, so launching a limited-run edition of our modern-day equivalent seemed a fitting gesture.
"Celebrating the people behind our class-leading range was also hugely important. As such, we undertook a project to film the SV60 build process and showcase the commitment, creativity, hard work and attention to detail that goes into the build of each and every model manufactured in our St-Dizier facility."